When you are planning your Iceland trip, your first concern probably would be the costs as Iceland considered a very expensive country. Indeed, even a short vacation in Iceland can be pretty costly. However even there you can find options to travel on relatively low budget. For that, prepare yourself and do research in advance: in the summer months, it can be crowded and expensive, during the off-season some roads can be closed and you will not be able to drive wherever you want only with a 2×4 car and should go for the much more expensive 4×4.
Usually, a trip to Iceland is perceived as an optimal opportunity to camp: you are relatively free to choose the sleeping spot and it is cheaper than sleeping at a hotel. However, if you don't want to camp, then better book the accommodation in advance: you can find very affordable options (we paid about 70-100 Euro a night for a triple room). Here is the list of the places we stayed at during our trip:
Guesthouse Vatnsholt
Dilksnes Guesthouse
Hörgsland Cottages
Bergás Guesthouse
We were buying products at the Bonus and Kronan supermarkets. Some of them are also open on Sundays. The prices there are higher when compared with the ones in Germany, but still very much acceptable. There are cafes at almost all sightseeing points selling food and drinks. However, the prices there, in opposite to the generous supermarkets are way too high: for a very basic sandwich you have to pay 9-10 Euro and 4-5 Euro for a filter coffee. We usually took only the later option. We went to the restaurant only twice: on our first and our last day in Iceland: Link.
As many short-sighted people, I usually have my issues driving before the dusk and in the darkness. However in Iceland driving until 10 or 11 pm is not a problem at all – it is still fairly bright at that time and the streets are relatively empty. Looking back, I realize that this was my best driving experience ever!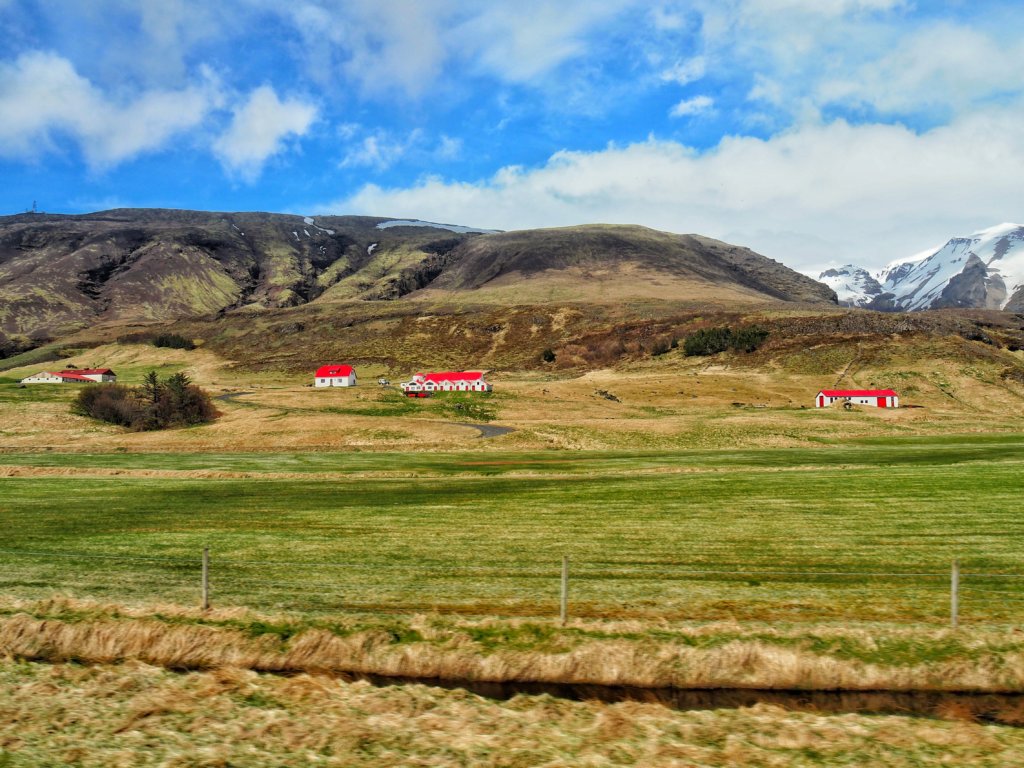 Tanking in Iceland can be challenging. Many gas stations are not manned – there you have to find a way to change the language and follow the instructions. Usually it works like this: you insert your card in the machine, choose the amount of liters / money you want to spend, pay, choose your station and insert the hose in the fuel tank orifice. Luckily, there is also an option "fulla" what expectedly means "full tank". When choosing this option you don't have to multiply the gas expense by the price. However, if you are lucky enough to stop at the gas station without this helpful option, the average expense for a small A-class car is 6l/100km or 7l/100km for the B-class.
The speed limit in Iceland outside the cities is 90 km/h on the paved road and 80 km/h on the gravel road. The streets ere mostly empty. When you drive in Iceland, you cross many small rivers and channels over narrow bridges – there you have to be careful with the traffic coming from the opposite direction – there is no way for another car to pass by when you are already on the bridge.
We rent a small car for about 170 Euro for 5 days about two-three months in advance via billiger-mietwagen.de. By the way, if you choose the option "ohne selbstbeteiligung", you don't have to take the additional insurance to cover possible harm from the sandstorms (at the car rental this opion will be insistently offered to you). However, when you open the car doors, beware of the wind – a couple of times it slammed the door open so hard that we were relieved not to have any objects or walls next to the car – otherwise the car door could have been destroyed…
1 Euro is about 131 ISK (Icelandic Krona). On arrival, we were pondering if we had to withdraw some cash but decided against it. During the whole trip we paid everywhere with a credit card, so I even don't know how Icelandic money look like. I have a Visa and it was accepted everywhere.
After puffins, my biggest wish was to cuddle with the Icelandic horses. Though very small, almost pony-sized, the Icelandic horses are long-lived and hardy. In their motherland, they have very few diseases. There are even a law preventing horses from being imported into the country and exported animals are not allowed to return. In opposite to the puffins, we have seen the Icelandic horses in abundance and were even able to pet and to feed them (some enterprising owners prepared tiny containers with feed and put a little box for cash (200 ISK) nearby for those who cannot resist to feed the horses).
Our overall experience of an Iceland trip was absolutely positive and we would like to come back some time during the summer with a fancy 4×4 car, of course, and discover more of the off-road country and, of course, puffins!