We spent a bit more than two weeks on Guadeloupe and have visited 14 beaches. Obviously, our motto was "new day – new beach"! Beware: this post, last in the French Antilles series, contains a lot of blue and green colors!
With its form Guadeloupe reminds me of a flying butterfly, so I will differentiate between the beaches on the left and right wings. The right wing has calmer water than the left, so if you are travelling with a baby, I would rather recommend the first one as a base.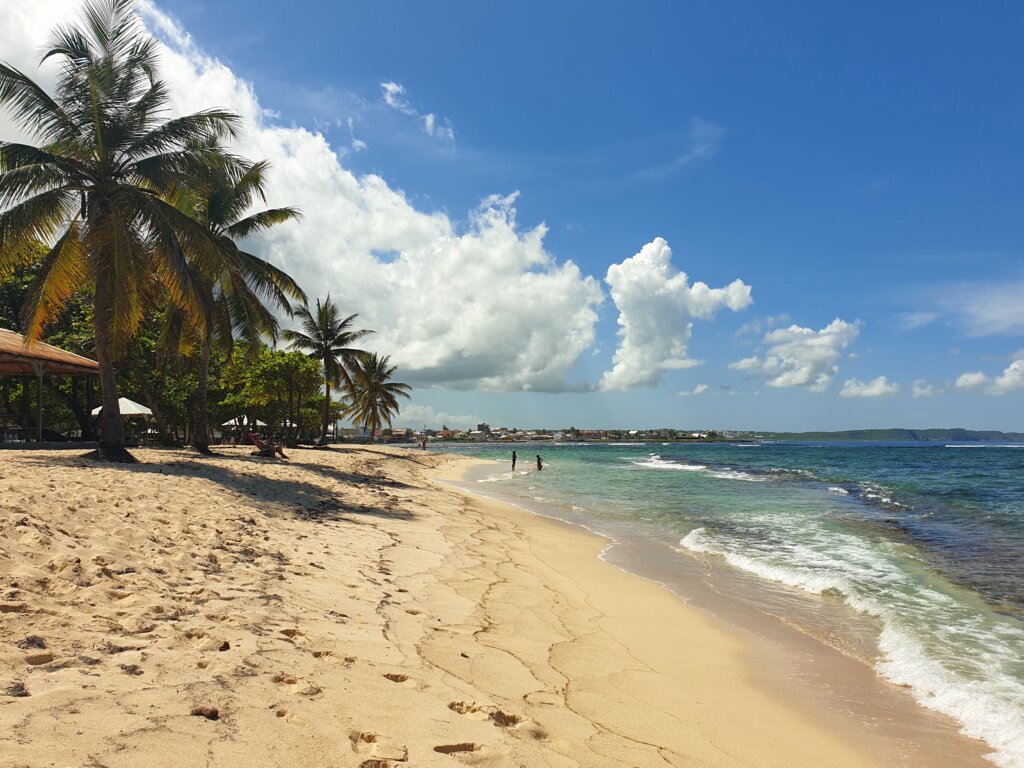 Beaches of the right wing
This beach is situated very close to the town La Moule. Locals visit this beach and there are some dedicated places for a picnic. An unbeatable advantage of this beach is that there are showers available. I don't remember any other beaches with this convenience. 
Though the pictures on the Internet were looking beautiful, when we arrived there there was too much sea grass for our taste.
Plage du Bourg in Sainte-Anne
Despite being a city beach of Sainte-Anne, this beach offers the clearest water of wonderful turquoise color we've seen on Guadeloupe during our trip. No waves, calm waters, shadow from the palm trees: a perfect beach for a getaway with a baby. Besides, there are some cafes in close proximity. Parking situation can be tense though.
Plage de Bas du Fort in Pointe-a-Pitre
We stayed two days in Bas du Fort (a southern part of Pointe-a-Pitre) and this little bay with calm water surrounded by pine trees was our almost only option to swim. 
La Douche is also called a secret beach, as you have to park alongside the road and take a 50-meters detour. This lagoon is quite small, so try going there early in the morning or during weekdays. It is also better to visit this beach during high tide, as when the waves break a fountain is created which splashes the lagoon. Obviously, directly on the spot there is no shade, so abundantly applied sunscreen is a must! By the way, this place is crowded with mosquitos at dusk, so we didn't have a swim and had to escape rapidly.
Pointe Tarare – Nudist Beach
To reach the beach, park next to the restaurant Chez Man Michel. Pointe Tarare is a beautiful wild beach with a lot of shade, rougher waves and white sand. However, to reach it you will have to walk 5 minutes through the jungle, so it is unfortunately non-accessible for buggies and wheelchairs. Be prepared that this beach is indeed nudist (yes, we followed, ha-ha). On the weekday it was surprisingly full there, but everyone kept a safe distance. For obvious reasons I didn't take pictures at the beach.
We visited this magnificent landscape during the daytime, so the sun was too strong for us to stay longer or to swim. We just enjoyed the powerful waves and epic view on the most Eastern part of the island. 
Parking is in abundance. Next to the parking, merchants sell artisanal goods and tasty natural sorbet. 
We spent the last seven nights of our trip in an apartment at the beach Plage Laurent. The beach changes during the day: in the morning it is full of shade and the waves are wild and full of energy. In the evening you can watch beautiful sunsets from there and the water is slightly calmer. I didn't trust myself going into the waves as I was afraid of losing my glasses or contacts.
Beach under the observation platform Point De Vue De Gadet
A secluded beach with crazy powerful waves. My glasses were taken away by the first wave that literally knocked me down (miraculously, my husband has found them in the tide later). This beach is loved by the pro surfers.
This little beach is famous for its snorkeling offer. Parking can be difficult as the parking is very small. Unfortunately, as soon as we made ourselves comfortable in the shade of a palm tree (the one without coconuts) and Matze went for his first snorkeling round, we had to leave the beach at police command (look attentively at the photo). As a covid-19 prevention measure, it was not allowed to be at the beach between 11:30 and 14:30 on the weekends.
As this beach lies in the North of the island, I hoped that there would be no (crazy) waves. Unfortunately, the waves were as strong as in the West, so I mostly stayed on the beach with Mia while Matze was combating the waves. The beach is a paradise, with palm trees and bright yellow fine sand. Parking is available at the beginning of the beach. There you can also have lunch in Chez Francine: the price-performance ratio was not as great though.
Plage de Perle is a nice long beach with strong waves (wonderful, yes, but nothing for me) and bright yellow sand. Nice cafes and food places as well as a big parking area are very close to the beach. Later, I learned that this beach was also a filming location for the "Death in Paradise" TV series (never heard of it, but looks like the US kind of thing).
Source d'eau chaude de Bouillante
These hot springs were a place I wanted to go to, but we were living too far away, so this trip would not fit with the sleep schedule of our baby. Relaxing in the water in a spot where a hot river flows into the ocean while watching sunset (and drinking cocktails?)… Doesn't it sound tempting?
… my personal favorite, because at this beach, surprisingly, we have seen the sea turtles and there were no waves in the bay. The sand is rough though and in the water you rather walk on the corals and stones.
This is probably the most famous beach of the North-Western Guadeloupe. It is long, covered in golden-sand and offers plenty of stalls selling food, drinks and snacks during the whole day. The waves are pleasant as well. The shore is quite steep and I had a feeling that some waves are reverberating from the shore and thus getting back, extinguishing other waves. Sometimes, however, in a specific phase, the waves are multiplied and a bigger wave takes you down. Snorkeling is useless as there are no coral reefs on this beach and I haven't seen any fish.
Good memories are made of little moments and tiny details. I am missing the way to the beach full of small crabs running away under our feet (and also big beach crabs digging holes and going out to feed and disappearing quickly as soon as they have detected any movement). I am missing the daily (early) morning routine involving going to the beach. I'm missing light clothing. I'm missing applying sunscreen instead of my usual day creme. I'm missing many details of this summer-sun-ocean vacation and looking forward to the next ones to come.