The second (the third and the forth) island we visited on our French Antilles trip was Guadeloupe (Les Saintes and Marie-Galante, both belong to Guadeloupe).
We planned 1,5 days (two nights) for the Les Saintes island group. There, we stayed on the Terre-du-Haut island. There, one full day I spent in bed, knocked out by fever (dengue), so I haven't seen almost anything and had to rely on my husband's impressions and photos for this blog post. My husband meant that the beaches were full of grass and not as beautiful as he had expected. Well, I cannot add anything. The next day we had a short walk in the main village of the island and then took a ferry to the mainland. For the current ferry schedule you have to drop by one of the two ferry connections providers boots (in the street to the left from the arrivals deck) and check it for yourself.
The ferry from Les Saintes to Pointe-a-Pitre (PaP) was going only once a week because of Corona. To get to the mainland, we had to take a ferry to Trois Rivieres (Bass Terre) which goes almost every day, several times a day. The problem was to get from Trois Rivieres to PaP, as we arrived on Sunday and on Sunday there are no buses going on Guadeloupe (whaaaat?). Usually, when a ferry arrives, dozens of taxis are standing around waiting for the customers. Here, in the haven, were none, nada, zero! Either we had to take a taxi for over 100 Euro or hitchhike (here, you have to point with your pointing finger instead of lifting your big finger). I went for the third option and just went to the parking lot and asked random people if they can bring us to PaP. Luckily, the first guy I asked was going to PaP on his own and agreed to take us all (remember, we had a baby in a car seat and some luggage) with him. And all this for free, he refused to take any money we offered. That was our jackpot! 
Another island, another first day in bed (and another island I haven't seen). I was not taking enough care of myself after the first fiber attack, so it knocked me off again (luckily, not as intensive as the first one). On day three on Marie Galante I felt well enough to go to the beach. Watching my little girl crawling in the sand and in the water was joy! I decided I needed a refresh as well and went to the water. After two meters I stepped on a sea urchin and got a splitter in my foot. Does the universe try to tell me something? Should we let it go with the satellite islands and stick to the mainland (and especially it's airport?)
Unfortunately, as I had to spend half a day at the hospital, we didn't manage any sightseeing at all, only the closest beach and the main square, from where we walked to our ferry to the mainland. Oh, we also met (and fed) a hungry pig which was bent to a pole in the bushes and has eaten everything edible as far as her rope allowed.
On both Les Saintes and Marie Galante, our mobile internet and generally net was weak to non-existent. In these moments, you realize how bound we are to the means of communication, how dependent we're on them! If you haven't prepared a plan of what to do and what to see in advance, you are basically stuck (some apartments don't have wifi). The solution is to turn back to the old good paper maps (or go and explore the surroundings on foot in 35°C heat).
The aquarium itself is not very big, but it features many beautiful exotic sea fish and animals. There are also cool interactive parts for the kids like an observation tunnel, touching the starfish and sea hedgehogs and drawing your own fish which appears on the screen of an interactive aquarium. One hour is enough for visiting, maybe, two, if you have a curious toddler.
The green-yellow Mairie du Moule, decent limestone-colored Catholic Church Saint-Jean-Baptiste and a yellow-violet building I couldn't find the name of, compose a beautiful colorful ensemble of the main square of the town.
The Zoo of Guadeloupe is very similar in shape to the one in Martinique: you walk through the jungle and discover exotic animals and plants. There is also a canape walk through the forest with different routes and levels of difficulty; there is also a walk for children. More information about the zoo you will find if you visit their homepage: https://www.zoodeguadeloupe.com/practical-info.
Botanical Garden of Deshaies
When you are in Guadeloupe, especially, if you have kids of any age, you cannot miss this place! The area is very well organized and you can take a walk in the shade. But the one of the most remarkable experiences of our trips was feeding golden carps, parrots and goats. Especially parrots. Did you know that they have some kind of a suction ending on their tongue? I didn't and was observing their act of drinking with undisguised amazement. To plan your visit, check the homepage of the botanical garden: http://www.jardin-botanique.com/en/home/.
On your way to the zoo, make a detour to Saut de l'Acomat (Acomat Falls). The steep 10-minutes path (not suitable for people with reduced mobility) will lead you to a serene waterfall with a basin where you can jump in. Locals used to come here with their friends and family to have a picnic.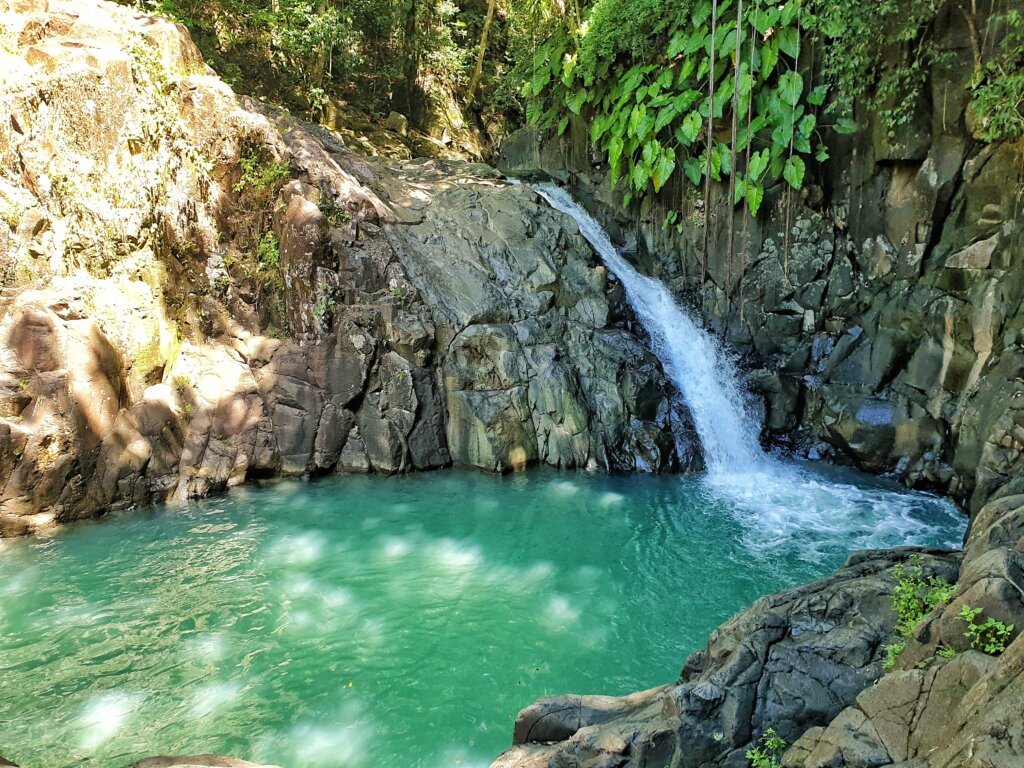 Not to overload the text with the price tags, here is a summary of some prices on the island:
Taxi Bass Terre – PaP

130€

Aquarium de Guadeloupe (audio guide is included which is installed as an app on your mobile)

14€ pp 

Ferry Les Saintes – Trois Rivières (Bass Terre)

15€

Ferry PaP – Marie-Galante

10-20€ one-way depending on the day of the week

Taxi on Les Saintes and Marie Galante

about 10€ for a 5-10-minutes drive

The zoo

15,50 € for an adult ticket

children 3-12years – 9€

Botanical Garden

15,90 € for an adult ticket

10,90 € for a child ticket (5-12 years)