After our campervan trip through France with our 7-months-old daughter, we spent six weeks on French Antilles (Martinique and Guadeloupe). This counted as our big parental leave adventure (initially, we were dreaming of a road trip through the USA, but the situation with corona has changed our plans). If you want to know more about exotic overseas travels with a baby, drop by here: LINK. In the following post series, I will write about the islands and their highlights. Other posts from this series can be found here:
We spent two-and-a-half months on two tropical islands (almost four weeks on Martinique and a bit more than two weeks on Guadeloupe including visiting Les Saintes and Marie-Galante islands which belong to Guadeloupe).
Before going on that trip we were worried a bit that we will get bored as the islands are not big (about 1,5-hour-drive from one side to another). First, with a baby you are never bored. Second, on both Martinique and Guadeloupe we were staying in apartments in different parts of the island and that was a wise decision. The variety of flora, fauna and new beaches created the impression of a new island though we only changed the side. Besides, the trips through the middle of the islands gave us a strong jungle feeling, all around being so juicy green and flourishing. 
Traveling between the islands
Between the islands we took a ferry (https://www.express-des-iles.fr/ and https://jeans-for-freedom.com/). Buying tickets online as well was easy and convenient. The hotline is available as well and they speak decent English. It takes about 3,5 hours to reach Les Saintes from Martinique. From Les Saines you can go to the southern part of Guadeloupe within 30 minutes or to the capital (Pointe-a-Pitre) in one hour. Going to Marie-Galante from the capital takes one hour. The ferry trip was well-organized and departures took place on time. 
By the way, taking a ferry with a crawling baby is not as relaxing as it could sound (what is at all more relaxing with a baby, right?). The ferry swings heavily on the waves while you are in the ocean: even if you are prone to become seasick, you still have to care for your baby which implies running around a lot. You have to make sure your baby doesn't bump her head at the next wave hit, and not put her fingers into the socket which are obviously not babyproof on a ferry. Licking the seat backs was the least dangerous of all and better than putting her hand in a trash bin and emptying its contents.
French Antilles: particularities
Here are some particularities we would like to share with you about French Antilles:
English is poorly spoken on the French overseas islands. Here, in Martinique and Guadeloupe almost no one speaks anything but French. We had luck that we were in France, so our mobile internet was (sometimes) working well and we could use Google translator. 

The mobile network is partly unavailable (we had real problems on Les Saintes and Marie Galante), though this is officially EU, our provider didn't cover Martinique and Guadeloupe sufficiently.

The post boxes are grouped on the streets/intersections in a funny uneven but very picturesque manner.
Hitchhiking is quite popular here but instead of the classic sign thumb up, use your index finger.

In many apartments you will experience an open kitchen (on the terrace or on a balcony) and open windows in the bathroom. 

Probably, because of the point above, there are many cockroaches in almost all apartments, some the size of my little finger.

We experienced tropical rains which can last from 20 minutes up to 24+ hours. Rain brings relief from the heat and getting wet by high temperatures is not as bad, so we are not annoyed at all.

The restaurants are open for lunch and then closed from 3pm until dinner, which starts around 7pm.

Booking accommodation without an a/c was not an option for us! We were pondering if we would get used to the heat at some point during our trip. We didn't.

The products are rather expensive on the islands as many items have to be imported. 

On the island bananas, sugarcane, pineapples, avocados, coconuts, eggplants, citrus fruit, yams, cassava, sweet potatoes are grown. However, the prices for the local fruit in the supermarkets are surprisingly high.
Fish and fruit can be bought on the side of the streets, for example, a mango or an avocado for one Euro for a piece. To buy fish, check where the local fish markets are and go there to buy catch of the day for 10-12€/kg for the fish and 20€ for the lobsters. Filet can be prepared for you at the spot. The market starts around 9 am when the fishermen are back from the sea.

There is a toxic tree, which grows on the islands in abundance, you have to beware of (see more details below).

Some locals warned us when they saw Mia crawling on the sand in the beach cafe that in the places where dogs can come, nasty worms are hiding in the sand to penetrate the dog's skin and live underneath it. After that we were more careful with the places we allowed Mia to crawl.
The main natural danger on the islands (after dengue) is a toxic plant called Manchineel (Mancenillier) which is growing everywhere. Some trees are even marked with red to warn you, but not the beach ones. They actually look quite harmless, with beautiful innocent flowers and apple-like fruit. Even it's name is derived from the Spanish "manzanilla" – "apple". This plant is also known as "beach apple". Indeed, there are plantations of it on the beach. A present-day Spanish name is manzanilla de la muerte, "little apple of death". This refers to the fact that manchineel is one of the most toxic trees in the world: the tree has milky-white sap which contains numerous toxins and can cause blistering. Eating the fruit can be fatal. The sap is present in every part of the tree: the bark, the leaves, and the fruit. When it rains, it's dangerous to even stand under that tree: mixed with water, sap can cause toxic reactions… We were lucky we have googled this tree on the very first day on Martinique and tried to avoid these plants (with a crawling baby this was not as easy!)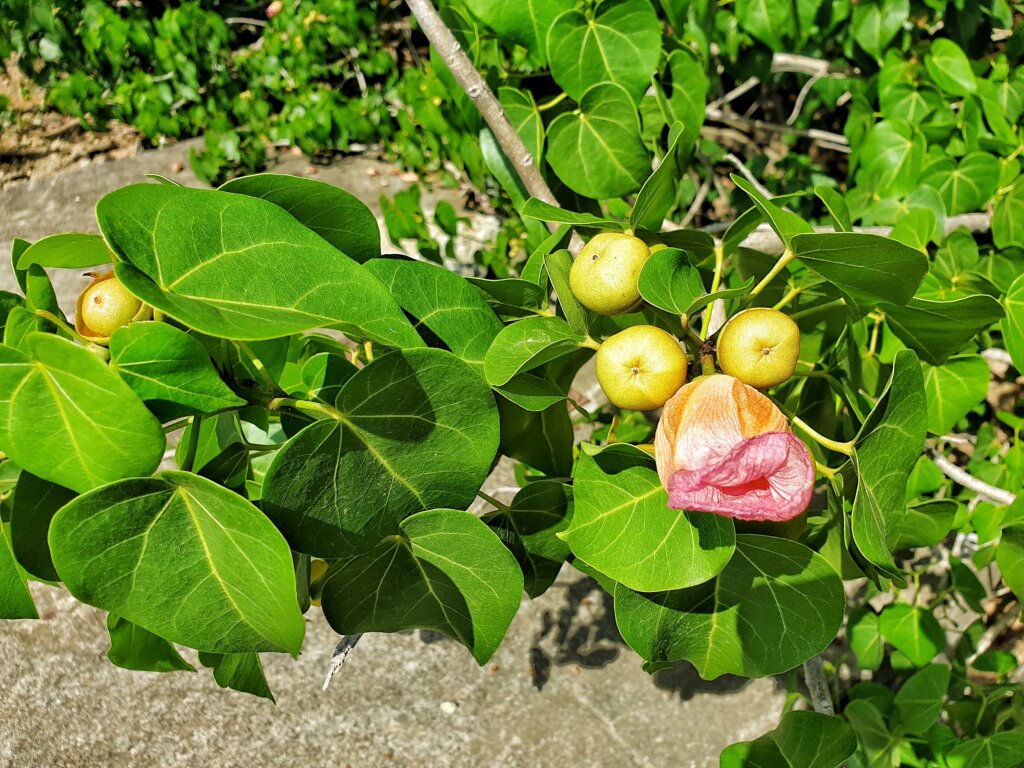 The trip was also not without little accidents. An avocado that we bought from a local woman was smashed on the backseat of a rented car and into our clothes. Actually, this car was rented without excess insurance (what we usually don't do) and we were explicitly asked to return the car clean from inside (first time such a request was made in years we are traveling). 
Once, a tantrum happened during bringing Mia to bed and no usual calming procedures helped. Even nursing didn't help as Mia bit the nipper in her cry. What helped – sitting with her under the warm shower.
What has triggered this tantrum, we don't know. Could be pain in the belly after eating too much sand or falling on her mosquito net when she was falling asleep in her bed.
Besides, our travelling plans were changing towards the end of the trip almost every second day because of the growing amount of COVID-19 infections around the world. Read here (LINK) how the pandemic affected our travels.
In general, we were hit by the heat. Going out between 12 and 16 o'clock without an a/c car was difficult. However, during the day we visited some places where there was a hope for some shade: botanical gardens, the zoos, distilleries, museums…
To sum up, all three of us have enjoyed the trip a lot, made the best out of our long parental leave and were totally happy (especially we realize it now, sitting home during the second lockdown) to live our parental leave dream even during the pandemic.