Exploring Eastern Kazakhstan
In Kyrgyzstan you'll frequently witness the sheep and the cows crossing the road. In Eastern Kazakhstan, on our trip from Kegen to Saty, the first encounter was … with camels and then wild horses. I was genuinely surprised! Generally, the landscape changed drastically on the way from the border to Saty. Almost no plants and round dunes with a short layer of grass on them. And actually a perfect road! Starting from Karabulak the landscape was juicy green.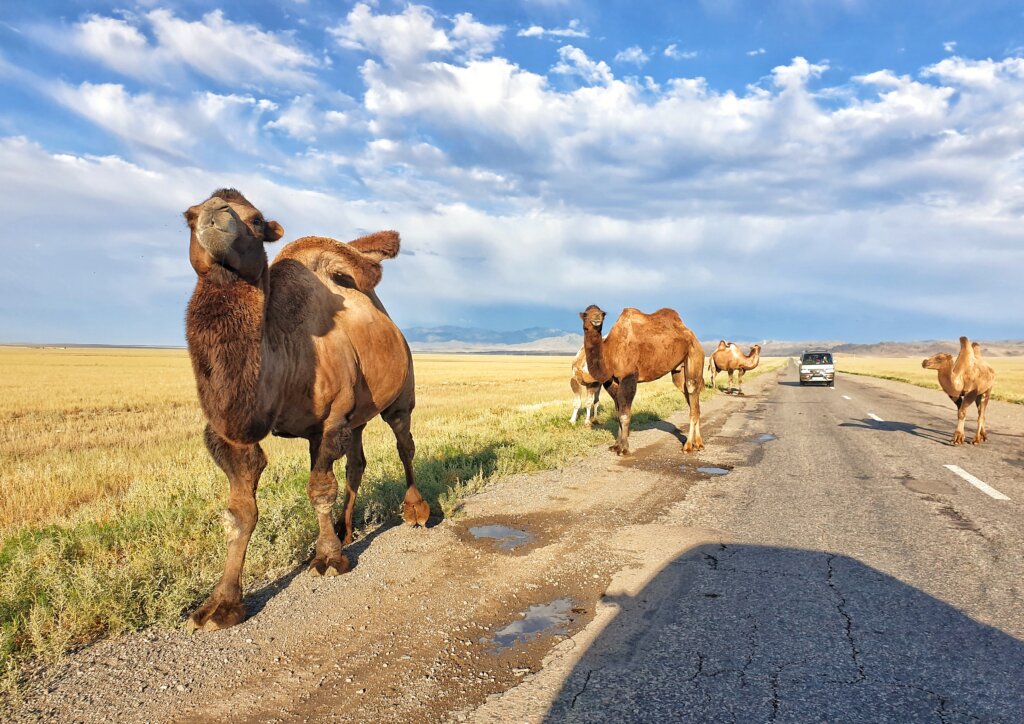 Saty
We chose Saty, a little village, as our base to visit famous sights of Eastern Kazakhstan. We didn't book any accommodation in advance and were extremely lucky to be accepted at the guesthouse which was our first choice: Gostevoy Dom Temirkhana Umbetaliyeva. We spent two nights there and felt like home playing with children, cats and calfs. At the guesthouse for around 22 Euro pp per night you'll get a full pension (breakfast, lunch and dinner).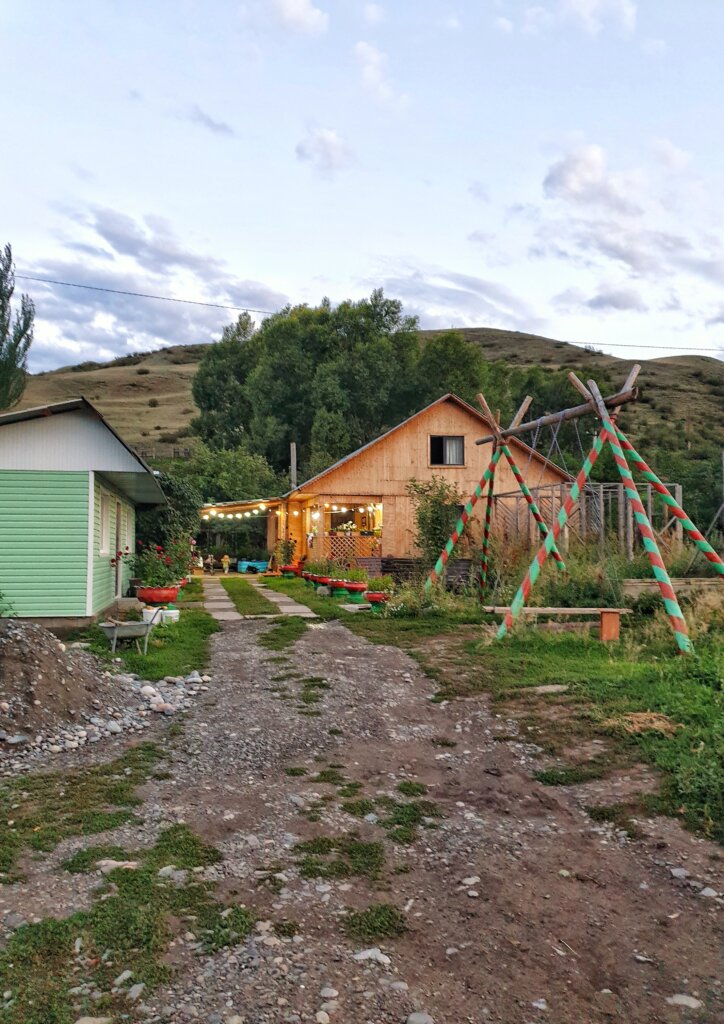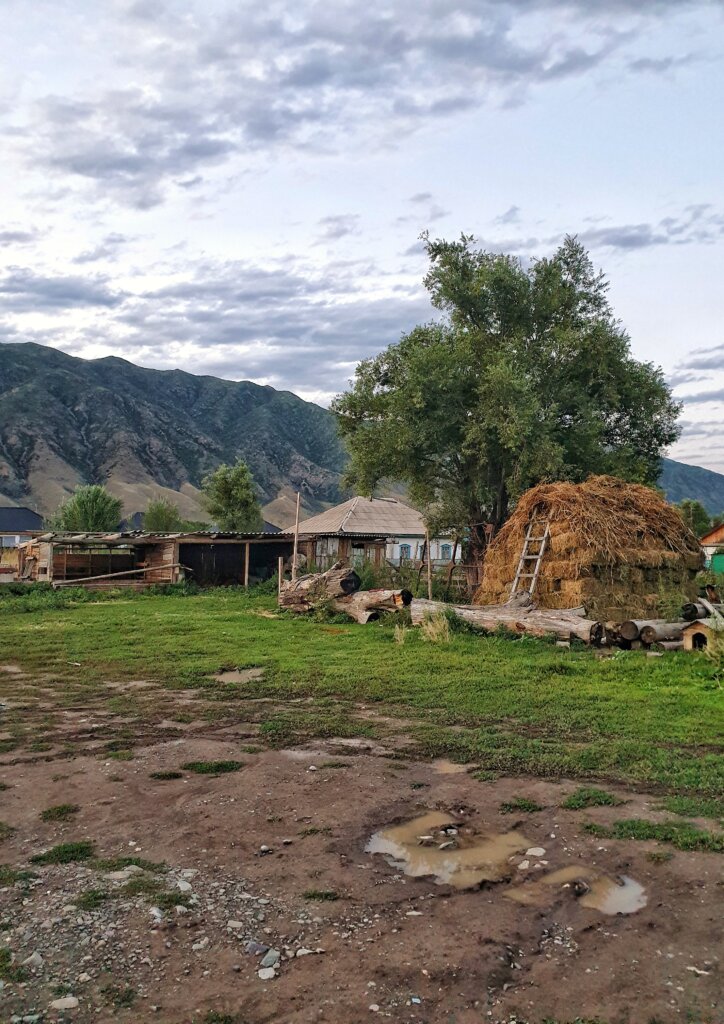 Kaindy Lake
Lake Kaindy is located in the south of Kazakhstan, within Kolsay Lakes National Park. Its name means "birch tree lake". Kaindy lake was formed in 1911 as the result of a major limestone landslide triggered by the earthquake forming a natural dam. The dam blocked the gorge and was filled by mountain river water. The water of the lake has a beautiful bluish-green colour.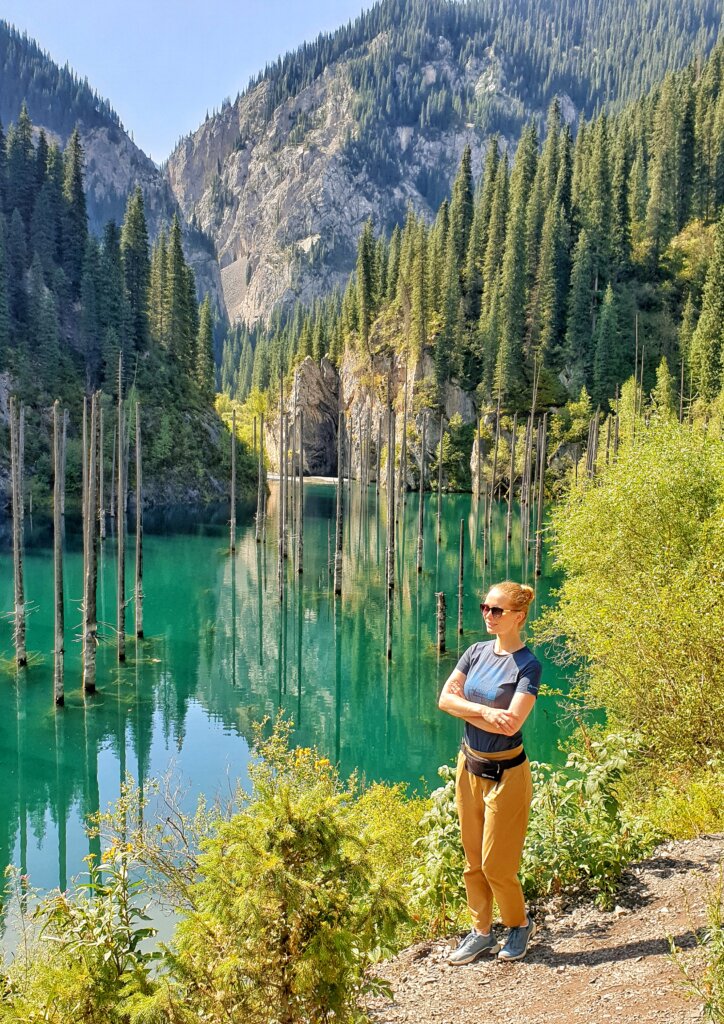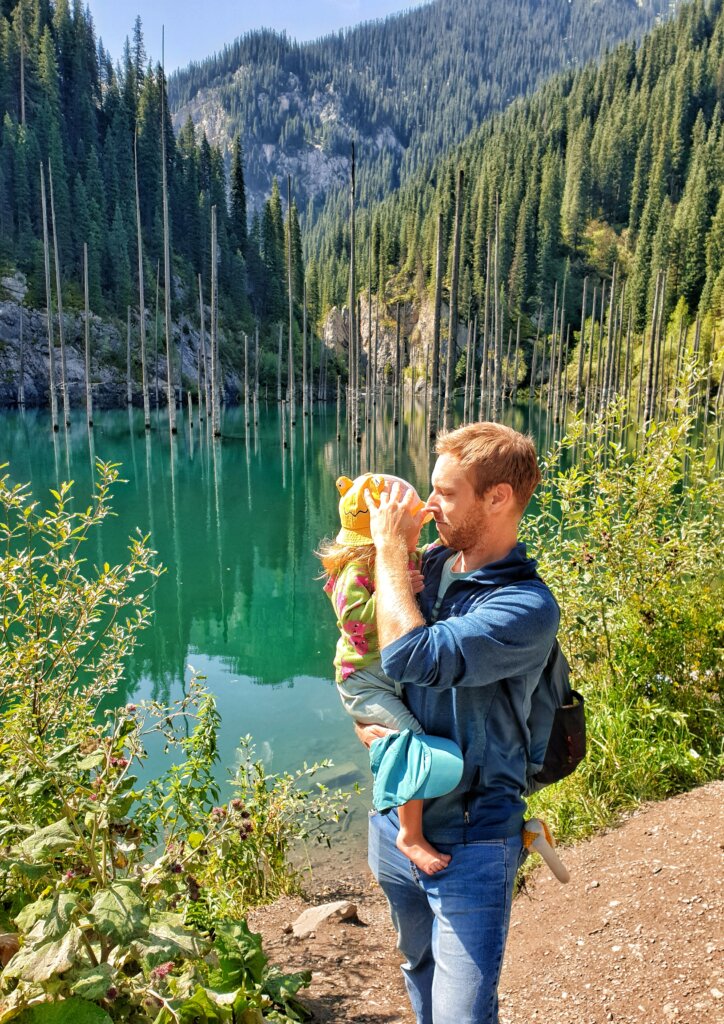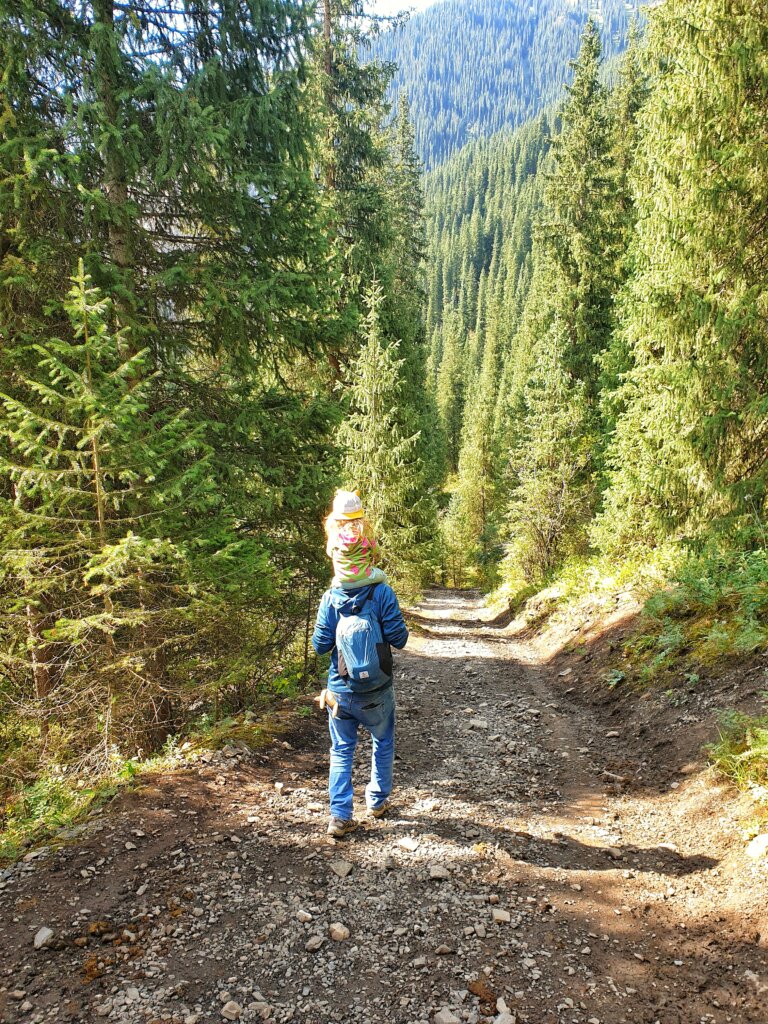 To reach the lake you have to take a jeep and prepare for 20 minutes on an extremely bumpy road. A private Jeep ride from Saty to the Kaindy lake and back will cost you around 15 000 tenge (35 Euro). We booked the evening before the trip, so probably the price was higher than normal. The entrance fee is 600 tenge pp. and you additionally pay 300 tenge for the car (total of 3,5 Euro for a couple).
If I'm not mistaken, the private drivers have some unspoken rule to drive to the very top only until 13 o'clock. Afterwards a shuttle service starts which you have to pay extra. From the parking, you'll have to walk around 30 minutes uphill to reach the top.
At the top you can ride horseback to the lake or walk around 20 minutes downhill. Same applies when returning to the top. It costs moderate money. We took a horse to get back to the top, as Mia was not motivated to walk uphill. Actually, she walked almost the whole way down on her own, so horseback riding was well deserved. Funny thing was the horse owner asked us if we needed him to accompany us or we could ride on our own. Well, considering the fact we didn't know which way we had to take, we insisted on his company which he reluctantly agreed on.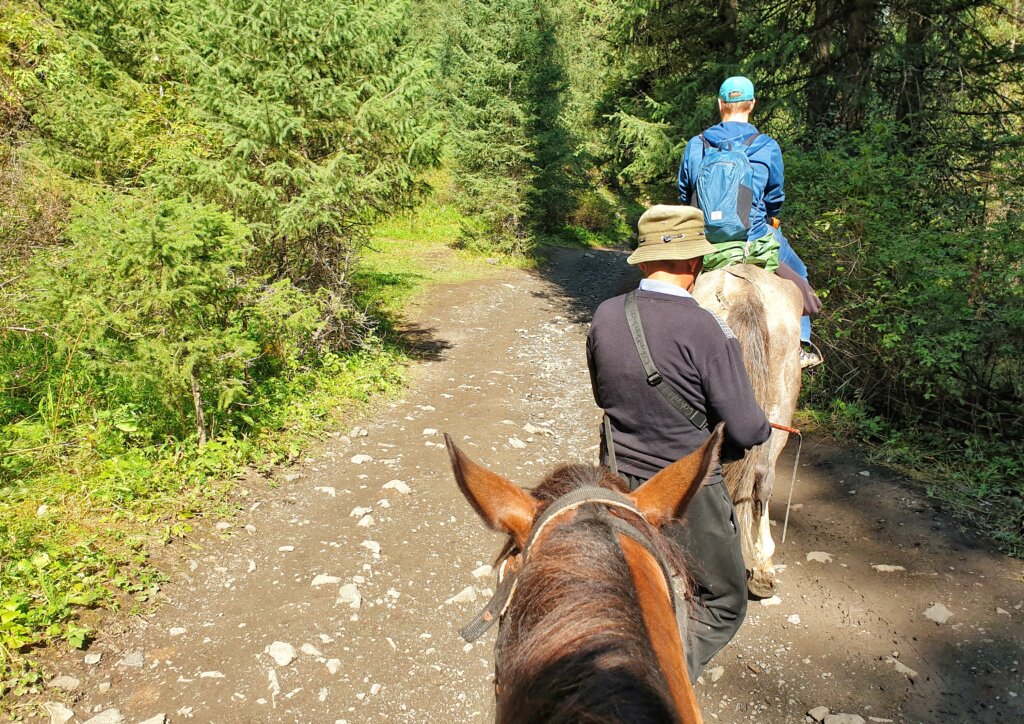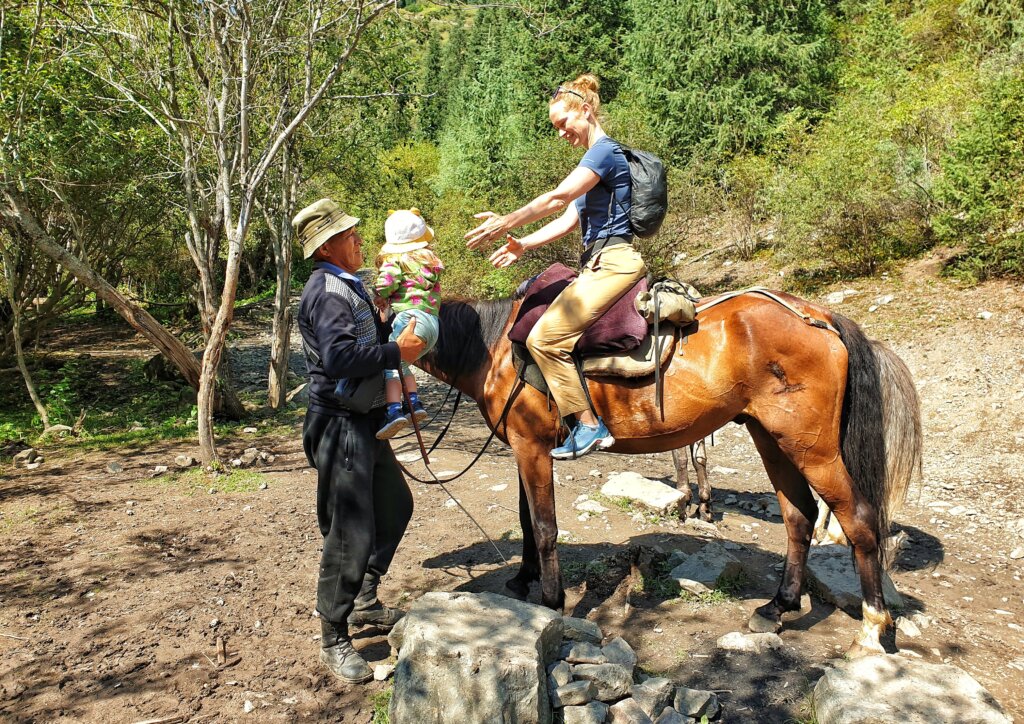 Kolsay Lakes National Park
National Park consists of four lakes: Lower Kolsay Lake, Middle Kolsay Lake, Upper Kolsay Lake and Lake Kaindy. The best accessible by road is the Lower Kolsay Lake. From Saty you'll pay not more than 6000 tenge (13 Euro) for a round trip including two hours waiting. Around Lower Kolsay Lake there are many guest-houses, campsites, cafes and restaurants. You can also rent a boat or a catamaran for 5000 tenge half an hour, 8000 tenge (around 17 Euro) an hour. Yep, we also thought it was pricey. Yep, we asked for a second opinion. It is just pricey. Location, location, location!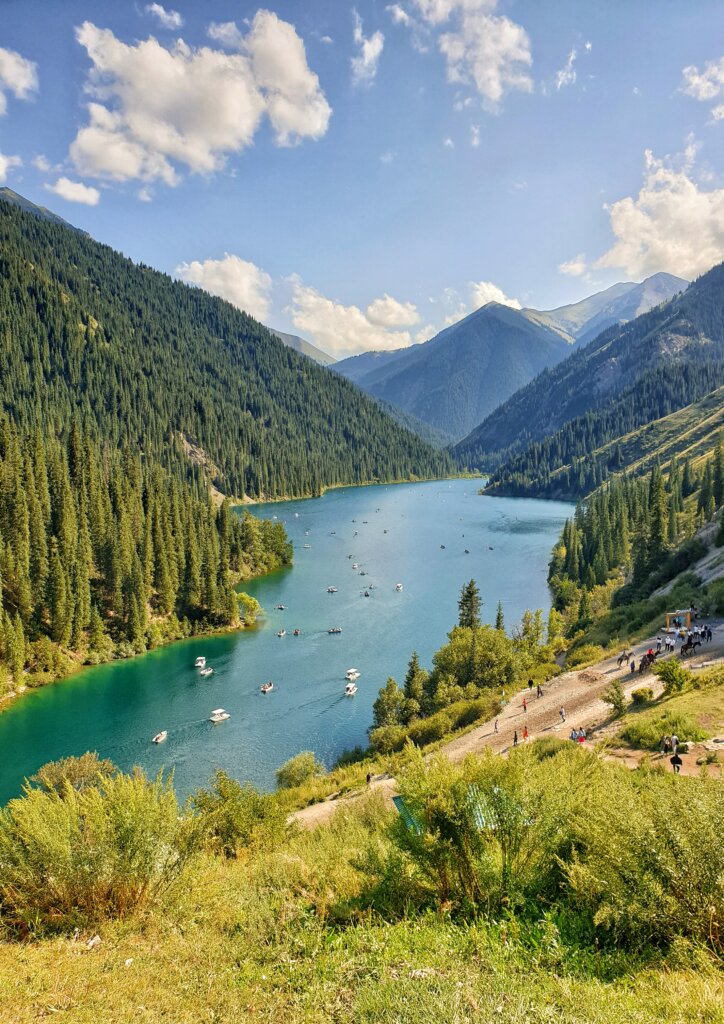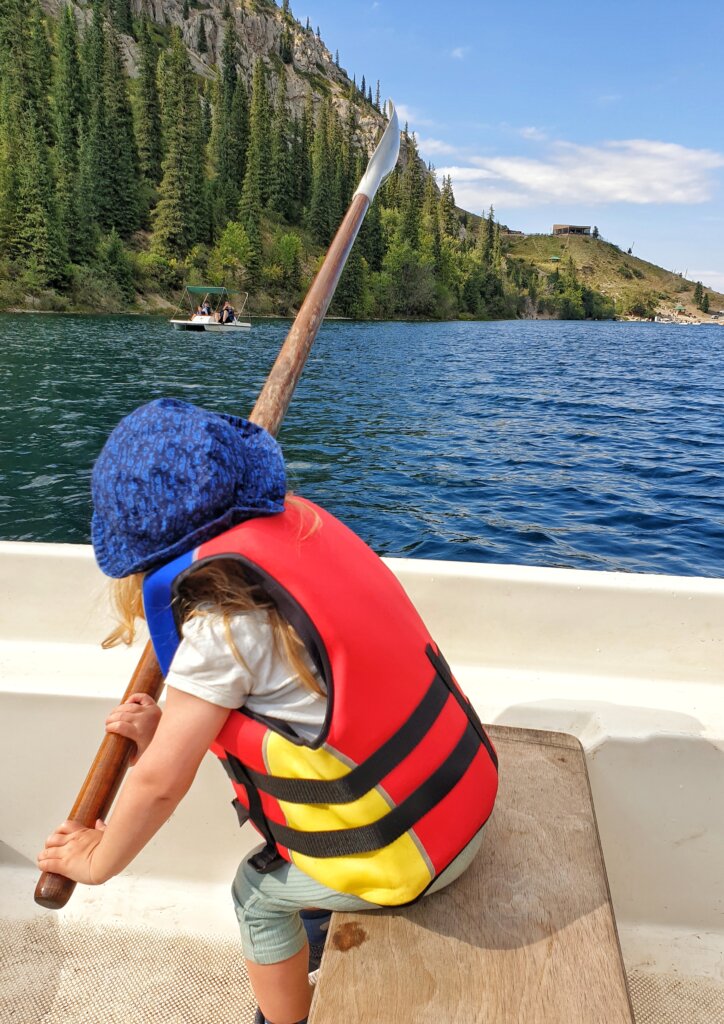 Charyn Canyon
In Eastern Kazakhstan you can't miss the canyon which is compared to the Grand Canyon in the USA Charyn and is described as equally impressive. Canyon is a unique natural object with peculiar relief forms in the form of chapels, towers, and animals, which were formed by the weathering of sedimentary rock. The most visited area of the canyon is called Red Canyon or Valley of Castles. Entrance fee to the canyon is 850 tenge (2 Euro). It stretches over about 1 km and has a depth of about 100 metres. From the entrance you can either walk or take a shuttle bus "eco-taxi" to the station at the river, which will cost you 500 tenge (1 Euro) pp. one way.