The Thousand Islands (Pulau Seribu) are a chain of 342 islands stretching 45 km to the north of Jakarta's coast.
A decree states that 36 islands may be used for recreation. Of these, only 13 islands are fully developed: 11 islands are homes to resorts and two islands are historic parks. Twenty-three islands are privately owned and are not open to the public. The rest of the islands are either uninhabited or support a fishing village.
As we learned later, the Thousand Islands is rather a day-trip destination which you book as a package. Thus, we were among the few tourists who didn't come with a tour and probably the only non-local tourists on the Pari island. No surprise that we, and especially Mia, were getting full attention of the locals. Almost everyone was trying to cuddle Mia on her cheek or take a photo with her.

English is barely spoken here. A huge help was Google Translator, so we could communicate with locals in terms what we wanted. For example we were searching for candles for Christmas and learnt they were callen "Lilin".
You can go to Pulau Seribu from two terminals: Marina Ancol with a speedboat and from Marina Pelabuhan Muara Angke with a slowboat.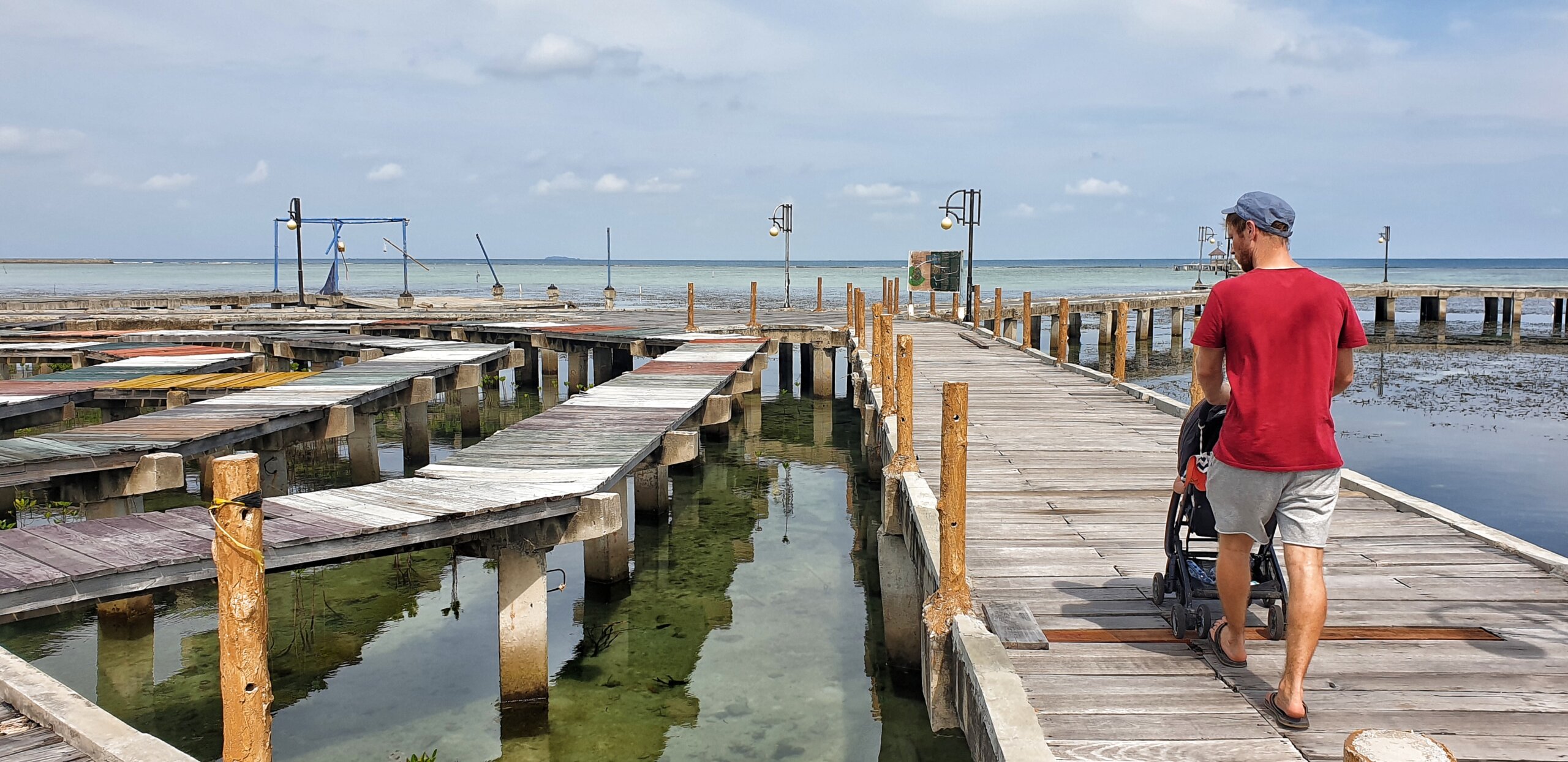 Pulau Pari
Speedboats leave Marina Ancol (Dermaga 16) at around 8 o'clock in the morning. A ticket costs 160000 rupies (under 10 Euro). The trip lasts about one hour.
On the island there are more homestays than you could see on Booking.com. Thus, I suppose you can stay overnight spontaneously, without booking a room in advance. We stayed at Solata Homestay, one of few options which were shown on the booking page. The room was very basic. However, there was an a/c and a private toilet/shower. But the view was fantastic! The homestay is situated close to the haven directly at the beach.
Virgin Beach
The most beautiful beach of the island is the Virgin Beach. The entrance fee of 5000 rupies (30 cent) pp goes into a donation box. Here, you can go on a short boat trip through the mangroves with a local fishermen for around 50000 rupies (3 Euro) or rent a kayak for 3000 rupies (20 cent).
For a lunch we can recommend Tony Cafe at the beach. They offer grilled fish, squids, chicken and nasi goreng (fried rice with an egg on top) as well as hot and cold drinks.
Star Beach
Another nice and mire secluded beach on the island is the Star Beach. The entrance fee 2500 rupies (15 cent) pp goes into a donation box.
The trash situation
In the morning litter is being collected by a special service arriving by boat. Unfortunately, the amount of trash coming out of the ocean is so high that the service does not manage it to full extent.
Mangrove forest
Pulau Seribu is a place where mangrove forests are being planted. Did you know that mangrove ecosystems are powerful carbon sinks, sucking up carbon dioxide from the air to store in their roots and branches?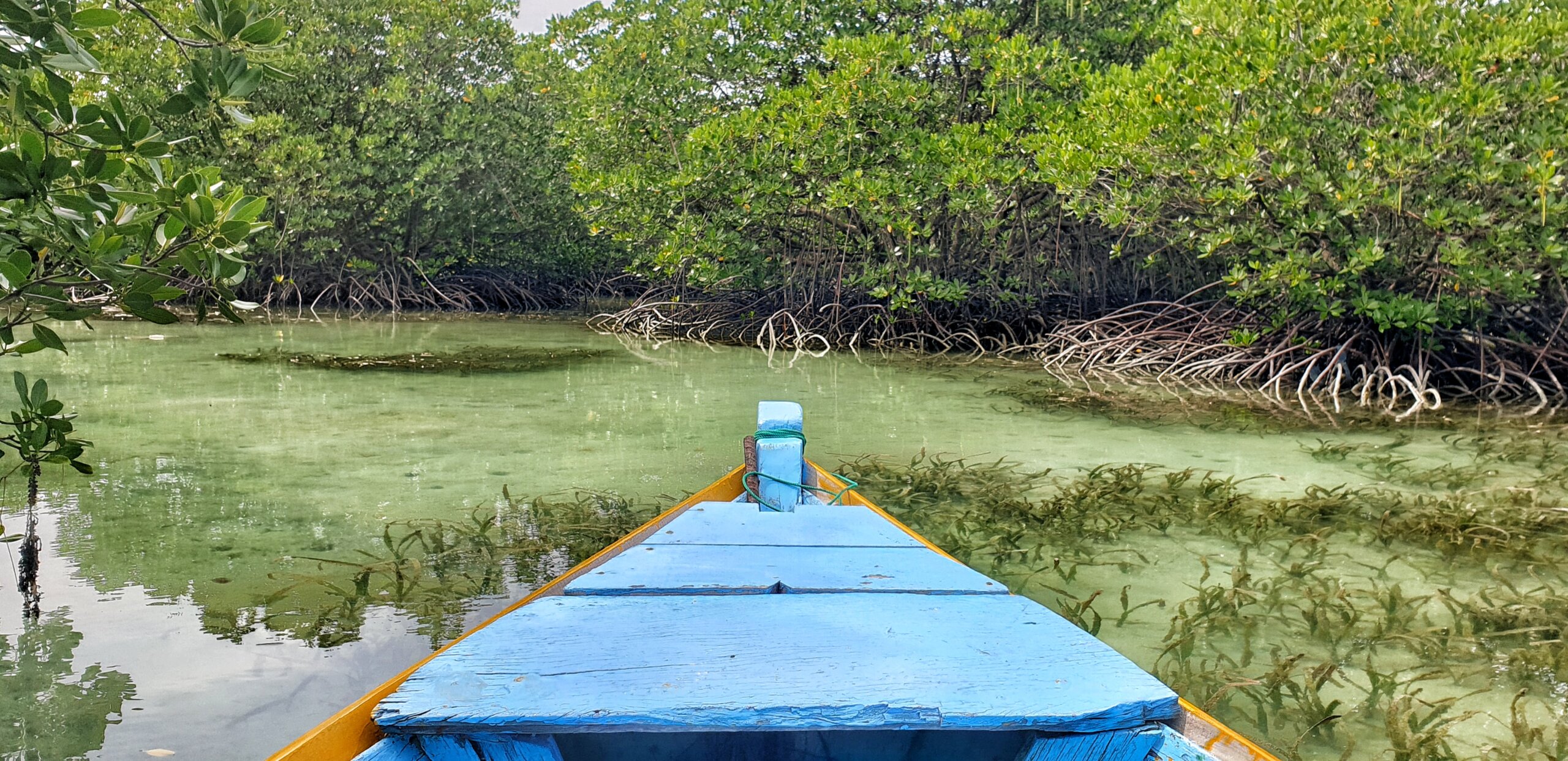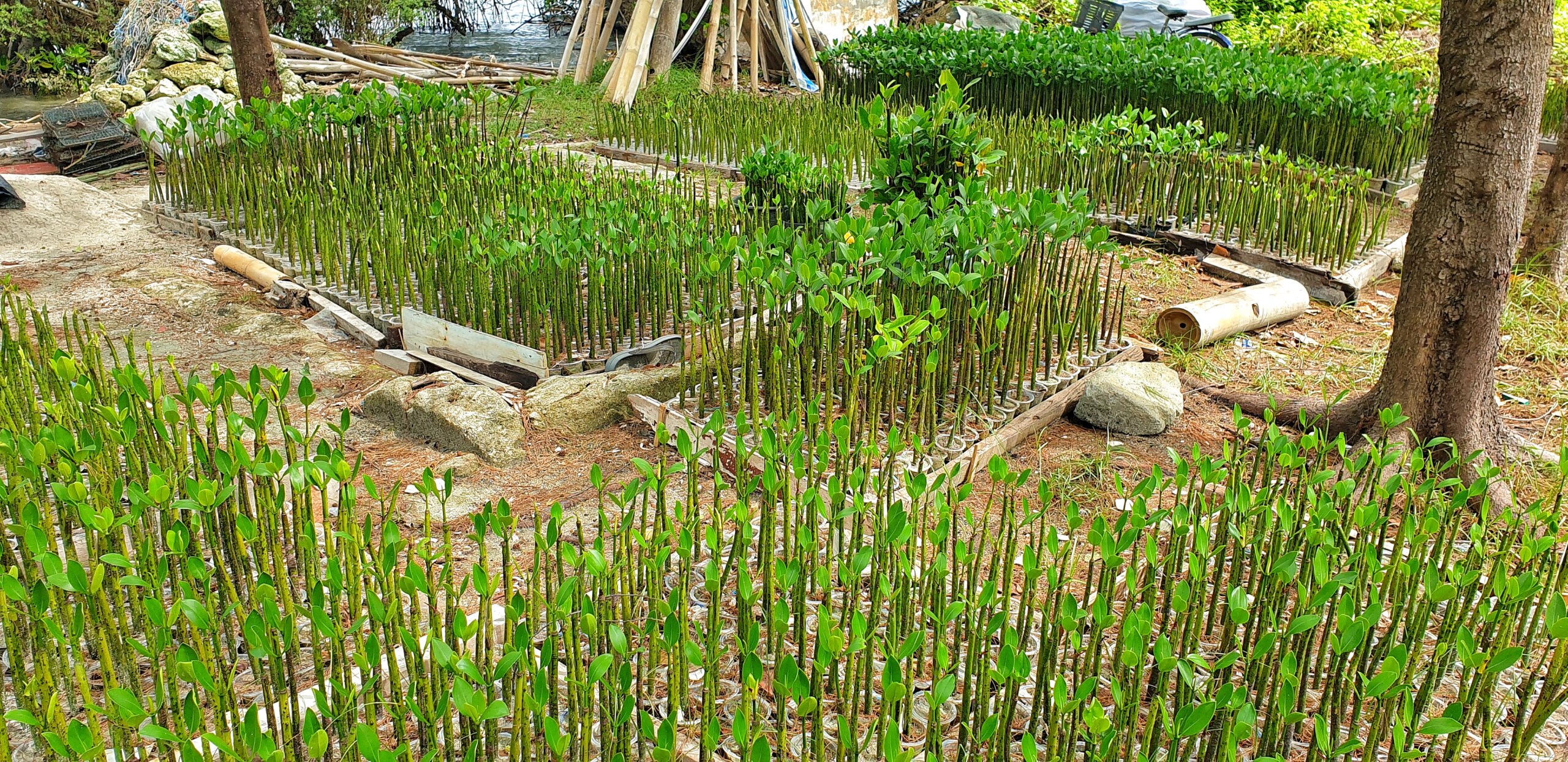 The ebb and flow
The island lives itstidal schedule. In the morning the water is at the beach. If the ebb is strong, the guesthouses directly at the coast can be floated too. In the afternoon, at the flow, locals are gathering mussels to cook them later in a stew.
Pulau Pramuka
As we had three full days on Pulau Pari, we decided to take a trip to the neighbour island Pulau Pramuka, which is the capital of Pulau Seribu. We were told that the ferry starts at 8 am. So we were at the port by 7:50 am to buy tickets (23000 rupies pp). But we were not told the ferry starts at 8 am from Jakarta… So we embarked at around 9:45 am and in 30 minutes of very, very wavy ride, I almost started feeling sick, we got off on the island Pramuka.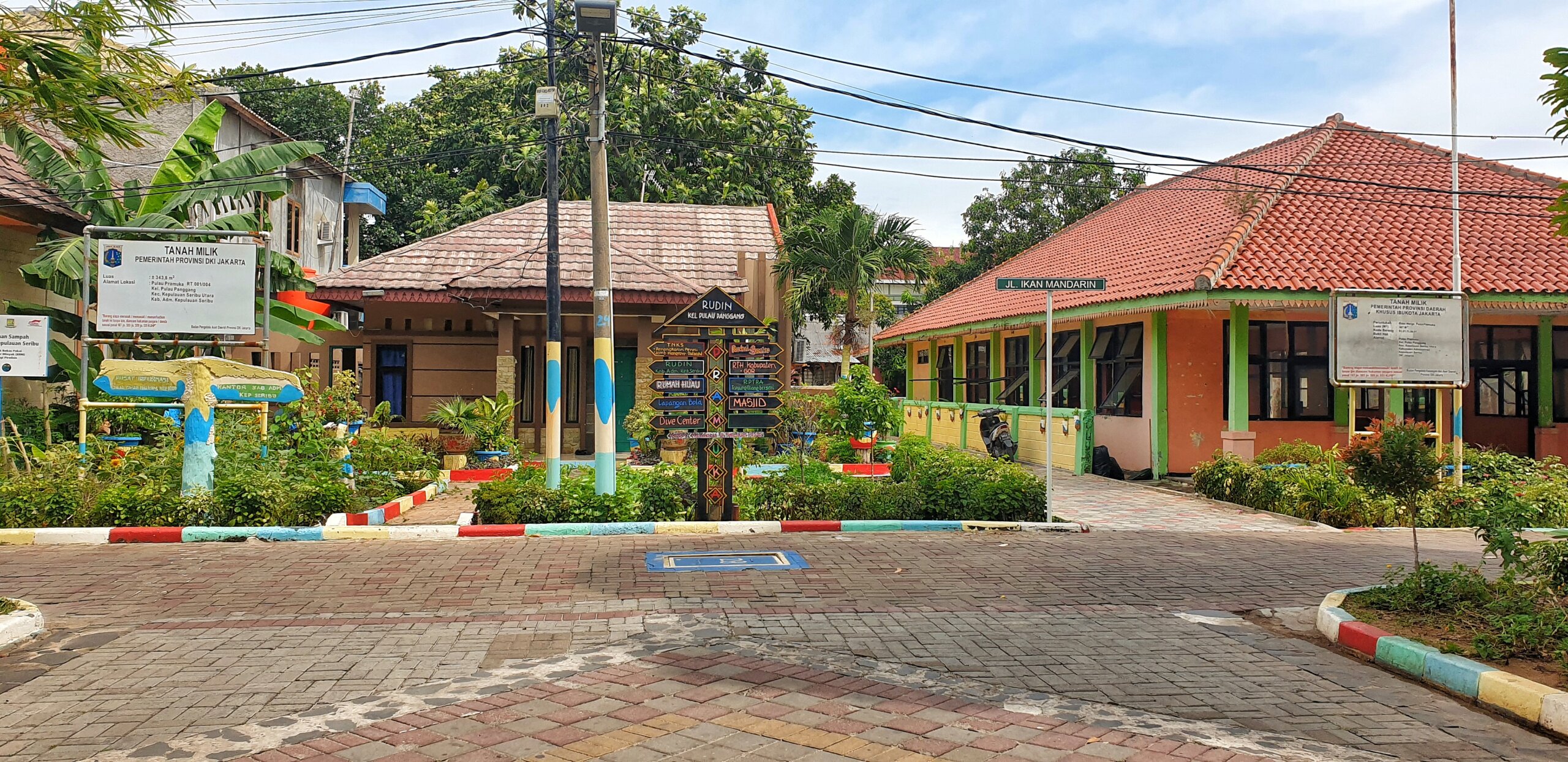 This island looks more modern, with more solid buildings and better roads than on Pari island. Though the beach here, Sunset Pantai, is very small and not as attractive as the beaches on Pulau Pari.
A cool place where locals are spending time is the skateboard park. You can rent a board for 10000 rupies (ca. 60 cent) for an hour there and train your balance a bit. I was surprised to see many kids riding skateboard very sure. Mia was allowed to skateboard as well, first time in her life, and that was a lot of fun.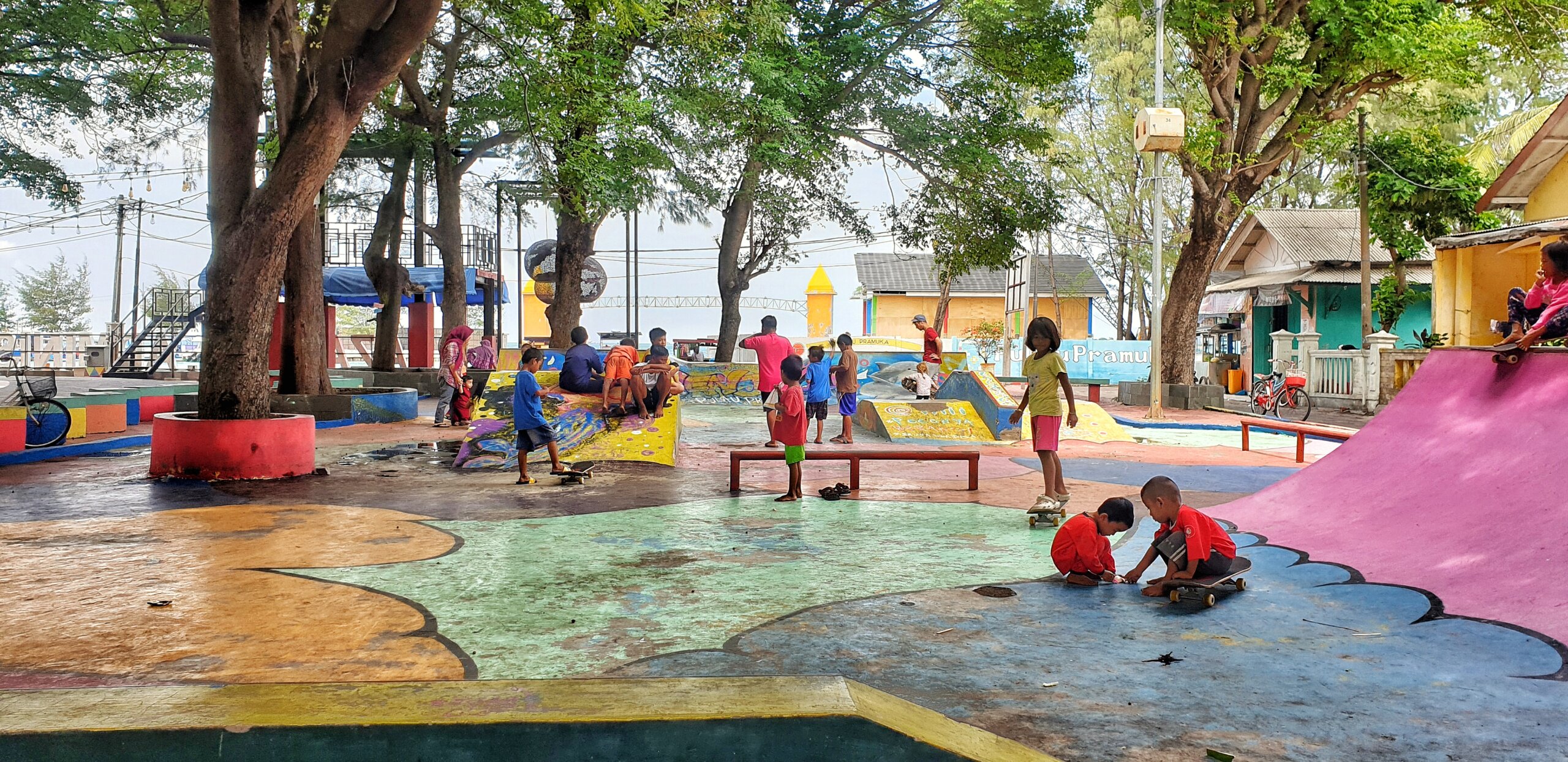 We also discovered Pusat Sanctuary Penyu, a sea turtle conservation center and were given a short tour for 7500 rupies (46 cent) pp. With the same ticket we were able to visit the mangroves walk nearby.
For lunch we were circling the island to find any restaurant, where the food would not be standing in plates on the sun. The place next to the skateboard playground looked the most trustworthy, as I spotted chicken being boiled and asked the cooking ladies to roast it directly ("goreng?" – "goreng!") and serve rice (nasi) with it. Matze went for a beef soup with greens and instant noodles. Two meals and two drinks cost us 75000 rupies (4,5 Euro).
Often we have seen chips being dried directly on the street. I risked to try them – that was fish, so I couldn't force down the bite, being aware the conditions it was dried at. What did you hope for, Ksenia? Veggies, obviously. Indeed, on the island several types of vegetable chips are being produced. You can buy them in the local minimarkets.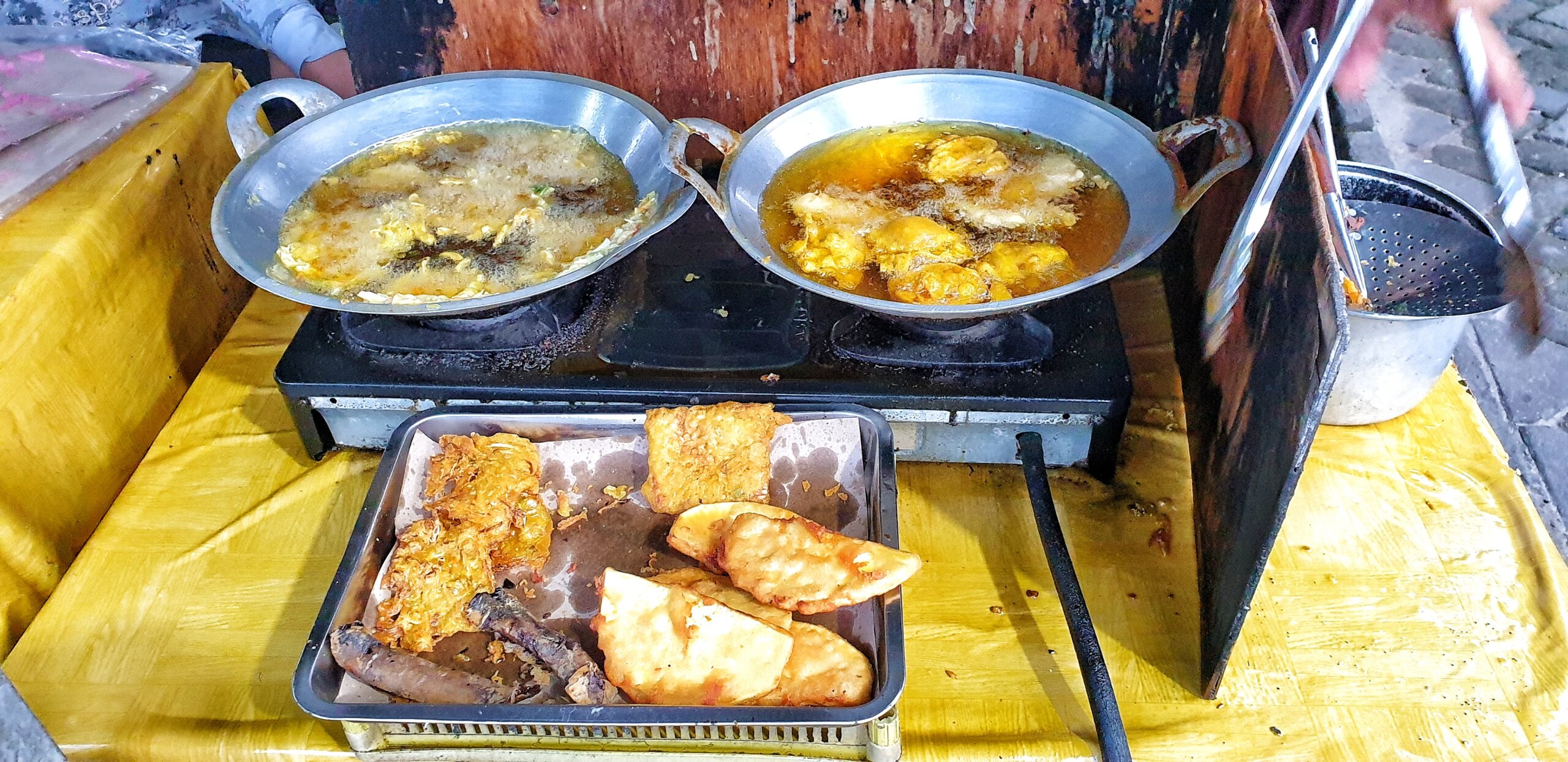 On the islands, everyone rides a bike or a motorbike. Sometimes you can see families of 4 on a bike with babies on an arm.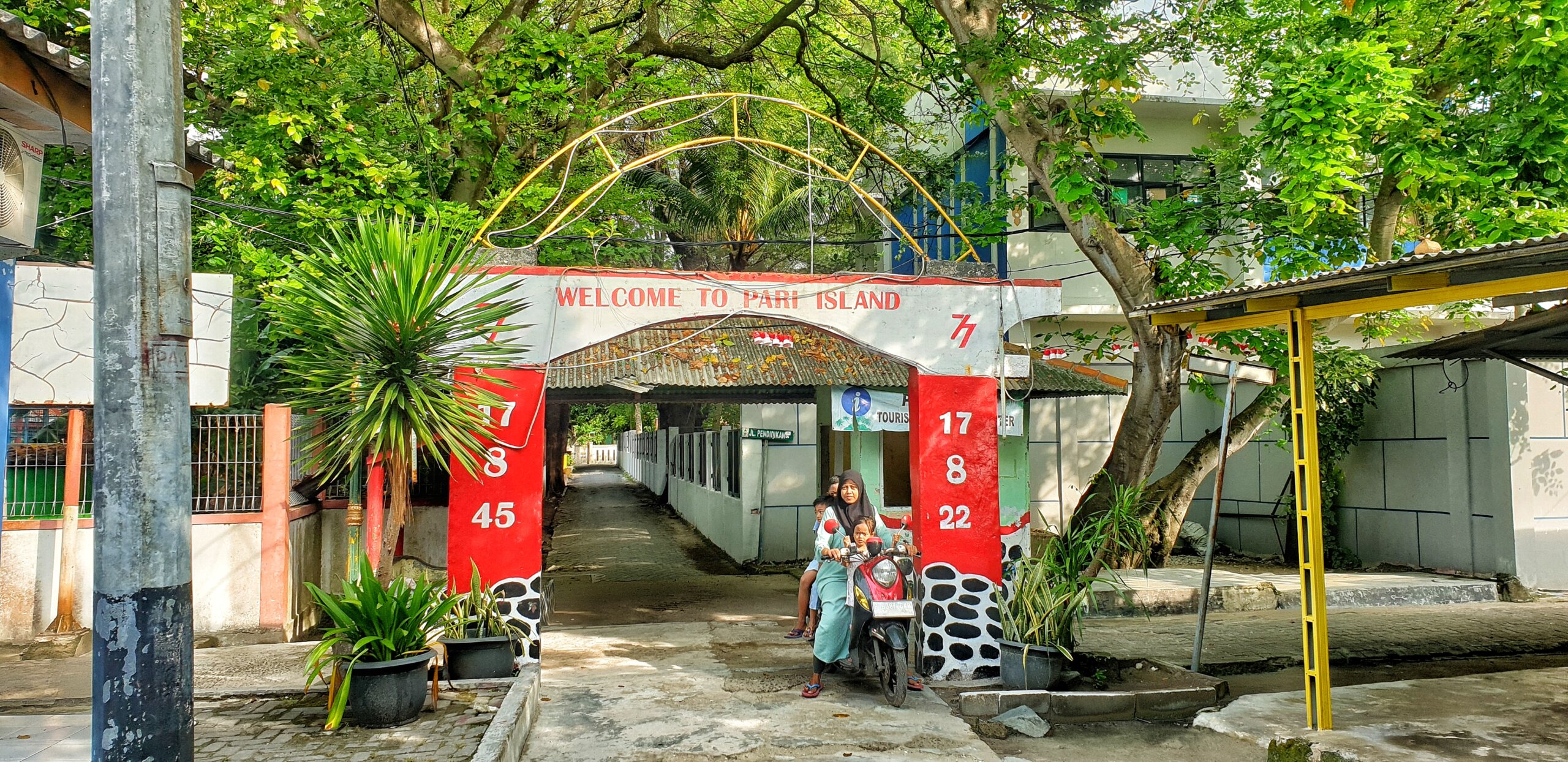 Going back to Pulau Pari was an adventure. When we arrived, two parties confirmed us that the departure back to Pari was planned at 1 pm. When we got to the haven by 1 pm, there were no tickets already. "Next ferry is tomorrow at 10 pm". This answer was not satisfactory at all. The police officer was so kind to ask at the other agency if there were tickets for a 3 pm ferry. We had luck – there were tickets on sale. We even happily agreed to pay the price seven times higher than we paid to get to Pramuka (same price to get back to Jakarta – 190000 rupies (11,5 Euro) pp.). Let's say, this price we paid for a bigger boat and less wavy ride and thus more enjoyable experience of getting back to the Pari island.
Returning from Pari island to the mainland was quite easy: we had two options to choose from: a slowboat at 10 am and a speedboat at 3 pm. We decided to get to Jakarta earlier and decided to take the slowboat (which is only insignificantly slower than the speedboat). The tickets cost 72000 (4,3 Euro) rupies pp. The trip took exactly 2 hours, after taking off with 30 mins delay. All passengers were sitting on life wests on the floor of the upper deck. To my surprise there were even plugs to charge a phone.