Kyrgyzstan: Issyk Kul round trip
From Bishkek we headed to Issyk Kul. Our route looked the following way: Balykchy – Bokonbaevo – Karakol – Bosteri. From Bishkek to Balykchy the taxi ride took around 3-4 hours and cost 4000 som (around 50 Euro). Our first two nights at Issyk Kul we stayed in Balykchy in Gulnara's Guesthouse. In the garden of the guesthouse fruit trees are growing and Mia was excited to pick apricots right off the tree.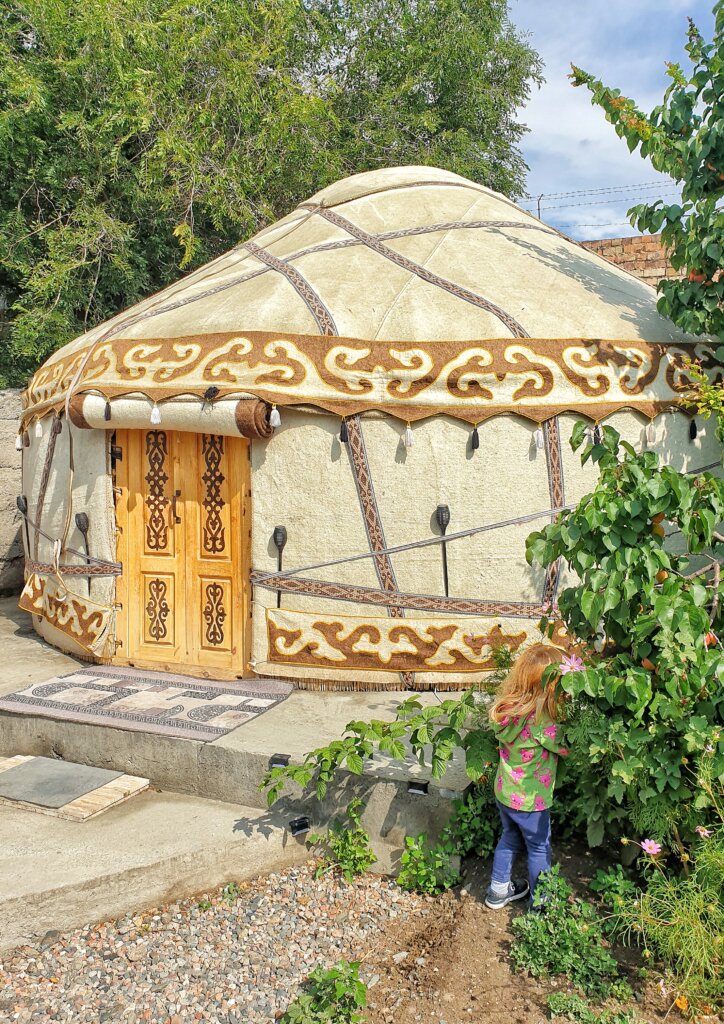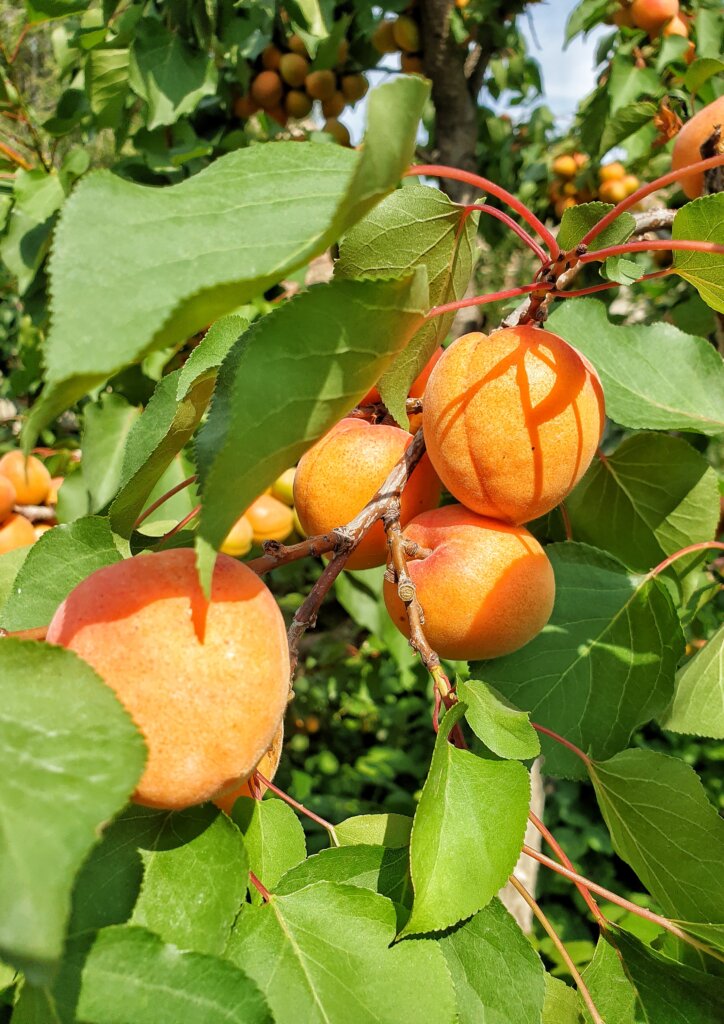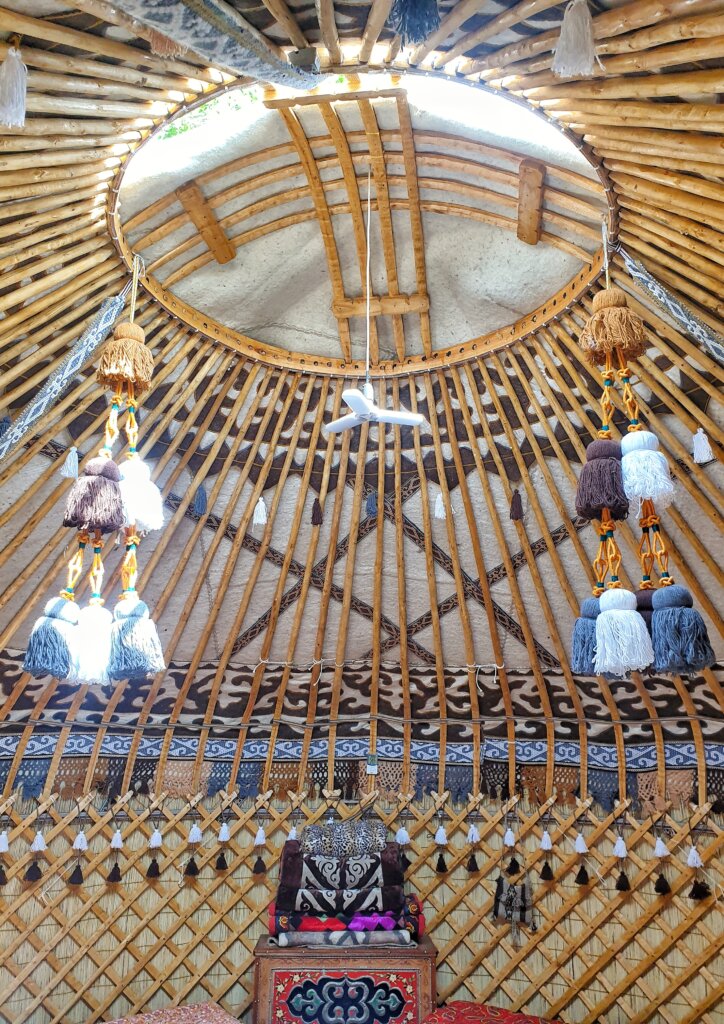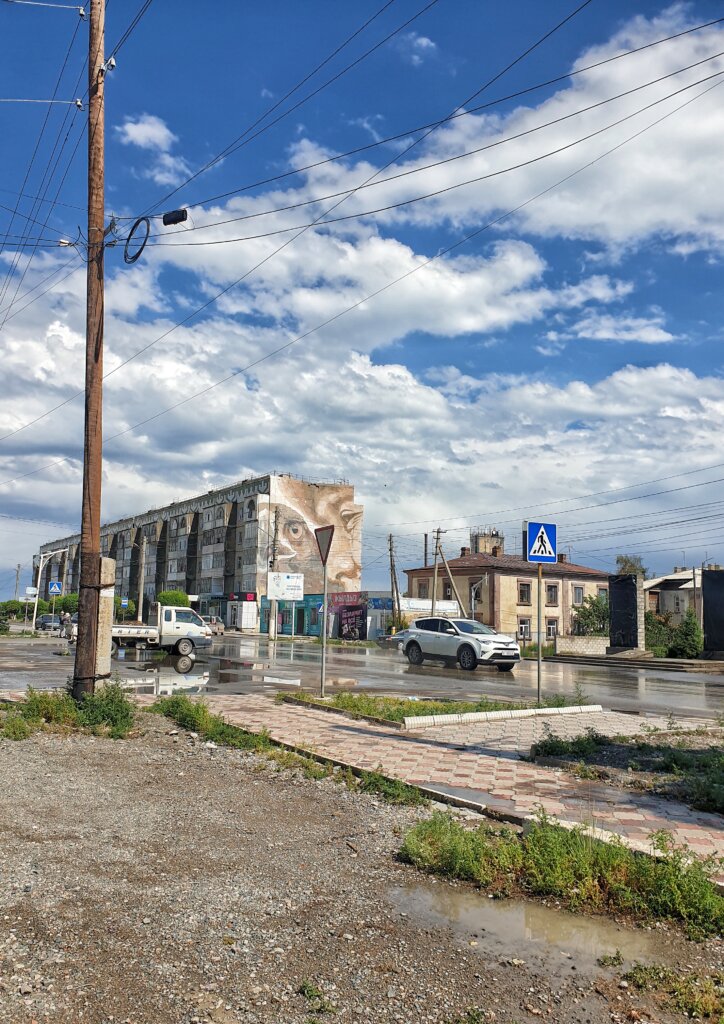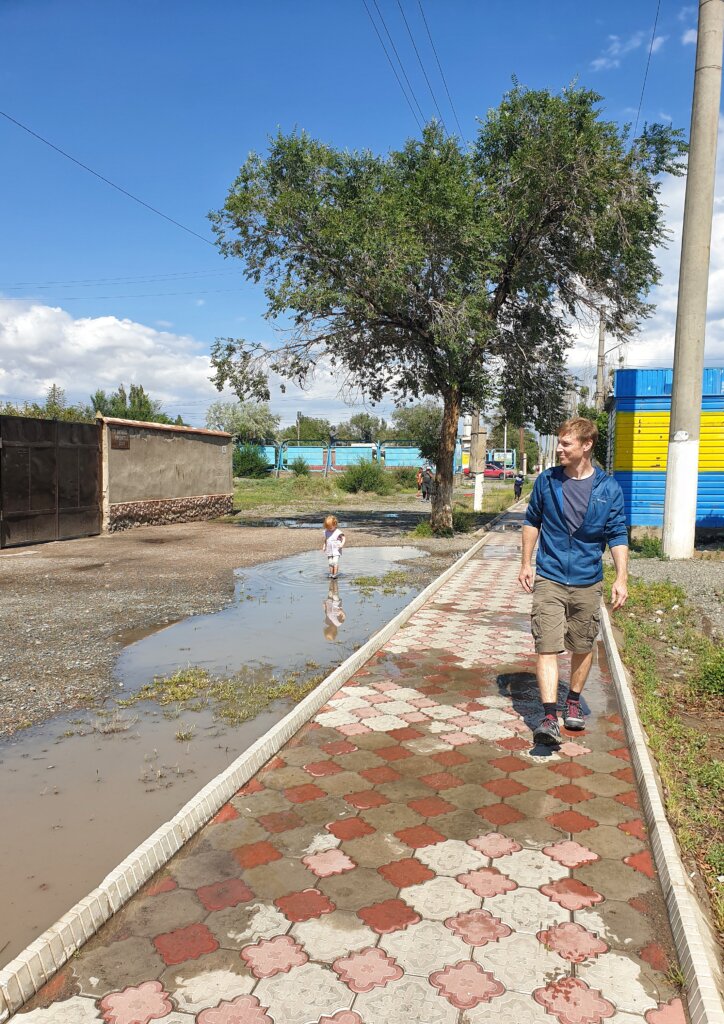 In Balykchy you can go to the shore of Issyk Kul and enjoy the pastoral views of green meadows and blue water and skyes.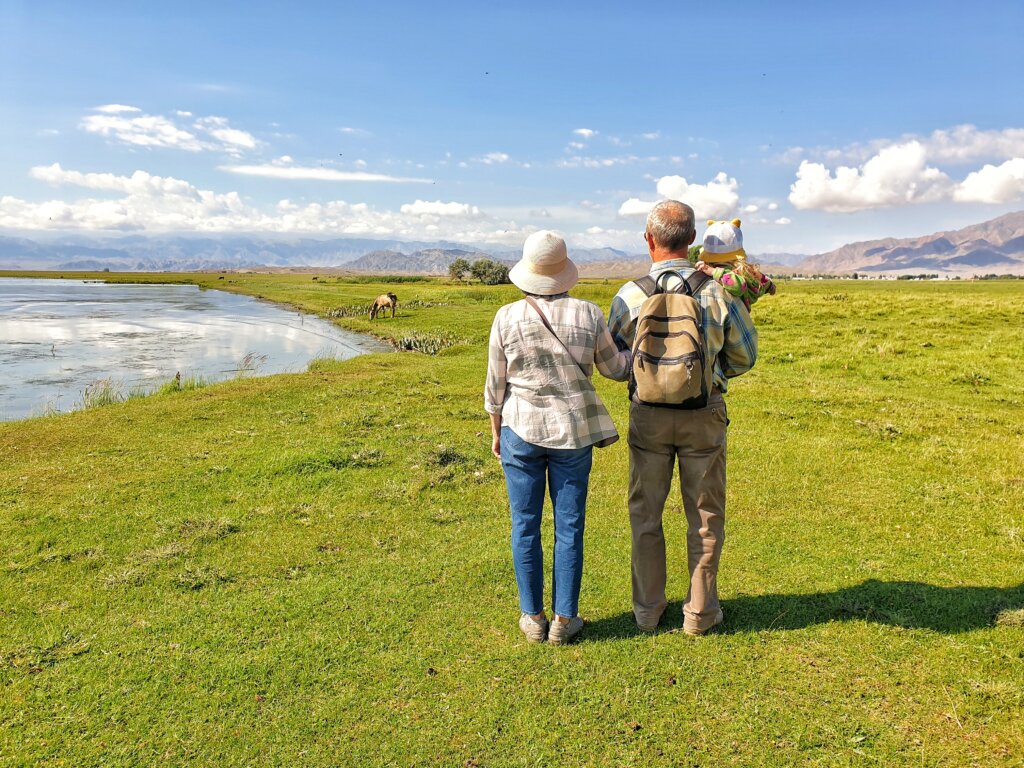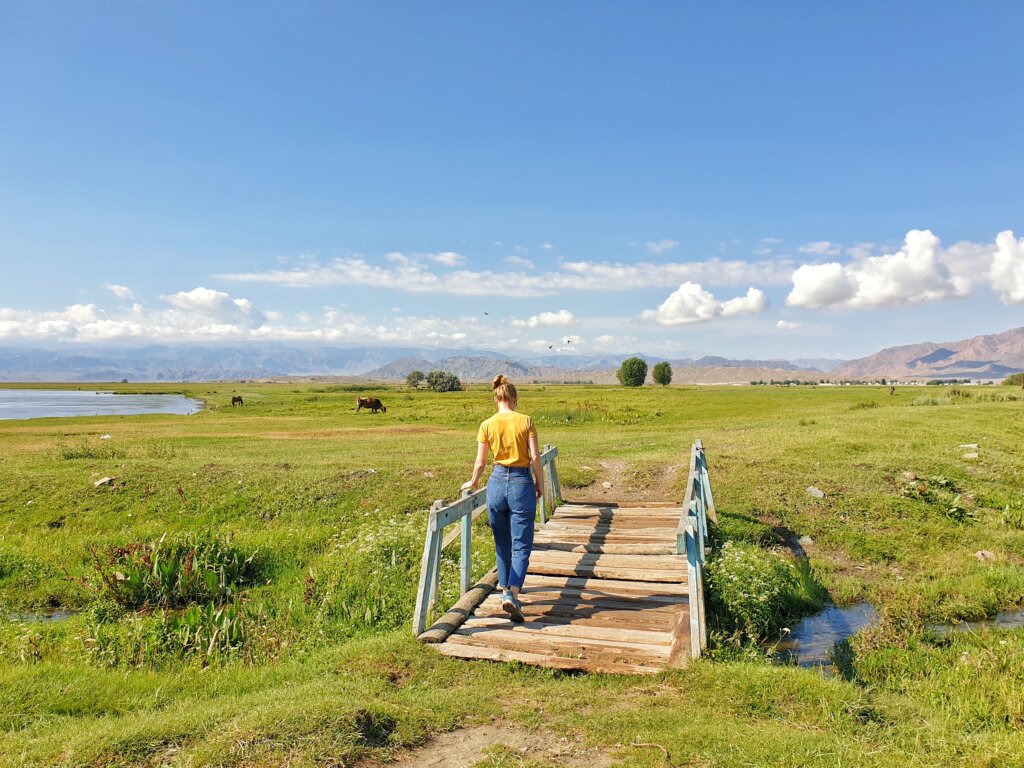 Konorchek Canyon
We caught a taxi on the street in Balykchy and paid 1000 som (12 Euro) to get to the entrance to the canyon. (Probably, we paid 5 times more than the normal price, as another guy whom we picked up paid only 30 som for half the trip). Beware that many locals don't know this canyon, taxi drivers included. I'd recommend you to put a mark in your Google maps as I show in the picture below.
Watch out for the street sign (I added a photo of it). Then you'll have to hike along the river bed about 2 km to the canyon. One way hike lasts about 1 hour 15 minutes. Of course, we made multiple stops, as our toddler Mia was sometimes difficult to motivate to walk on her own.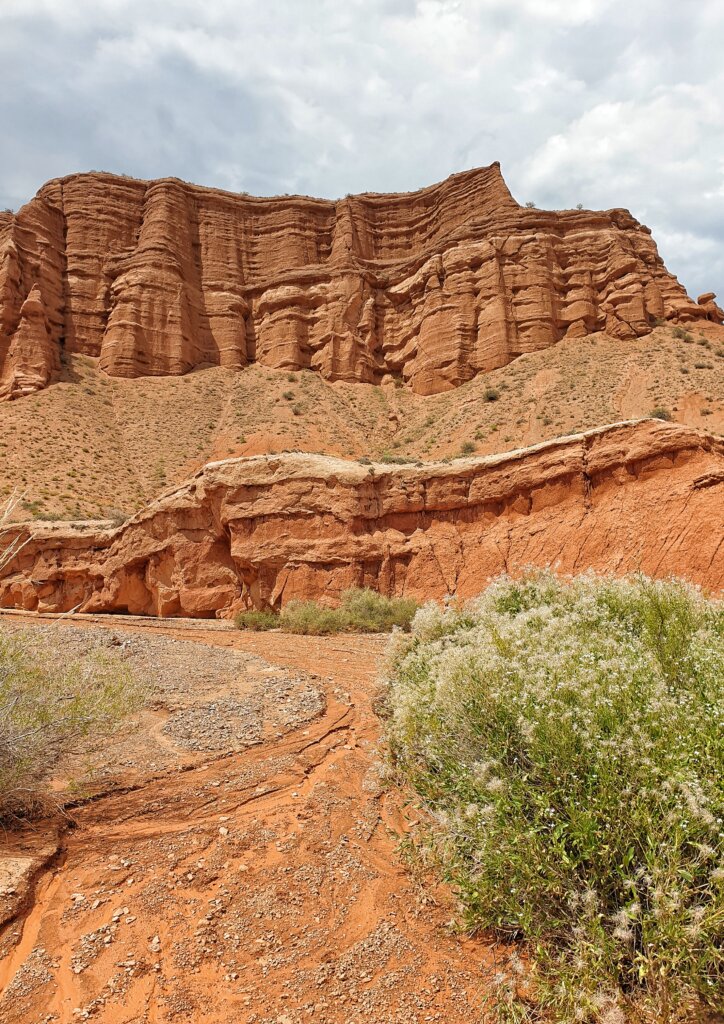 Generally, the hike was sometimes challenging and implied climbing some rocks (up to 1,5 metres). Having Mia sleeping in the carrier didn't make the task any easier. Nevertheless, securing each other we mastered all of the climbs. On the way back we hitchhiked and the driver refused to take any money for the gas.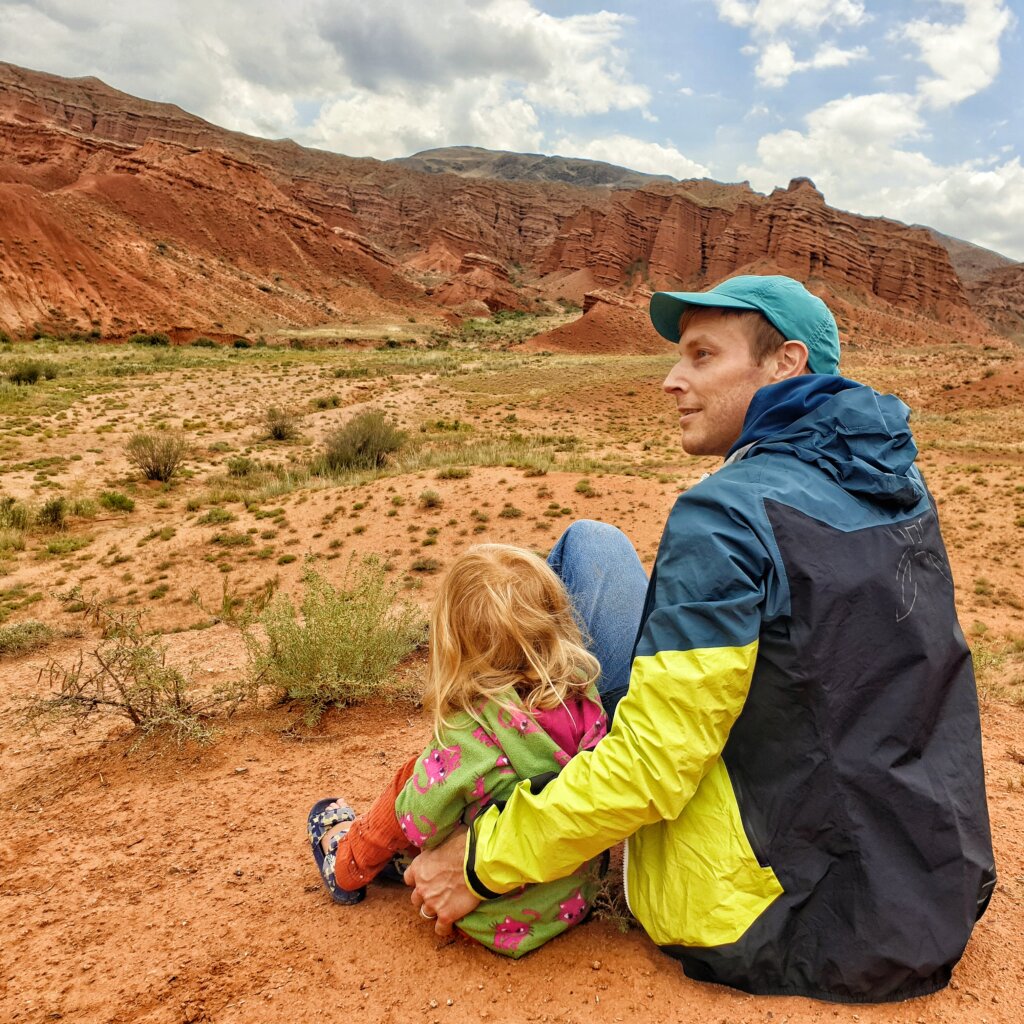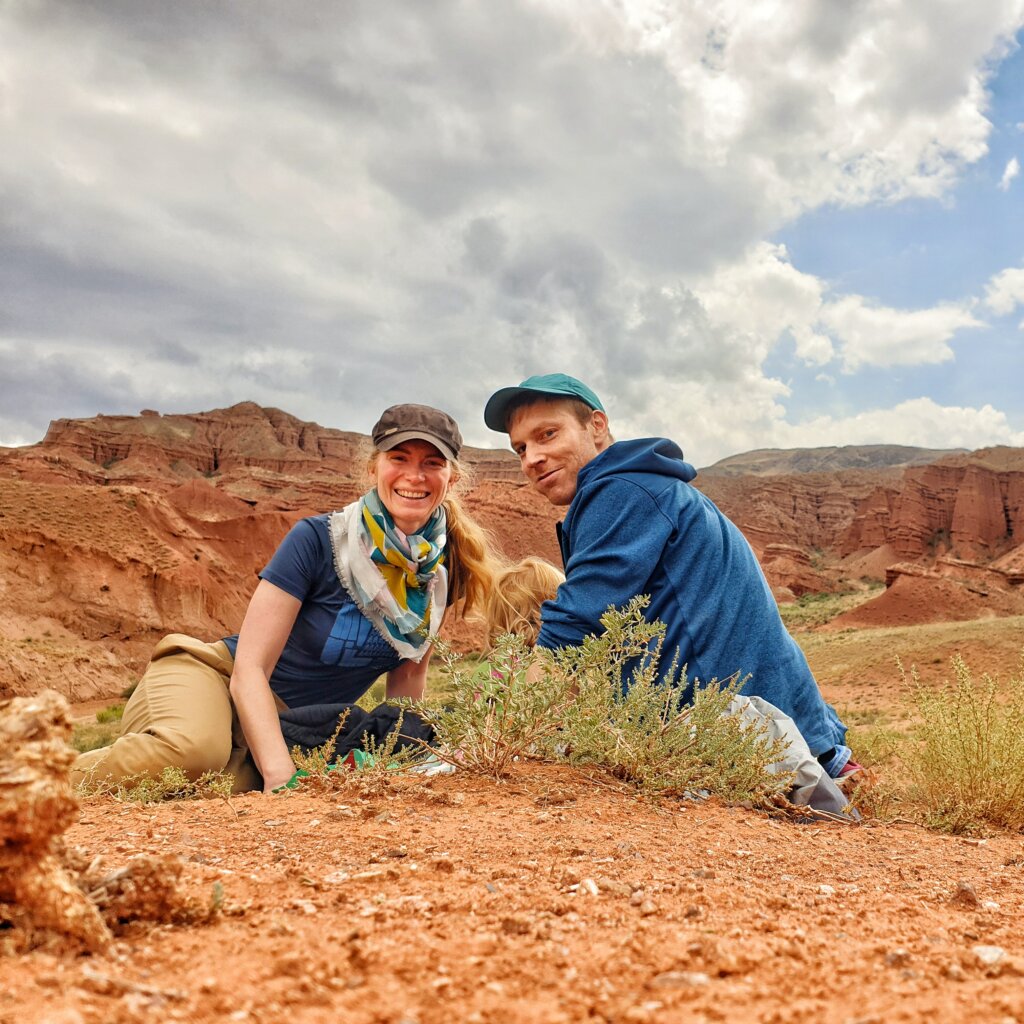 Fairytale Canyon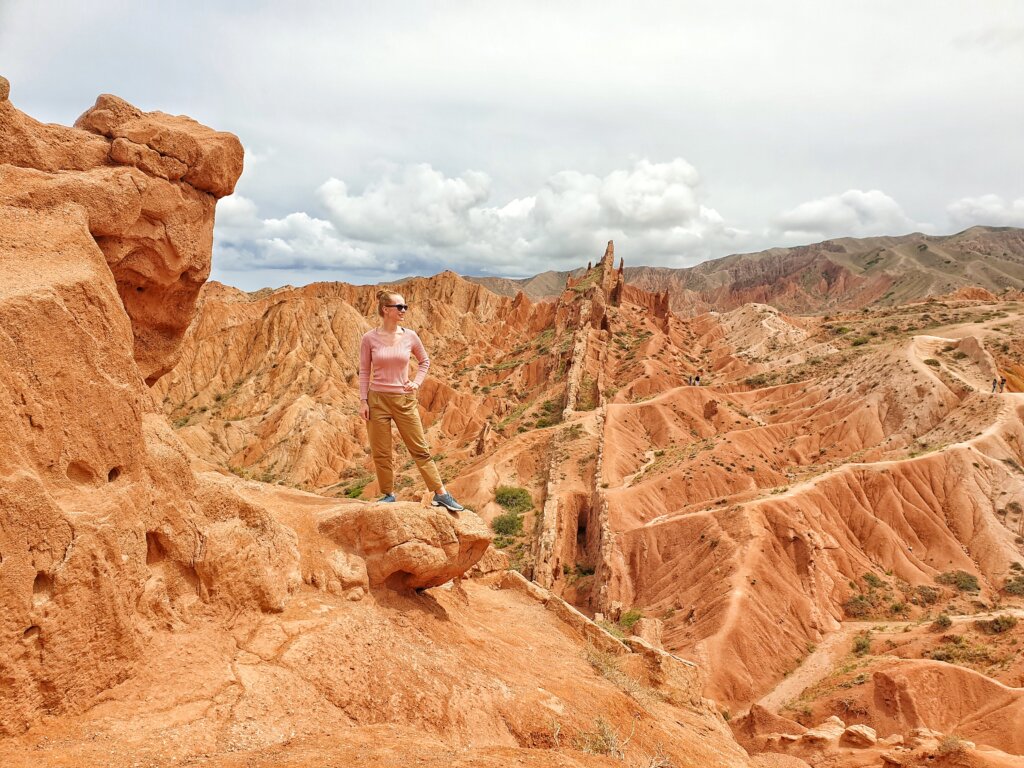 A must see in the south of Issyk Kul is the Fairytale ("Skazka") Canyon. It is situated about 35 minutes drive from the Bokonbaevo village. A shared taxi (5 persons) from Balykchy to Bokonbaevo costs 300 som pp. In 2 – 2,5 hours you are there. The roads around the lake are now being rebuilt, after the new president came to the top. Now they are partly shaky and the time on the road is in fact longer than Google maps will show you. Besides, if it rains, some roads are blocked with mudflow and standing in a traffic jam is not excluded.
To get to the Fairytale Canyon I'd recommend you to take a taxi which will cost you around 1800 som to go there and back, waiting time included. Entrance fee of 50 son pp should be paid. If your car or your taxi is 4×4, you can drive directly to the canyon and park there to explore the fairyland.
For 100 som you can take a photo (or have a little photoshoot) in the kyrgyz armour with a bow and arrows. Actually, some of the hats suggested were made of snow leopard fur, which is extremely sad…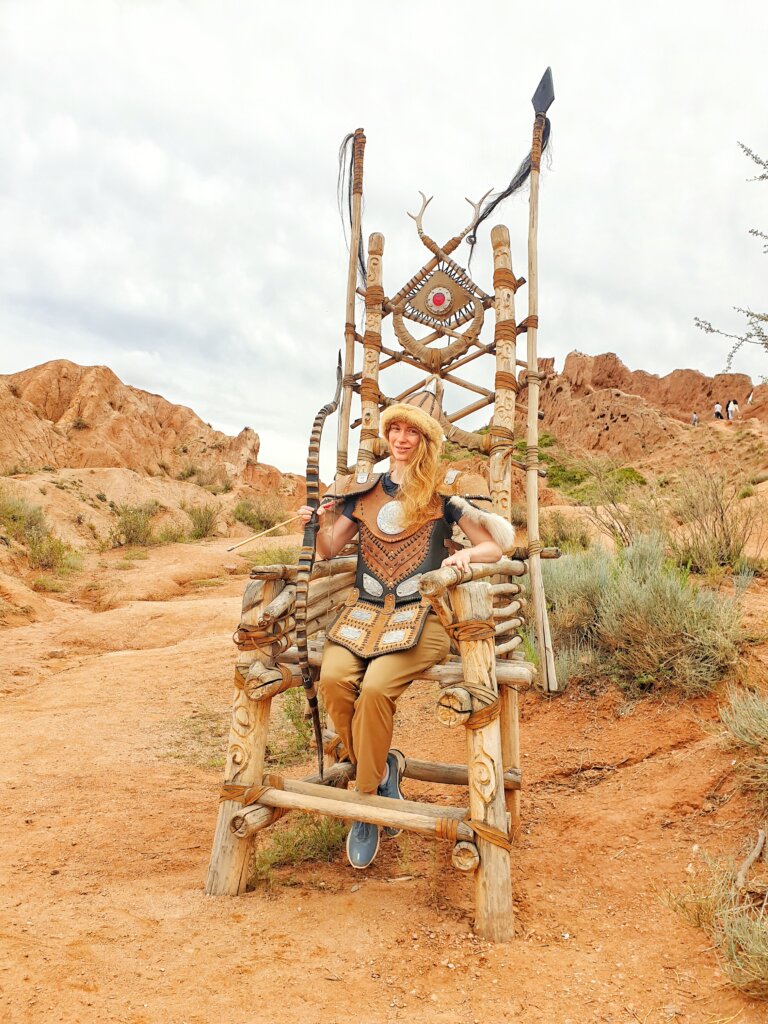 Barskoon Valley
On our way to Karakol we asked our taxi driver to make a detour to the Barskoon Valley where two waterfalls, Barskoon Waterfall and Waterfall Bryzgi Shampanskogo (translated like Splashes of Champagne), and Gagarin Monument are located. We only hiked to the smaller waterfall (I guess it was Barskoon Waterfall) and back, as we wanted to reach Karakol while it was daylight.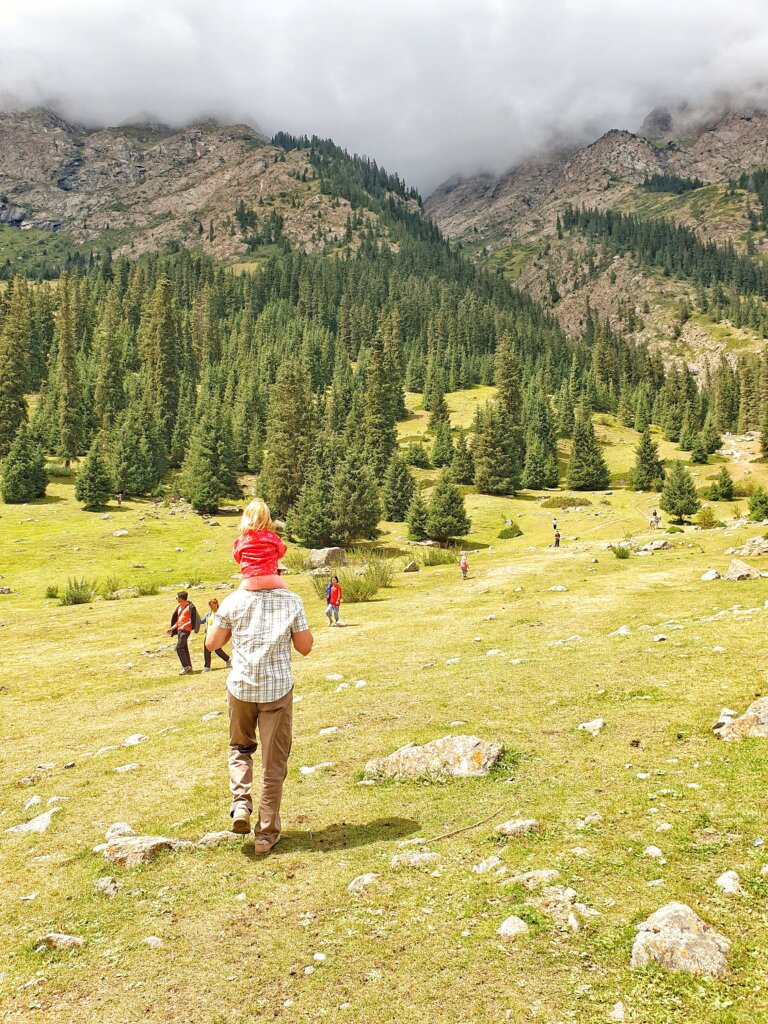 Dzhety-Ogyuz District
In the eastern part of Issyk Kul we have booked a room in the Farmer's Pond House in a remote village about 1 hour drive from Karakol. A taxi from Bokonbaevo to Karakol costs around 2500 som. We took a private taxi from our yurt camp to another accommodation that is in quite a desolate place, so it cost us 4000 som for 2,5 hours drive.
If you head to the Dzhety-Ogyuz, you can combine your next hike with some sightseeing:
Seven Bulls Rock (Sem' Bykov)
Broken Heart Rock (Razbitoye Serdce)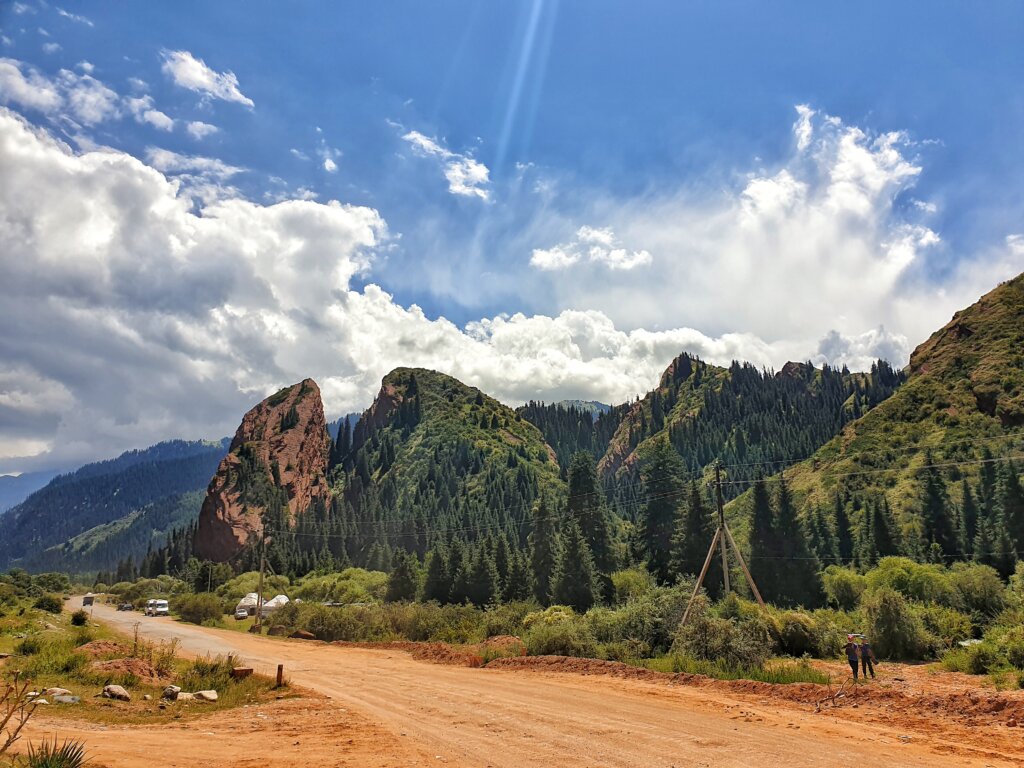 After crossing four bridges, you can start your hike. The day we were there, the first bridge was under construction, that's why we had to drop the car and walk on foot. After the forth bridge we explored a cave and turned around.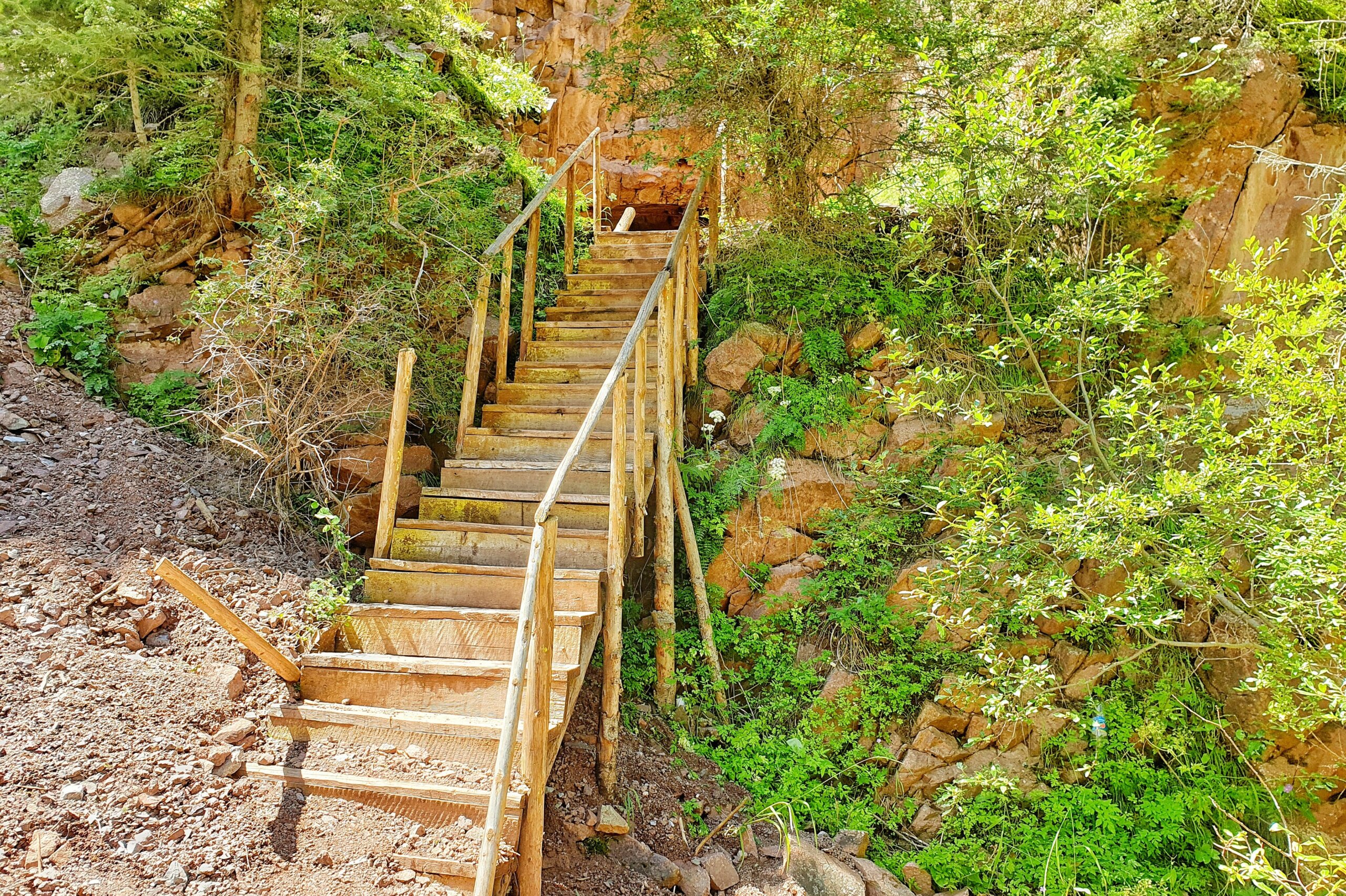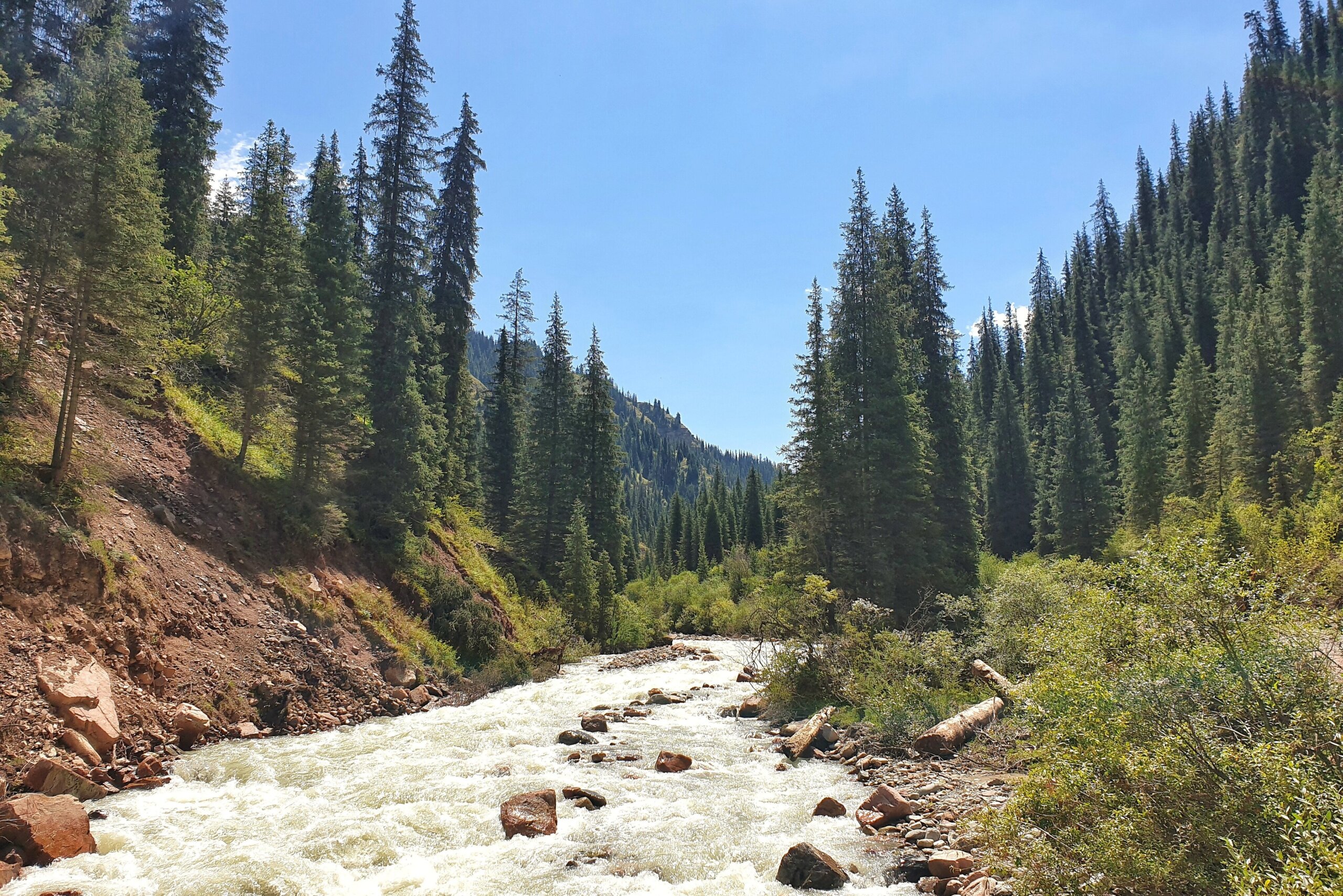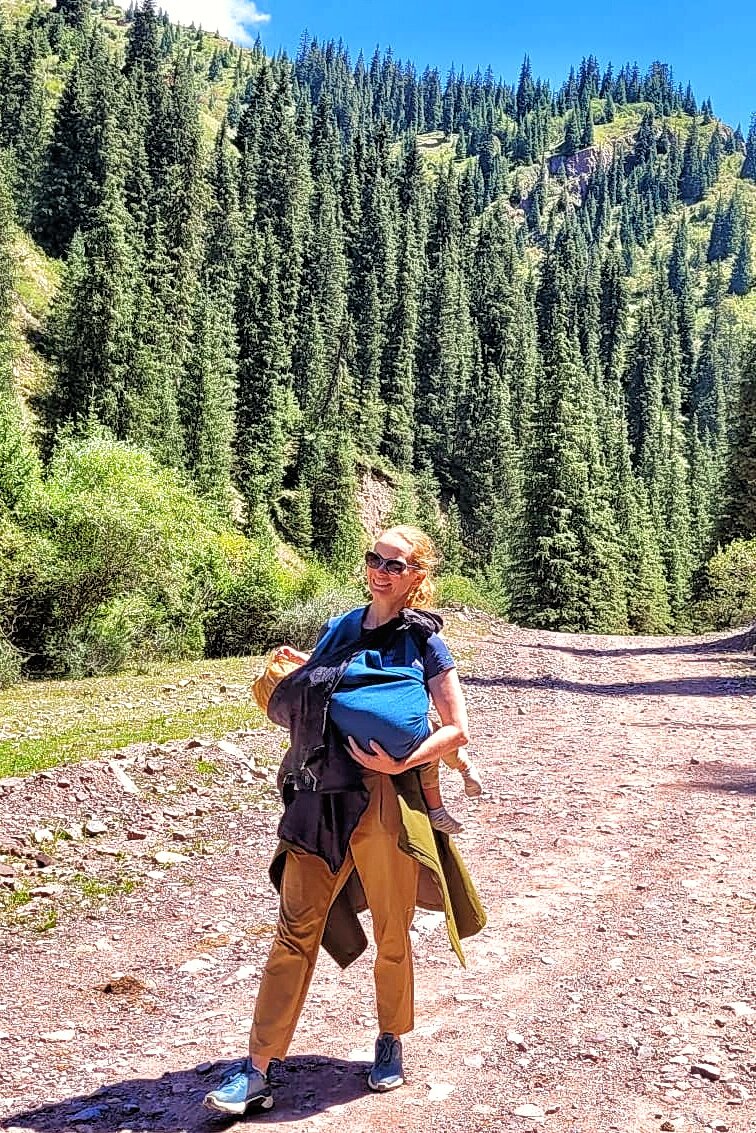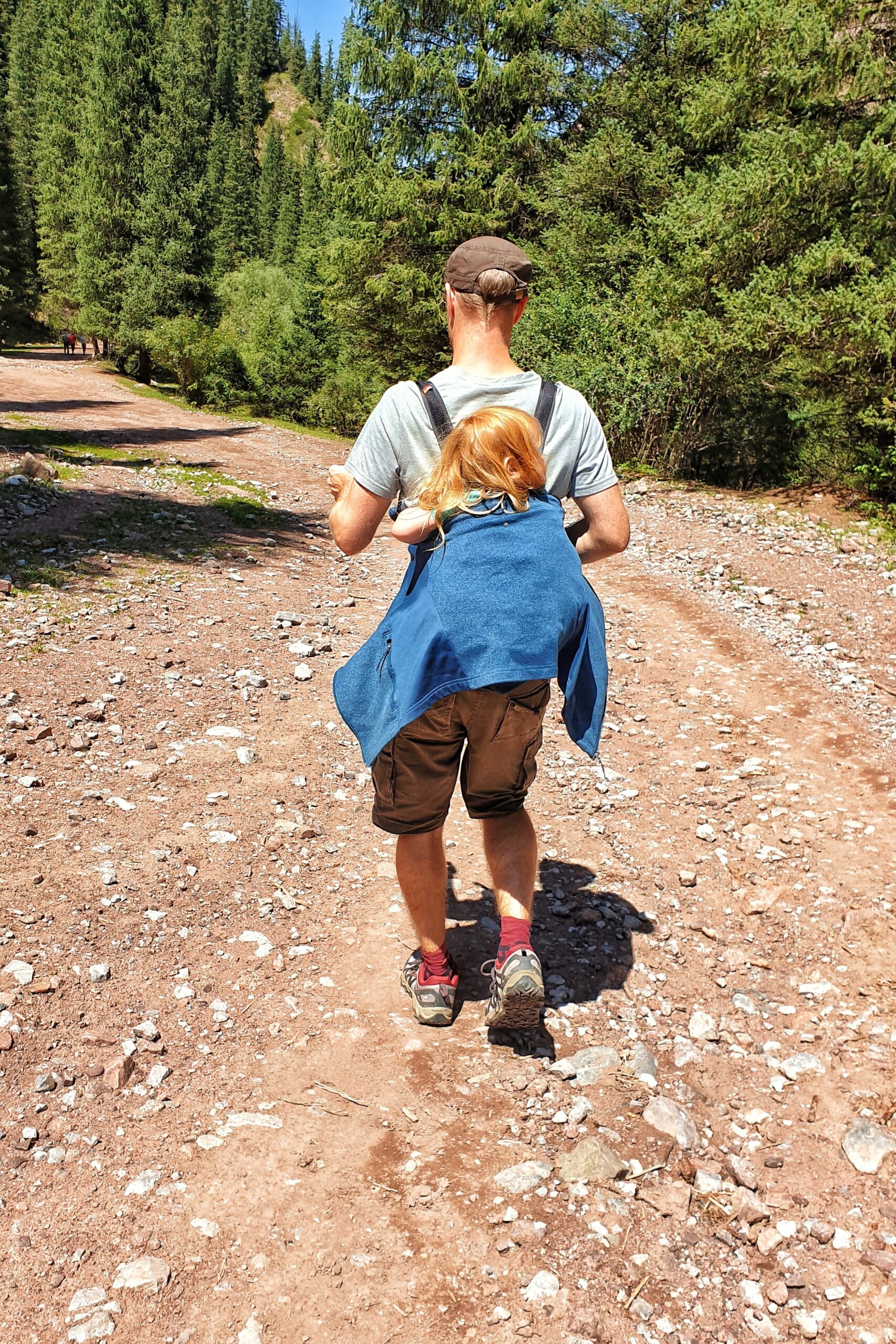 If you are up for a longer hike, you can walk 1-2 hours further and reach the Devich'i Kosy Waterfall. We have forgotten Mia's baby carrier and had to be creative while carrying her: we learned that a scarf or a backpack can also do a good job! Nevertheless, we turned around at the cave as we had to walk back for more than an hour.
After hiking we had lunch at the etno-cafe Dastorkon. The food in Kyrgyzstan generally contains a lot of meat. Vegetarians could definitely find some options. Vegan – not sure.
Ak-Suu Hot Springs
Around Issyk-Kyl there are many hot springs, some of them are transformed into public baths. Ak-Suu Hot Springs is one of them. The entrance fee is 250 som pp. There you can swim in four pools with water of different temperature, one of them is so hot you can barely put your foot in it! You could also shower with water from the mountain river.
Bosteri
From Karakol we took a taxi (if you take a shared taxi for yourself, basically buying it out, it's called "salon") for 2100 to Bosteri in the North of Issyk Kul. Bosteri is close to Cholpon-Ata, both are popular tourist destinations for locals.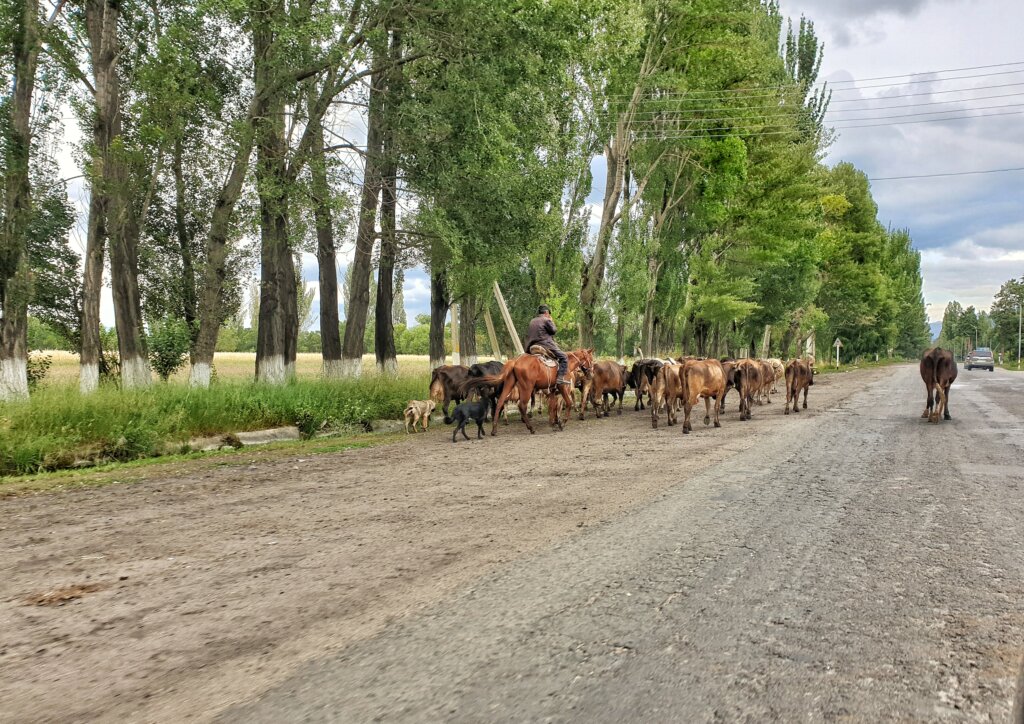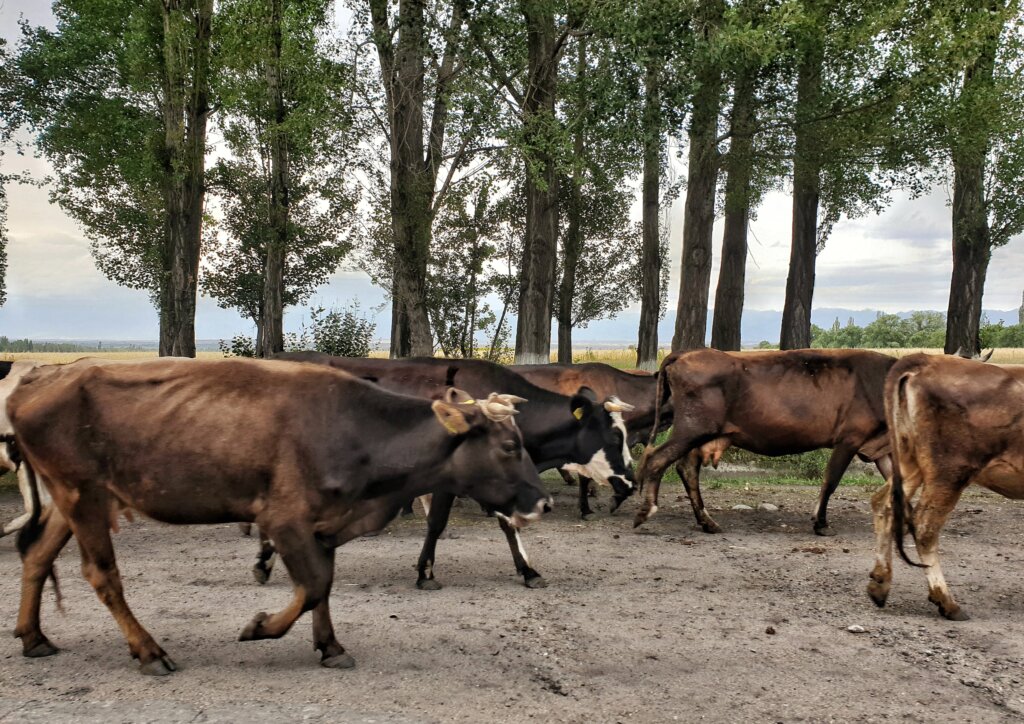 Respectively, the beach of Bosteri is crowded, especially on the weekends. Unfortunately, many people leave their rubbish in the sand and thus the beach looks totally polluted. The beach "promenade" offers numerous cafes, restaurants, little shops and food stalls. We can recommend the @Lemonadebar_ for delicious author's cocktails and lemonades to go (starting from 150 som without, 250 som with alcohol). Besides, fried ice-cream is also worth a try as it is made of natural ingredients in front of your eyes (150 som).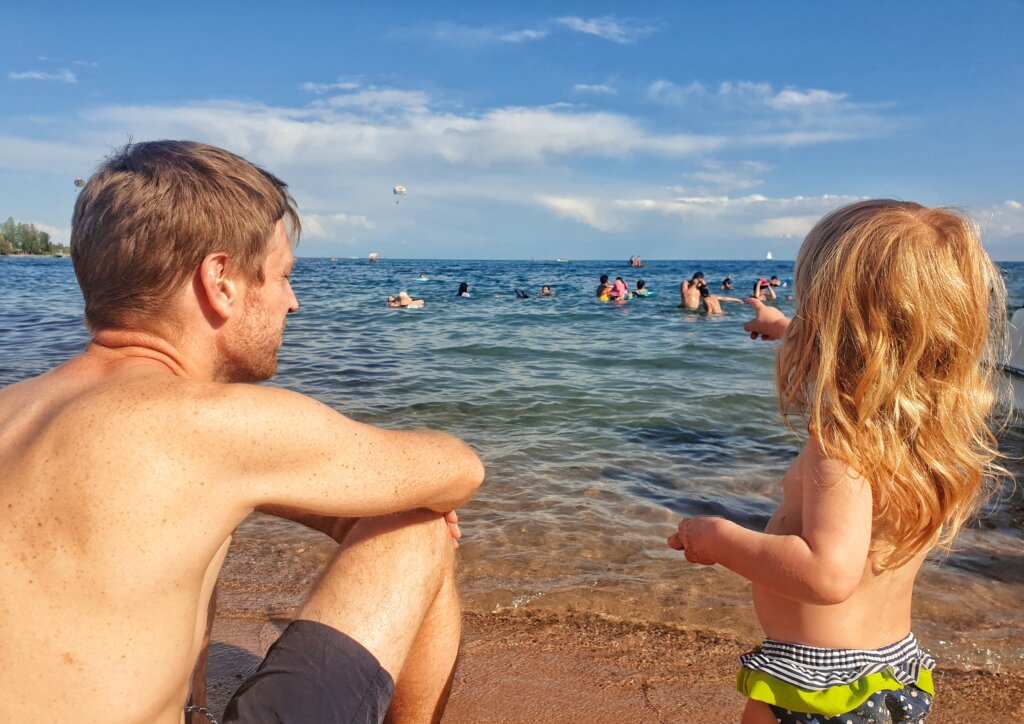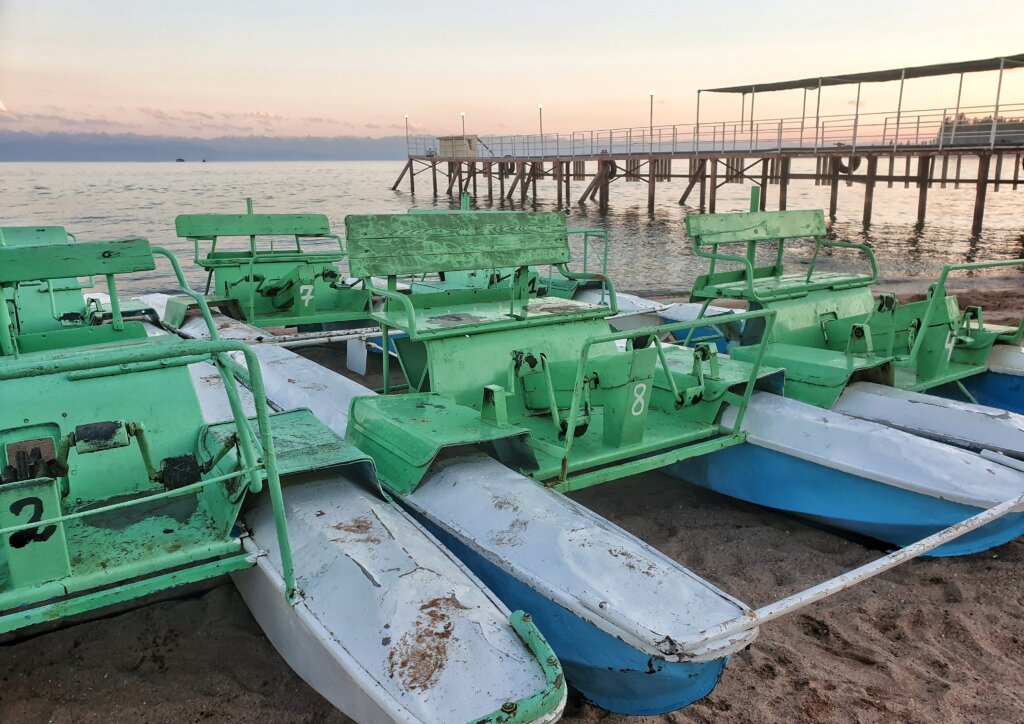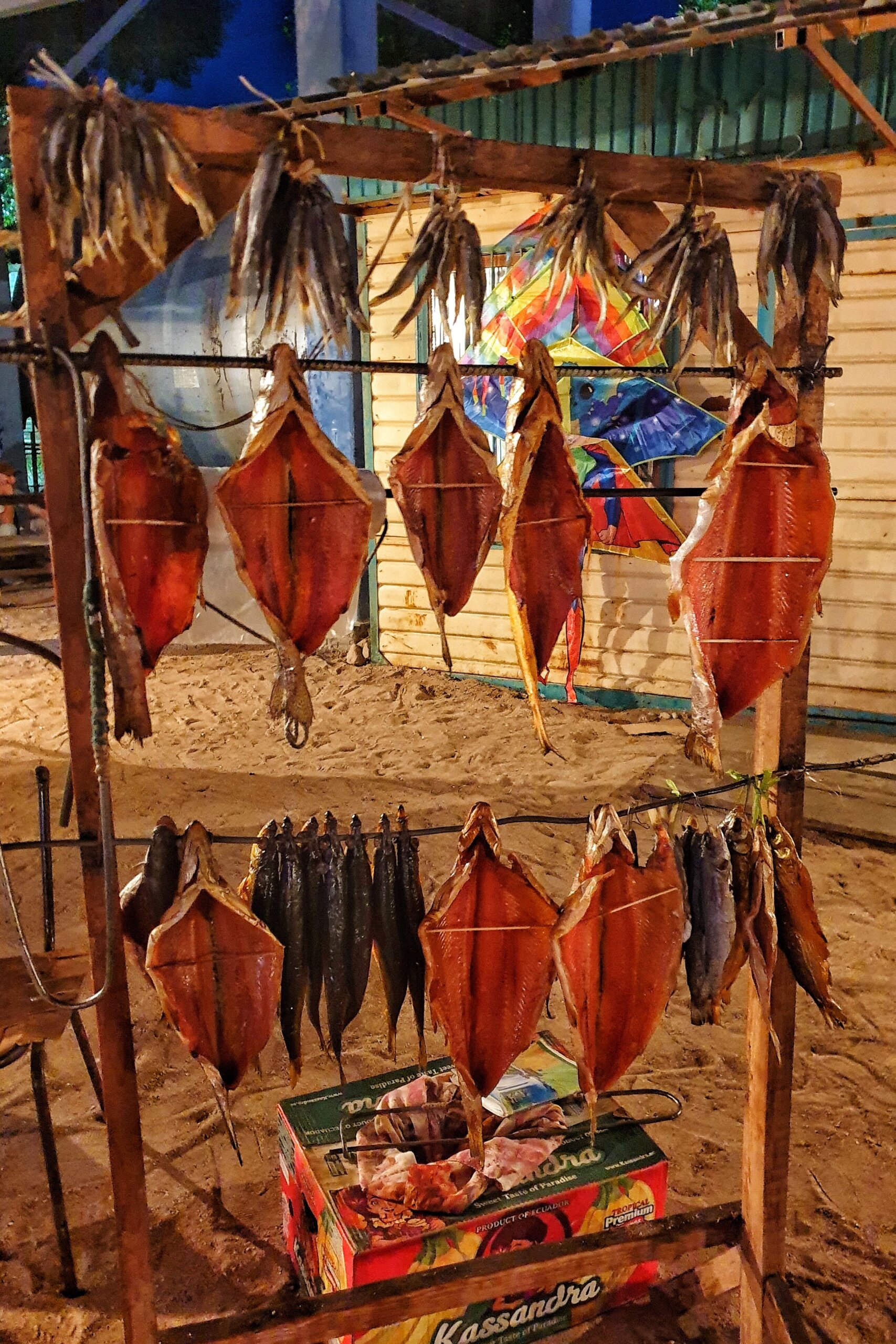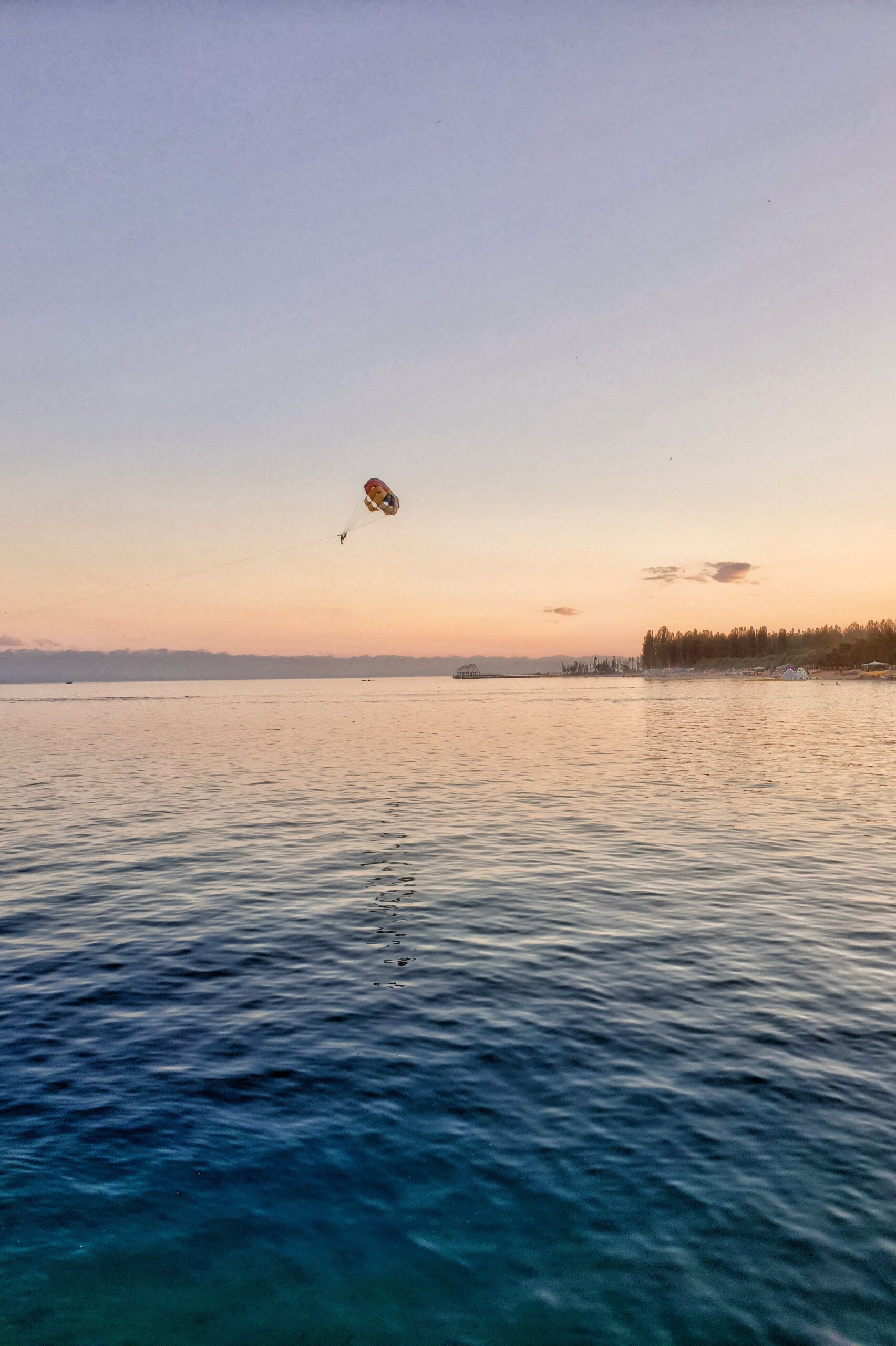 Semenovskoye and Grigorievskoye gorges
From Bosteri you can take a day trip to Semenovskoye and Grigorievskoye gorges.
Semenovskoye Gorge is a green valley with hundreds of sheep, goats and cows. If you are looking for a place to take picturesque photos of the sheep with the mountains in the background, aim for the Sky Yurts.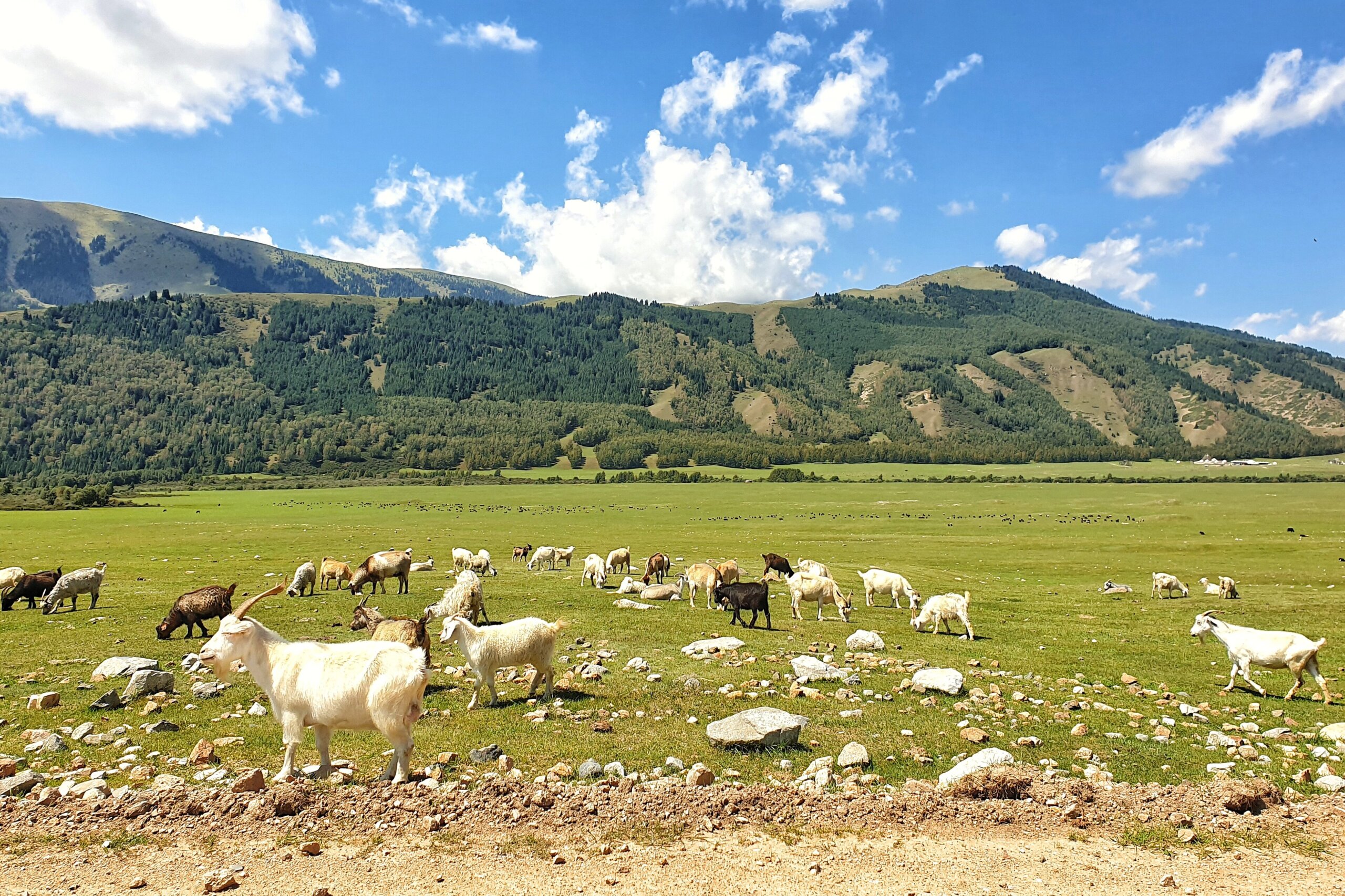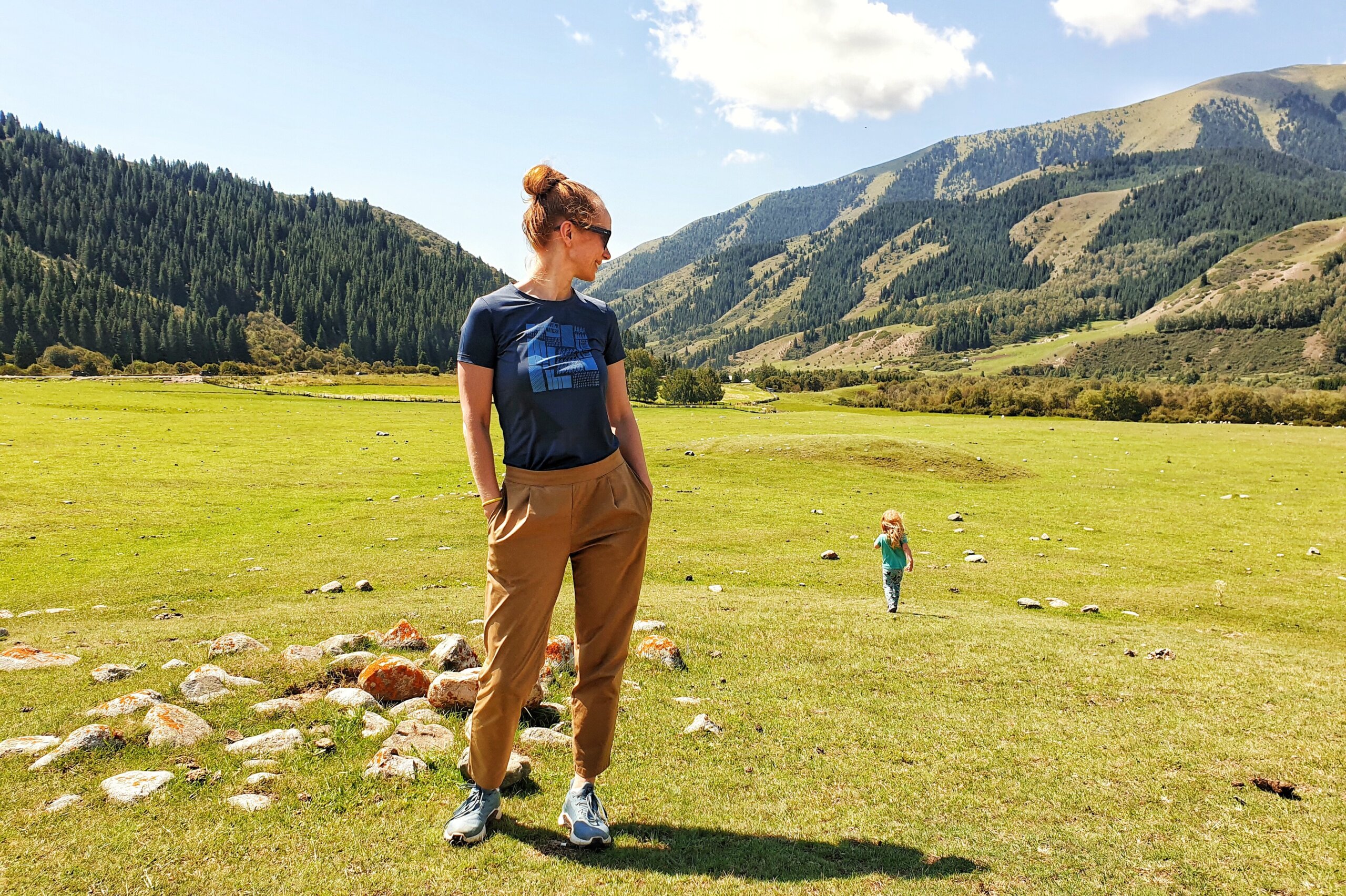 Grigorievskoye Gorge will remind you of Swiss or Austrian Alps: mountains, rivers, waterfalls. Your driver will definitely bring you to the base camp of this gorge. At the camp you should definitely try fresh trout from the grill (for 1000 som you'll get 4 decent pieces). Besides, you can go horseback riding, hold hawks on your hand or even do both at the same time. After the lunch you should head to the so-called Brezhnev's Datcha and take a detour into the forest and then explore the meadows around.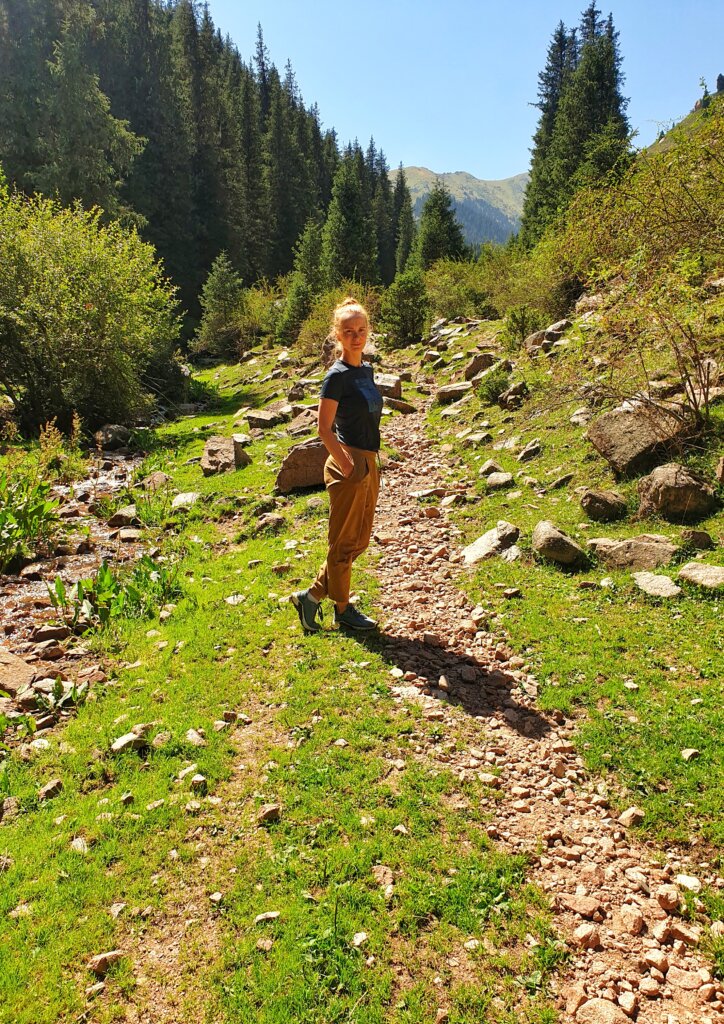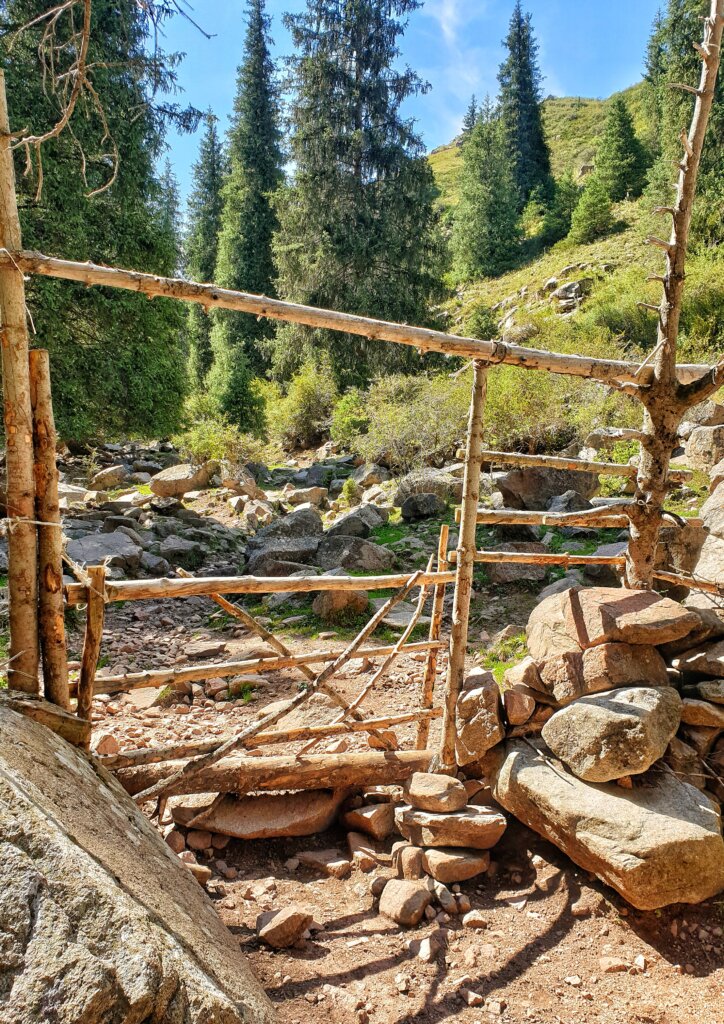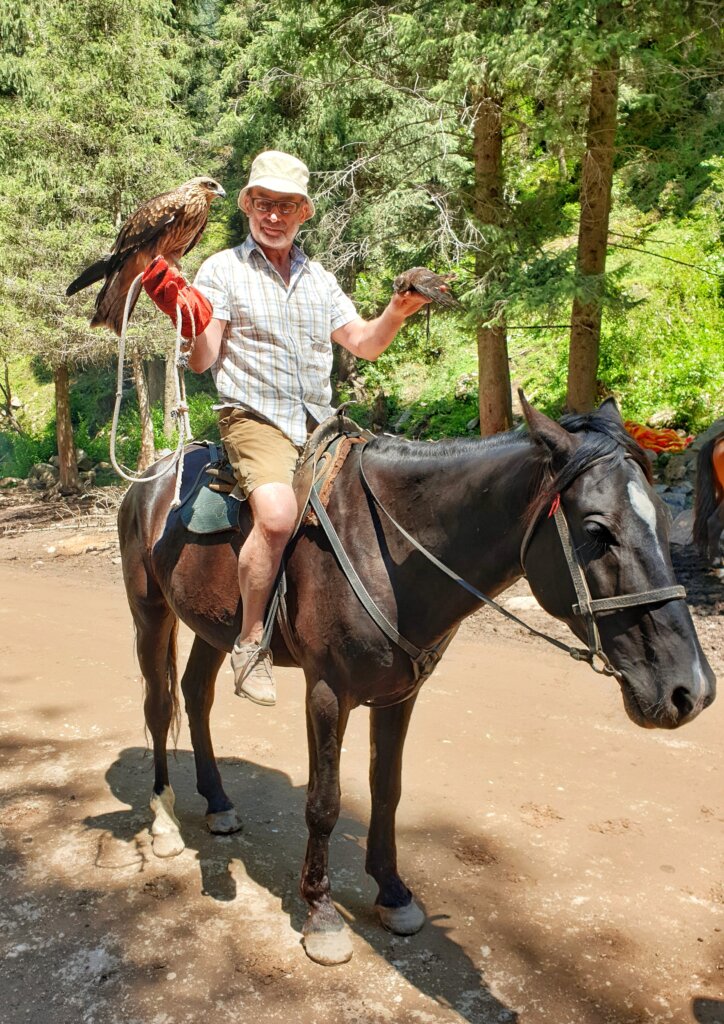 Hot springs Keremet-Suu
Hot springs are always a good idea after spending a day on the road. The entrance fee is 250 som pp. At Keremet-Suu you can swim in 3-4 pools with different water temperatures. The changing rooms are very basic and the WC is a squat one. Next to the pools you can buy delicious freshly squeezed juices, ice-cream, and snacks.