Getting to Manizales from Jardín 
The next stop on our trip to Salento should have been Manizales. Unfortunately, we realized that there was only one direct bus to Manizales from Jardín which leaves at 6:20 in the morning and costs 40000 peso pp. We preferred to stay in Jardin for half a day more (otherwise we hadn't had seen anything of this town) and to take a bus to Riosucio and from there a bus to Manizales. The bus to Riosucio leaves twice a day: 8:30 and 14:00 and costs 20000 peso pp. To my delight, our bus turned out to be a chiva – an open colorful bus (here Matthias lost a bet because he was resistant to accept that for that price we got a chiva and not a comfortable aircon bus).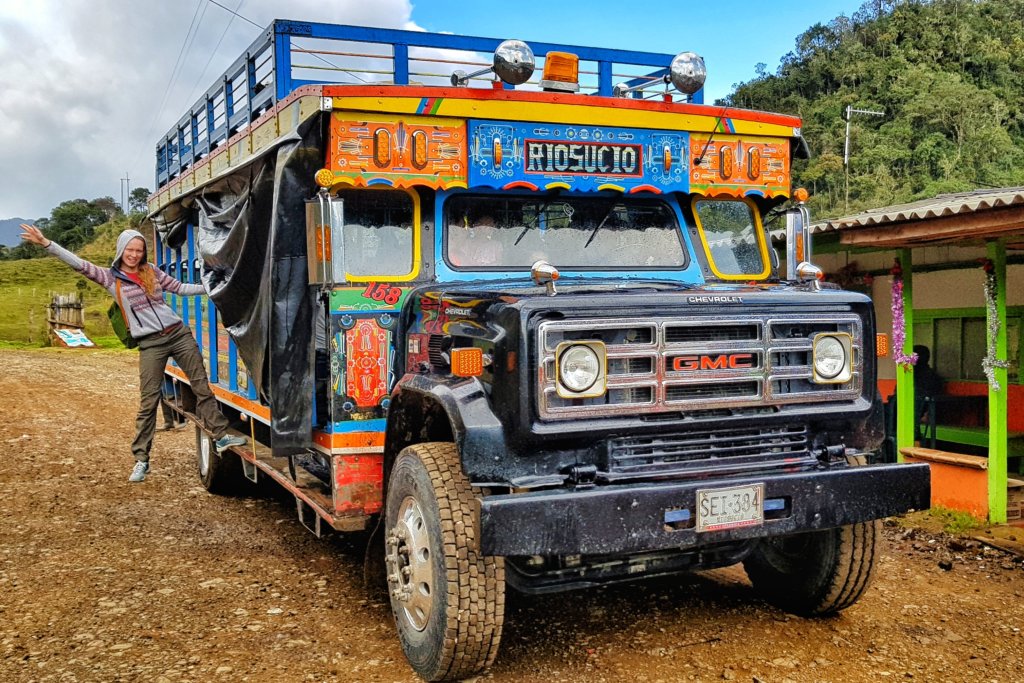 The ride took us about 4 hours, as we often stopped to pick up or to leave passengers. There was also one biological break stop (with a breathtaking view) in the middle of the trip.
At arrival in Riosucio we were directly asked by a guy who offered us to go to Manizales for 17000 peso pp with a minivan (10 persons), this was supposedly the last car leaving to Manizales. We gladly agreed, quickly boarded and after 2,5 hours of a fairly comfortable ride arrived in Manizales. At the bus terminal we took a taxi (very well organized taxi line) and for 6000 peso were dropped at our hostel (Manizales Mountain Hostels).
What we didn't do in the area of Manizales
Travelers come to the area of Manizales for three things: a hike in the Los Nevados National Park, to chill in the hot thermal springs and to visit coffee plantations. We came for an intermediate stop on our way to Salento, without any plans made in advance or any knowledge what to do in Manizales. Arranging hiking activities on the spot was not as easy as we have imagined. 
We briefly thought about getting to the Los Nevados, but then we realized that this trip should have been planned in advance (it promised to be very demanding and fairly cold). Besides, there is no public transport to the entrance of the park and the hiking trails are not signposted, so you'd rather book your trip with a travel agency or with a private guide.
Then we tried to organize a detour to El Recinto del Pensamiento Natural Park, but it was closed over New Year's Eve.
Then we have considered to visit Reserva Ecologica Rio Blanco but quickly realized that we are missing necessary permits. We tried to get them but due to some public holidays this didn't happen. Don't repeat our mistakes and write to

reservarioblanco@aguasdemanizales.com.co

in advance in order to organize your visit. You have to state what is your estimated date of visit, the time you are planning to enter the Reserve, how many people are you, full name and ID of the person in charge of the group and your contact phone. More information is available here:

https://www.aguasdemanizales.com.co/Ambiental/ReservaRioBlanco/Serviciosotrasactividades

. The information is in Spanish but you can Google-translate core data.
What we did in the city of Manizales
We visited Torre Chipre for a guided walk on the panorama platform and had some pretty amazing views to Manizales. Mom, don't worry, when reading that: the walk was indeed very safe and we were instructed about dos and don'ts and properly attached to by security fastenings and ropes. However, if you are afraid of heights, that's not your type of adventure.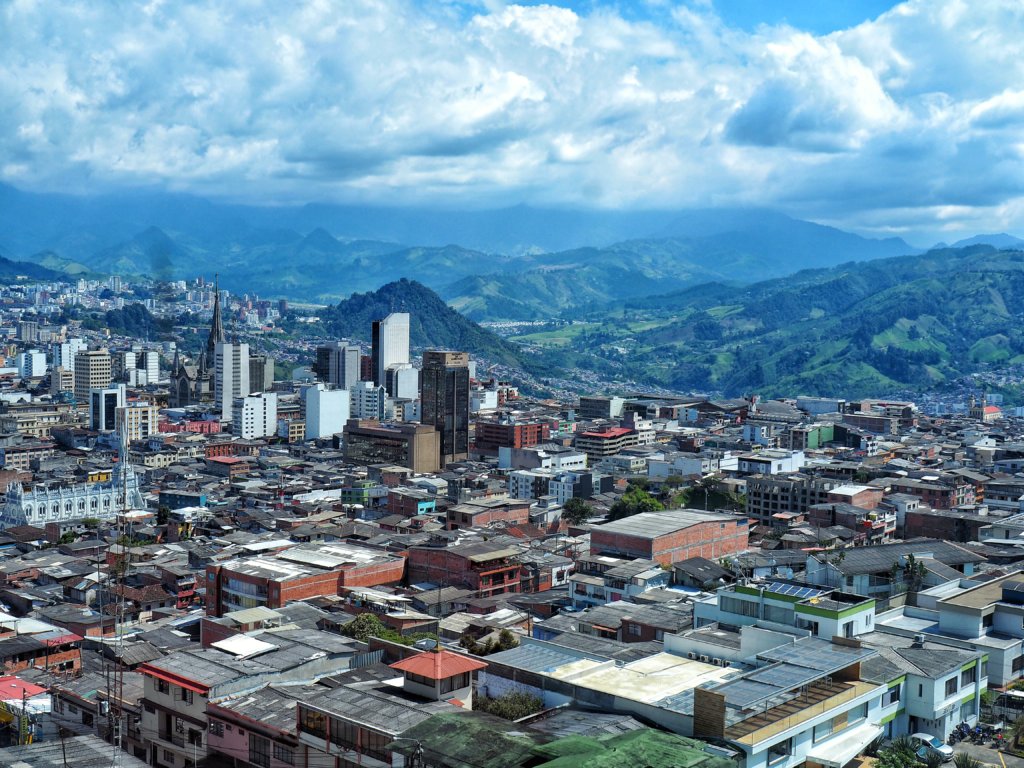 In the city center, we marveled at the Catedral basílica de Nuestra Señora del Rosario de Manizales, shortly – Manizales Cathedral and Plaza de Bolivar in front of it. By the way, for 10000 peso you can ascend the Cathedral and enjoy a beautiful view of the city.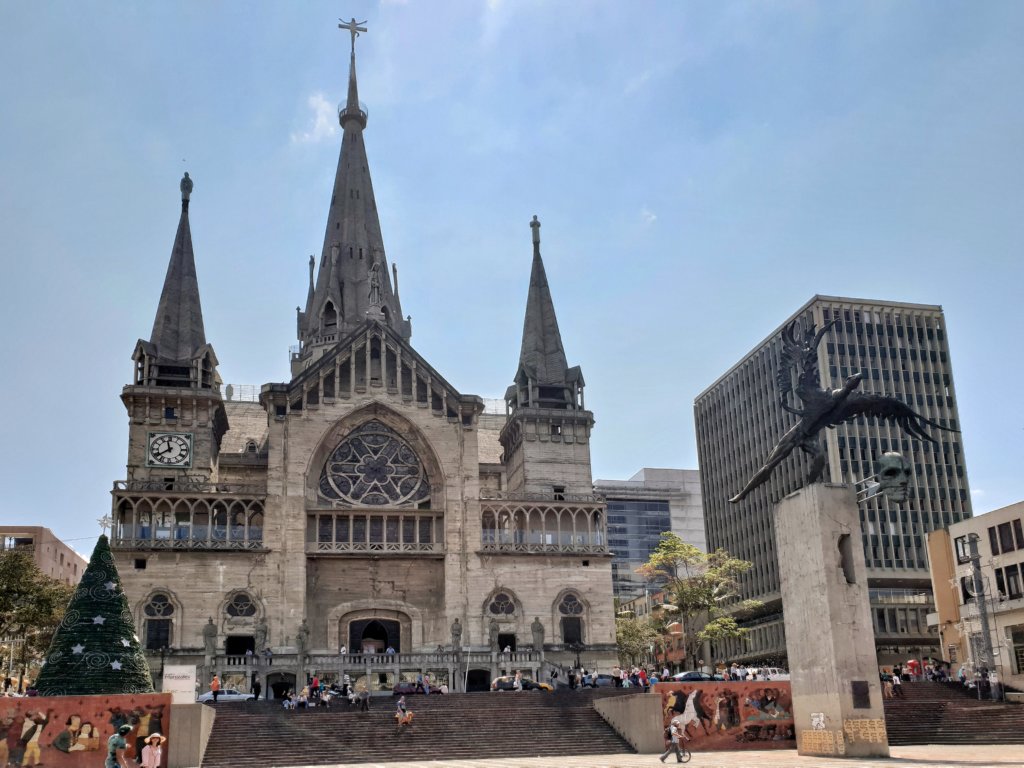 Then we had a stop in the Tazzioli Cafe, which is situated directly in the Manizales Cathedral and is worth a visit for a coffee, ice-cream and a beautiful view to the streets of Manizales.
Afterwards we headed to the fruit and vegetables market and bought some exotic fruit for the evening.
Later in the afternoon we took the Manizales Cable Car (Cable Aereo), which goes across the city and connects the bus terminal with the rest of the city. A ride costs about 1700 peso pp.
In the evening we were chilling in our hostel, savoring the fresh fruit from the market and discussing further travel plans with our neighbors whom we met on the bus a day earlier. We also decided to go out all together at night as this was New Year's Eve. To our astonishment, all restaurants in the city center were closed on the 31st of December and we have found only one cafe that served us some alcohol, but no soft drinks or meals (this sad photo on the right side is our feisty table). The next day, when we were leaving the city, we realized that we were simply searching for a party in the wrong area – downtown Colombian families were still hard partying on the streets!