Combined with Panama (you can read more about it here and here), Colombia was our big trip of the year 2018, which spread into the beginning of 2019. We spent a bit more than three weeks (23 days) in this beautifully diverse South-American country. For those who want to go to Colombia and have yet no clue, which places to visit, here is our route, which you can take as an example:
Cartagena 5 nights
Santa Marta 1 night
Costeno beach 2 nights
Tayrona 1 night
Minca + coffee or cacao tour 2 nights
Medellin + a day-trip to Guatape 2 nights
Jardin 1 night
Manizales 2 nights
Salento + Cocora Valley half-day trek 2 nights
Villa de Leyva + Villa Terracota 2 nights
Mongui + Paramo Oceta half-day trek 2 nights
Bogota 1 night
If you don't have so much time for your Colombian trip as we had, in my opinion, it is also possible to manage almost the same route in two weeks: you should stay 2 nights in Cartagena and skip Minca and Manizales. From the other side, we spent imprudently little time in the country's capitals, Bogota and Medellin. I think, one could easily live a month in each of the cities without getting bored – so many interesting places, shops and restaurants we have seen there. Completely other story would be if you were planning to visit the Amazonas – you can easily count in another five days.
Flying within Colombia is quite easy – there are two major air companies offering their services for an affordable price – Viva Colombia, a local low-coster with relatively stringent requirements for the hand luggage, and Avianca – more expensive provider, however if you book in advance you can grab some low-price tickets. We have flown twice, from Santa Marta to Medellin and from Armenia (next to Salento) to Bogota, both times spontaneously, booking the tickets only a couple of days in advance. All other trips we covered by bus.
The bus system in Colombia is very convenient to use. In every city, there is at least a small ticket office. However, getting from A to B was sometimes more difficult and took longer than we thought, as direct connections between some cities were not always present or there was only one bus at inconvenient time (for example, we arrived in Jardin around 8 pm and the only direct bus to Manizales started at 6 am). Therefore, our biggest advice is, even if you want to stay flexible and prefer not to plan the whole trip in advance, to check the possible connections and timetables directly at arrival in a new (especially small or non-touristy) city and adapt your schedule respectively.
Here we didn't have problems finding a room for the next day one day before with one exception: over Christmas locals gladly travel to / with their families to the North, to the Atlantic Ocean, to the beach. Therefore, the beach bungalows were completely booked out from the 24th to the 25th of December. Keeping that in mind that if you are (un)lucky to travel between Christmas and New Year, you'd rather book your room in advance. Generally, it was always possible to find something under 30 USD for a decent double room in all major Colombian cities.
One of the first questions we were asked after coming back to Germany, how safe Colombia was. Our reply was consistent and persuasive "unexpectedly safe". Of course, as anywhere in the world, there are areas that are fine and areas that aren't, but generally, Colombia is very visitor-friendly. In 2016, the decades-long civil war has ended and the country is rapidly recreating its reputation and enjoys the period of peace and a huge wave of tourists.
We indeed didn't expect that Colombia would be as safe and *sight* as touristy as it is now. At first, Matthias was wearing his hidden belt bag, but already after several days he left it at the hotel room. Of course, you have to be as alert as when you are travelling solo or as a couple and take normal rational safety measures. Expectedly, you would not showcase you shiny camera in the evening somewhere at the outskirts of the city, but this is a precaution you would probably take everywhere else.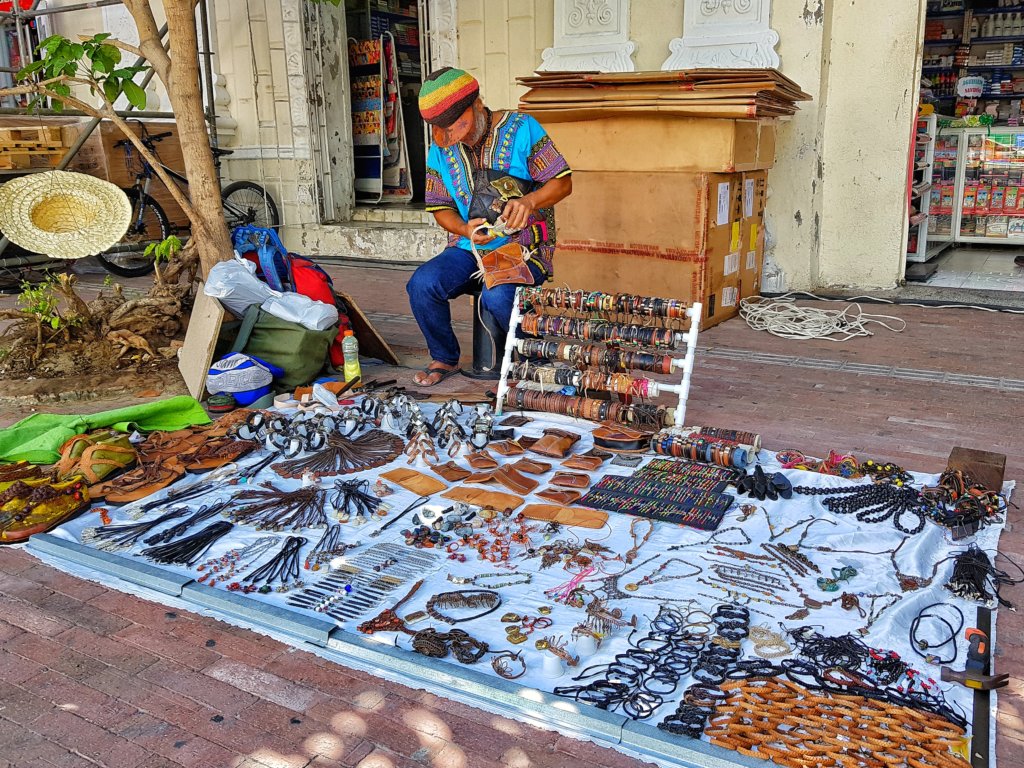 However, you should keep in mind that theft and scams are not rare in Colombia, especially in the cities the tourists visit the most. Luckily for us, we experienced only taxi scams, all three times in Bogota.
1. Usually, a taxi is equipped with a taximeter. The taxi price is calculated in specific units, the number you see on the taximeter is then transformed to the final price in Colombian pesos, which is usually lower than the number on the screen. The conversion table is usually available on / in the pocket of the passenger front seat. At first we didn't know that and payed the amount of units but in pesos. This is the most harmless scam as the units and the final price didn't differ much.
2. The second type of scam was simply brazen and straightforward: at night, around 10 pm, the taxi driver brought us to the hotel from the city center. I'm positive that I've seen something like 15 units on the taximeter (about 12 peso), however, the driver blizzard-quick switched off the taximeter and boldly claimed 25 peso to pay. I was trying to argue, but as the driver himself and his manner to speak somehow implied that he could have belonged to a gang, I simply dropped it and we just gave him the money.
3. The third type of scam is the most hidden-malicious one as at the moment when it's happening, you even don't realize that this was fraud. As far as I know, there are two sub-types of it. Both are related to a request to pay with a credit card. Lately, it was confirmed by a honest taxi-driver that in Colombia the taxis are not equipped with a credit card terminal. If your driver tells you that he cannot accept a payment in cash for whatever reason, with 99% probability you are going to be a victim of a fraud schema. What happens next, depends on the crook. Either you will pay the price you see on the terminal in USD instead of in peso (the dollar sign is identical on the screen) or the data of your card will be read off and used for further transactions. Fortunately, we were told this story before and Matthias gave his fake credit card to the driver, which of course didn't work. Afterwards, he reluctantly accepted cash. However, we were so shocked and smitten with this mean thing happening to us (almost 1:1 to what our friends told us) that we have forgotten to take a photo of the number plate to report this case to the authorities. By the way, this is a pure tourist trap, as this taxi was waiting precisely next to the Gold Museum in Bogota and looked very clean and reliable from the side.
What we learned from our taxi-riding experience? That in Colombia you'd rather take UBER. It works fine, the prices are transparent and you are safe.