When we arrived in Sainte-Anne, Martinique, we noticed many boats standing in the bay. Back then we idly wondered, if the beaches were so nice in Sainte-Anne (yes, they are) that so many boats came to visit them.
On the next day, at 7 am on the beach (thanks, Mia, for daily early morning wakeup calls) we met an American-French couple, Jess and Pierre, and their six-months-old son, Rumi Sol. At that time we thought, wow, they are brave enough to travel to an exotic place with an even younger baby than Mia. We dived into a conversation (you know, with a baby you always have some common topics) and were surprised to learn that three of them are ACTUALLY LIVING on a boat. They left France on the 25th of December, when Jess was 6 months pregnant, and are on the road since then (with exception of a short stay on land for Rumi's birth)… Wow, they are even bigger adventurers than us, was our second thought.
Before, we've never met anyone living on a boat. We were impressed and inspired by this thought. The way back from the beach was full of open questions from both me and my husband: how do they do this, how does that function, and so on… The questions hung in the salty air unanswered. We met Jess, Pierre and Rumi a day later, exchanged the phone numbers and shared couple of peaceful, lovely evenings on our terrace (it's so great to have someone else to talk to, who were in the same life phase as we were). They also invited us to their boat and we, happy and excited, immediately accepted the offer. We spent a wonderful evening together on their boat called "Now" and learned a bit about the life on a boat. It's a different world, I should say! You can read more about this little family's exciting story here: S'ACCORDER
Jess, Pierre and Rumi are travelling with two harps, they even made some modifications to the inner cabin of the boat to fit in the large harp. Jess is a professional harpist, singer and songwriter (her pseudonym is blewharp), she gives concerts on Martinique as well… from the boat! People are coming on their small boats, attach them to Now and listen to the music swinging on the waves. It should be magical, I imagine! Jess played and sang for us a love song – what a wonderful soulful voice she has! Here you can find some videos of her singing at the boat: blewharp.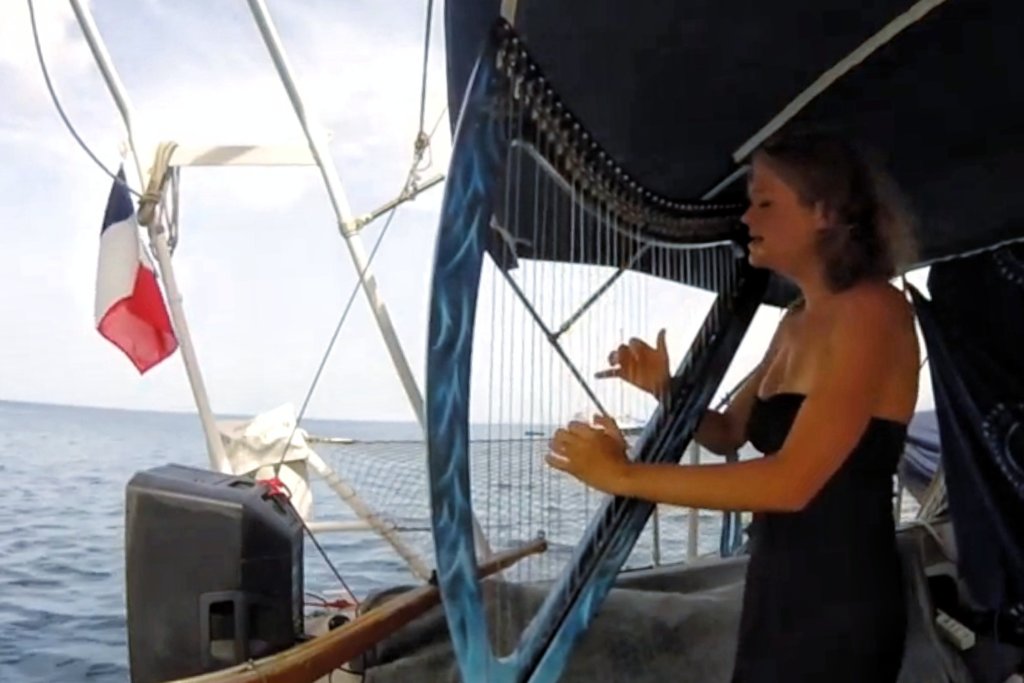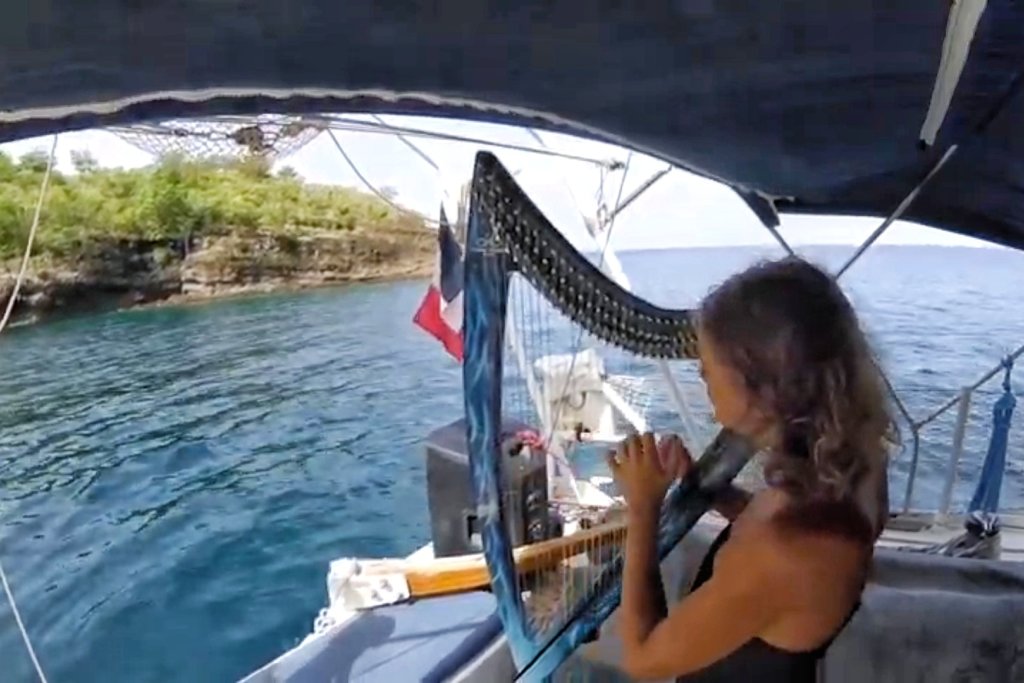 Earlier, the same day I was invited to another boat, "Cohort", owned by Ekaterina and Stefan, friends of Jess and Pierre, whom we met the day before at the pool. This couple lives and works in Canada for six warm months and travels on their boat for another six months (the winter is too cold in Canada). Doesn't that sound like a dream life?
From their boat I've seen two turtles in the ocean and one even closer while snorkeling! This was actually one of my dreams came true. Besides, I had about two hours for a carefree chit-chat in Russian drinking sparkling juice while my husband was taking care of our daughter on land (you can read more about our travels with the baby here: LINK). That somehow equals to a day at the spa (any mother will understand me): my day was just amazing!
So, what we have learned about life on a boat:
– At the boat, it is actually cooler than on land because of the pleasant breeze.
– Constant swinging on the waves doesn't bother you somehow (or at least in the five hours we spent on the water).
– The space on the boat is relative. From outside, the boat seems to be much smaller than it factually is. At "Now" and at "Cohort" you have a bedroom, (a baby bed), a kitchen, a toilet, a storage and even space for a guest bed.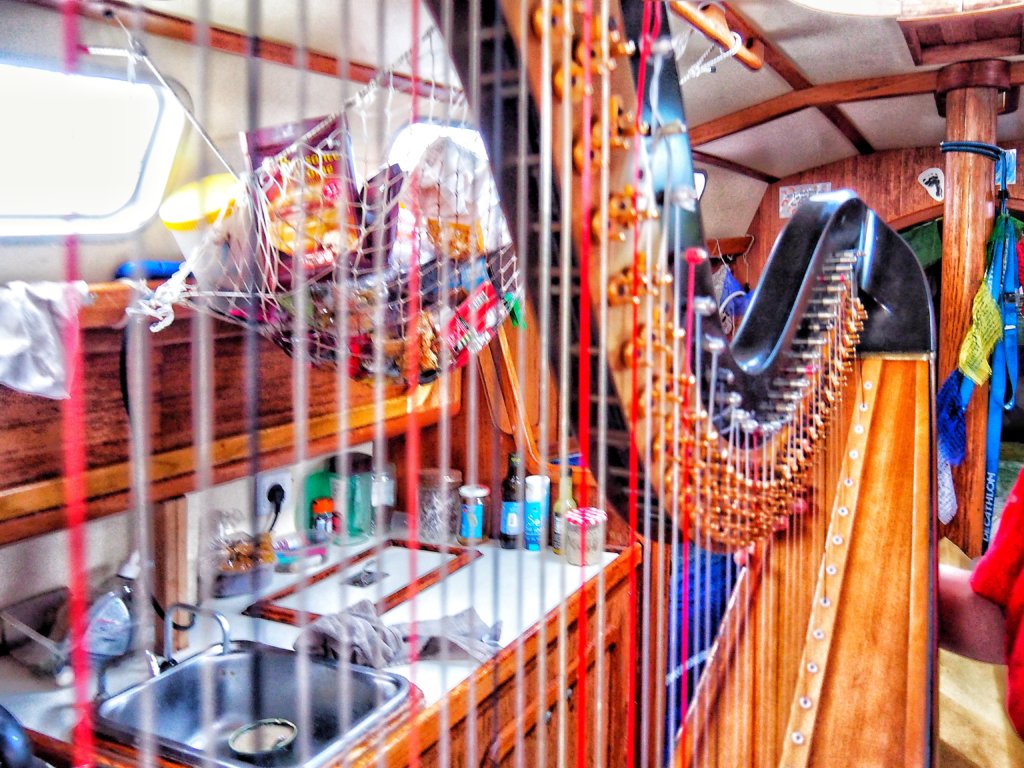 – You also have a deck where you can relax while reading or watching sunsets (or sunrises, depends where you are anchored). Ekaterina has her yoga mat on the bow (she is a yoga teacher).
– There is a boat community in the bay: you can find secondhand utensils for the boat, exchange experiences and seek an advice or arrange for a coming together.
– Every sailing boat's owner has a "dinghy", an inflatable motorboat which is used to get to the beach or a dock in a city to do groceries.
– Actually, some people even have dogs (cats and chicken) on the boat. Neither "Cohort" nor "Now" owned one, so I cannot answer the question how does it work with the cat/dog toilet. However, we have seen some boat people coming to the beach with a dinghy to let a dog run around (and poop).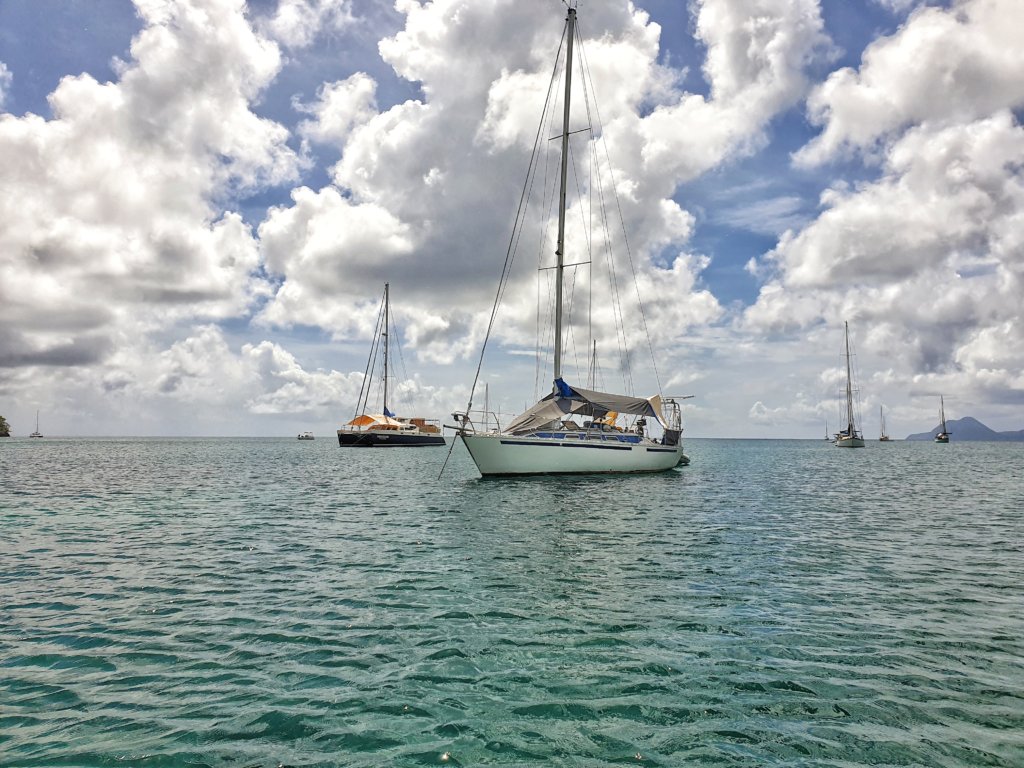 – Sea life is your closest neighbor if you live on water: logically, but you don't realize how close this neighbor is. When crossing the Atlantic ocean, Jess and Pierre were often surrounded by dolphins. Now, when they are anchored, many tiny crabs are living on their boat and some plankton underneath it. Big turtles, barracudas and numerous fish swim around their boat.
– Solar panels on the boat produce enough electricity to keep a fridge going and for charging the electronic devices.
– Cooking on a boat is possible with gas. A special stove is installed which is moving if there are waves. Now I think that this makes so much sense! Otherwise, how would you handle sizzling pans and hot pots flying off the stove if a wave is coming while you are cooking?!
– Expenses, when you live on a boat, are generally low (or lower if you rent or own an apartment): you don't pay rent and get used to being economical with water and electricity, which is also great for the environment. By the way, the antifouling (special coating of the underwater hull of a boat to prevent/slow down the growth of the subaquatic organisms) can also be eco-friendly! However, time shows that it doesn't work as effective as the chemical one. But if you are not bothered by the life unfolding and blossoming under your boat and reduced velocity while sailing, you can live with that.
– You cannot go sailing if you cannot tell the depth by the color of water.
– You are almost autonomous on your boat (or could be). Refilling the sweet water tank is possible in almost any haven, in some places even for free. However, there is also a pressure pump on the boat which helps you to convert salty water into sweet water. It can be used as a last resort. You can even get used to showering with salty water. Besides, you could collect rain water. You could grow mint and basil in your tiny boat garden. Eating lobsters and fish which you caught yourself and cooked sea grass would provide you with necessary calories, but you will get tired of the sameness in the food pretty quickly, I suppose.
Of course, this idyllic life has its downsides as well:
– Something constantly breaks on the boat, repair requires budget and time.
– The elements (sun, salt, water) are merciless to the boat trim, sails and any textiles.
– Your new, modern, beautiful dinghy can be stolen, as there is no lock for the motor, but the boat is only attached to the dock. (Thus, it is better to have an older, uglier one).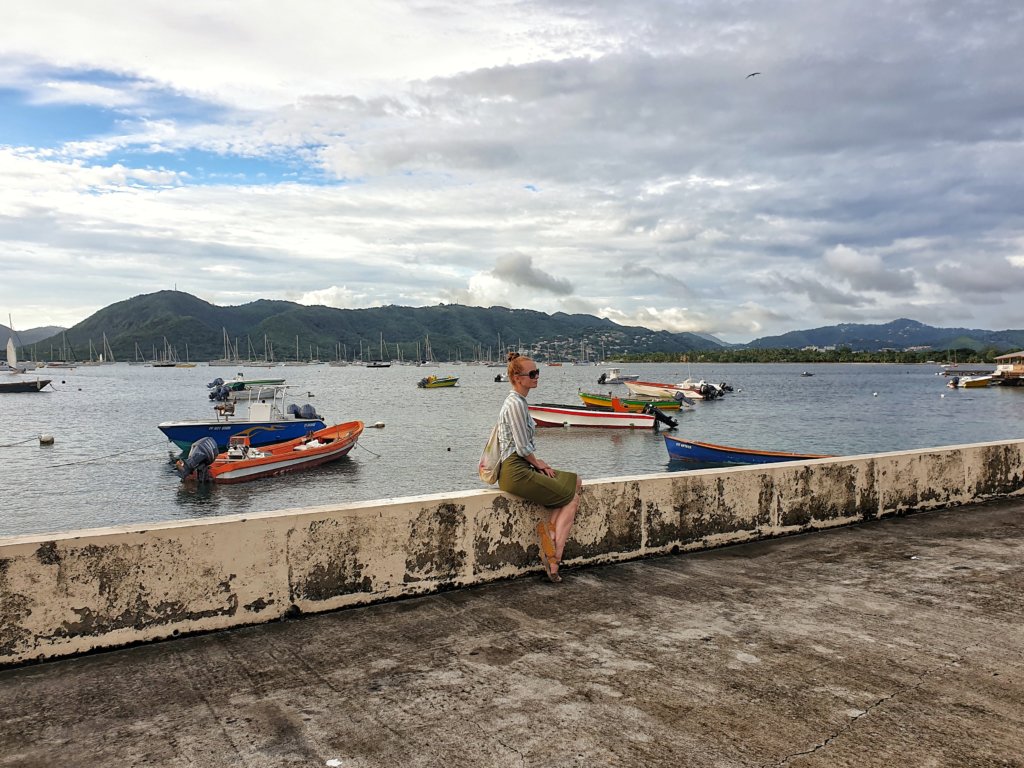 – If there is a storm, someone has to stay awake at night to make sure your boat is OK and will not be hit by any unlucky freely floating neighbor boat.
– If you need to get your boat on land and store it somewhere or just park it, while you are absent, be prepared to pay a pretty penny.
However, everything is manageable if you have a right mindset! When living on water, you are not allowed to hurry. There is not much that depends on you. The weather, the engine can be on your side or against you. Making plans, following schedules is in vain. You just follow the wind…
When we were on the boat, the time has stopped. We lost the sense of time pressure and watched the sun setting from the boat. Then came the magic hour… and Mia reminded us about her meal time by becoming more and more cranky, so we had to return to our apartment. The fascination about life on a boat stayed, so this blog post was born in the night after visiting "Now".