Our "babymoon" destination this autumn was Uzbekistan, rather an unexpected choice for expecting parents, but as we were dreaming of going to the Central Asia since quite a long time, we decided to turn our wishes into reality without further delay and had a wonderful trip for the two of us.
The food, the culture, the ease of moving around, the hospitality of the people and affordable prices have left us with an intense aftertaste of a country that one has to visit before mass tourism will tumble in. We enjoyed our trip very much and would recommend visiting Uzbekistan to anyone who would like to step away from a package vacation.
There are several aspects which you have to concern when going to Uzbekistan:
When to go: it can get very hot in Uzbekistan in the summer and pretty cold in the winter, so the best time for a trip temperature-wise would be May and mid-September till mid-October. We were in Uzbekistan at the end of September and the first week of October and were happy to escape to the pleasant +27 from the rainy Berlin.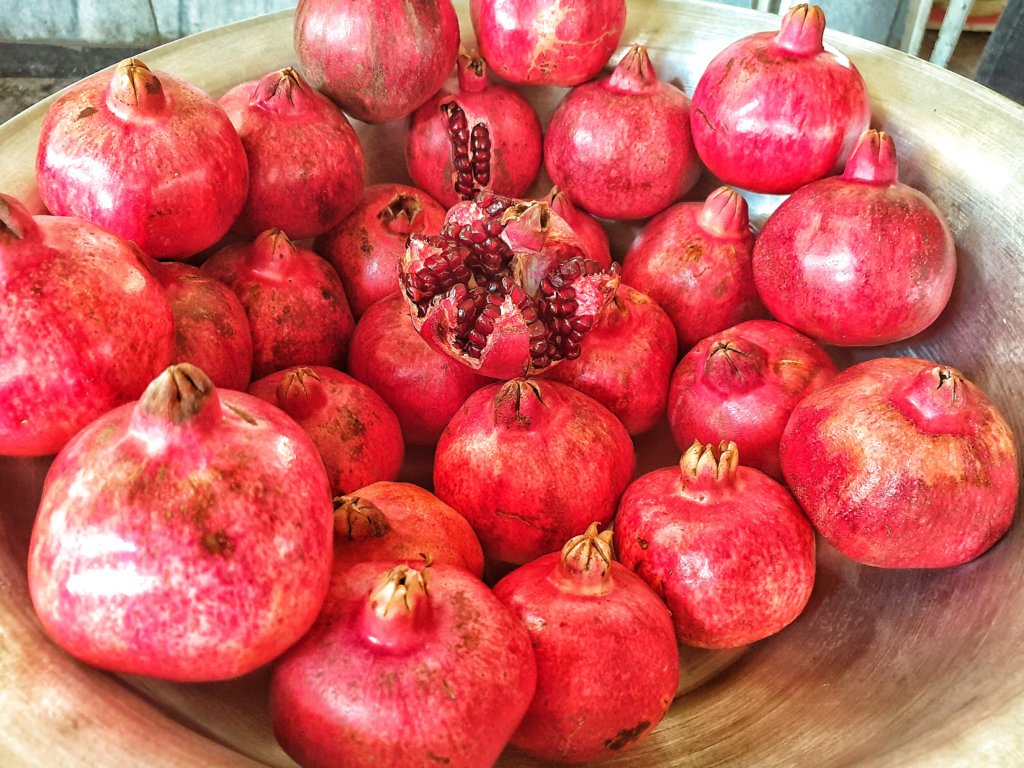 Registration slips: when staying in a hotel / hostel / guest house, ask for a registration slip. When you leave the country, at the customs, the officials will most probably ask you to present a proof that you have been officially registered as a tourist during the whole duration of your stay. We didn't know about that from the beginning and learnt that during a conversation with fellow travelers. We even had to return to our first hostel in Tashkent to collect the registration slip, luckily, the hostel was on our way.
Dressing appropriately when visiting mosques: long dress covering your knees / long trousers and a short covering your shoulders is the good form when you visit mosques or religious schools. 
Taking off the shoes when entering the house: carpets are almost everywhere and you sometimes sit on the floor, so care to take off your shoes before entering a private house (it's polite here), your room in the hotel or carpeting.
Carrying enough cash for your necessities: withdrawing money was not always easy, many ATMs didn't work with the foreign credit cards, only with the local EZCard; so make sure you carry enough cash with you once you had luck with the withdrawal.
Power plug: in Uzbekistan the power plugs and sockets are of type C ("Europlug") and F. The standard voltage is 220 V and the standard frequency is 50 Hz. If you come from Europe / Russia, you will not need an adapter for your power plug.
Riding a taxi: if you stop a taxi on the street, usually the price is fair, but in order to be on the safe side, confirm it upfront, before you get in the car. At the airport and at the bus stations in the tourist cities (Tashkent, Samarkand,  Bukhara) the initially offered price is usually 1,5-3 times higher. Normal price is 10000-15000 for 15-20 minutes ride. In Tashkent, a taxi ride from the airport costs about 20000 som for a 10-min-ride, but you would have to handle for this price, as at the entrance the taxi-drivers will offer you 60000 (and some even 200000) som – 20 times the real price, but worth trying as even this price can seem some tourists reasonable;)
Taxi app: the most convenient taxi app in Uzbekistan is Yandex taxi. The price for a ride will be around 10000 som in the city for 15-20 minutes ride. Waiving a taxi directly on the street is not as transparent as many of them don't have taxi shields. 
Riding a car: to our surprise, we came to the conclusion that most of the cars are white in Uzbekistan, as it can be very hot in the summer and white color reflects the sun beams. The prevailing brand is Chevrolet, as it is produced (put together) in Uzbekistan. Seat belt is usually not used during the ride and is not even available on the back seat.
Travelling by train. Travelling around the country is very convenient on a train. Our experience has shown that this is a very fast, reliable, comfortable and affordable means of transport in Uzbekistan. Keep in mind that you can buy train tickets only in big cities with a full-fledged passenger railway station.For example, this was not the case in in Fergana. Buying tickets online can be problematic as well, as VISA cards are not always accepted. The most reliable solution is to buy tickets directly at the main station upon arrival for all directions you planned. Below are approximate prices for a train ride:
Taschkent – Margilan, 5h, 72500 som pp.

Tashkent – Samarkand, 3h, 61000 som pp.

Samarkand – Bukhara, 1,5h (fast train), 77000 som pp.
Currency: at the time of our trip, one Euro was approximately equal 10500 Uzbekistani som (UZS).
Prices: generally, transportation and food is cheap in Uzbekistan. Accommodation is rather expensive though in comparison to other services.
Shopping: when going shopping, don't buy in the first place but compare prices is several shops. The price for the same goods can be different up to 1,5-2 times.
Clean and safe streets: we have seen numerous workers cleaning and sweeping the streets at all times of the day. As a result, it is very clean everywhere. We also felt very safe, even at night in all the cities we have visited.
Chili pins: you will see some tiny pins with a chili on it in many houses, for example, attached to the curtains. The reason is simple: in Uzbekistan, chili is believed to protect you from the evil eye.