One of the reasons why we flew to Columbia over Panama was that eight years ago on his world trip Matthias spent some wonderful time on the San Blas islands and since we started travelling together, he wanted to show me this paradise on Earth.
Actually, the modern name of San Blas is Guna Yala. The renaming took place in 2011, however the former name stuck and travelers still call this area San Blas. Nowadays, Guna Yala, an archipelago of more than 350 islands in the Caribbean Sea, is an indigenous province, autonomous territory where the local inhabitants rule themselves. After the Guna Yala revolution in 1925, the Panamanian government granted the indigenous tribe sovereignty over the land, which allows them to operate under their own constitution and government. The Gunas also control tourism strictly.
Organizing a trip to San Blas
Apparently, organizing a trip was not as easy as it looked like. If you want to go on a package tour, there are plenty of options, however the prices bite. For those who look for a budget, relaxed and non-assuming trip, planning from overseas could be quite challenging. If you search for a hotel or hostel on the Internet, anything you will find starts with 80 – 100 Euro a night.
Good news is that many hostels in Panama City can help you organizing a trip to San Blas. We stayed in Bodhi and could organize our tour with their help with Mireya (+5076530-4504; +5076048-5219). However, we agreed on the conditions and paid the deposit three weeks in advance (money transfer is also possible from other countries, we made it over Western Union). Nevertheless, on the islands we met some people who booked a tour the night before. Apparently, they paid more than us though.
How much does the San Blas trip cost
We spent three nights on the San Blas islands and paid 175 USD per person for the tour. If you organize the tour yourself, you still have to put the following puzzles together:
Transfer from Panama City to Puerto de Carti with a Jeep – 60 USD pp. (+5076725-3477, Edwin), you will be picked up at around 5 AM in the morning from your hotel
Boat transfer about 20 – 30 USD pp.
Cabana 35 USD per night
Island tour about 10 – 15 USD pp.
In sum, we paid almost the same but spared the puzzling stress.
Additional fees which are not covered by the tour price is 22 USD entrance fee to Guna Yala and 2 USD port tax.
Don't forget to bring your passport with you – you will have to show it on the checkpoint to the Guna Yala province.
Accommodation on the San Blas islands
On the day X we were excited to finaly see the island will we spend our last three days in Central America. After about 10 minutes on a boat we have seen one of the main islands of Guna Yala, Gardi Sugdub, so heavily populated that we couldn't neither sand not palms behind the cabins and huts. A treacherous though crossed our minds – did the islands become so touristy and overpopulated during the last eight years? Luckily, we only stopped at this island to buy some products and rode further.
On our trip, we spent two nights on the Narango chico island and one night on the Aroma island. Both islands are beautiful, with big palm trees, white sand and crystal-clear water. On the island Narango chico not only the tourists, but several indigenous families live.
We stayed in the Cabana Miro. Here you can share a hostel room for 25 USD pp a night or have a private cabana for 35 USD. In this price thee meals and instant coffee in the morning are included. We were savoring the catch of the day (fish and lobster) and chicken with rice or potatoes and salad.
At the small shop, you can buy some basic snacks, water (1 USD), beer (2 USD) and local rum from Panama (25 USD for 1 liter).
You can also call the owner or the cabanas and organize the transfer and accommodation with him: +5076951-8317 Florentino.
We also heard that one of the islands though being beautiful is not the best place for relaxed stay overnight because the locals burn trash there: Isla Diablo.
Island-hopping on San Blas
On the last day, we changed the island (and stayed one night on the Isla Aroma) and went on an island-hopping-tour.
First, we visited a sunken beach – a spot where the water is so shallow that you can simply walk around and overseeing the surrounding beauty up to the waist in the water. Here we couldn't help thinking that the entire idyllic archipelago is at risk of being underwater within a matter of decades, following the destiny of this beach.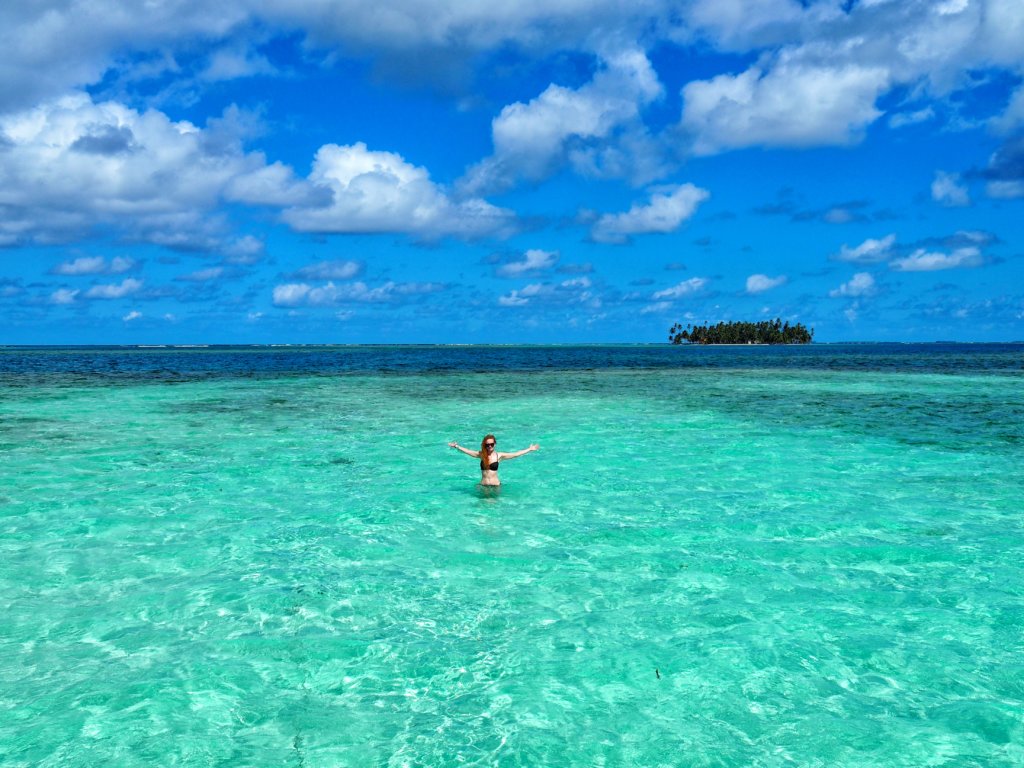 The next stop was Perro grande – The Big Dog island. There you have to pay a fee if you would like to use the beach. We didn't want to, so we directly went snorkeling, and I tell you, it was a blast! The reason for that is that several meters from the island you can find a sunken ship and explore its algae-covered surface, which attracts all types of exotic fish. Amazing experience!
On the islands most of the local women wear their hair cut short and traditional clothes made from self-stricken mola fabric (you can buy it there as well) and beaded stockings. However, taking a photo of them is possible only if they allow you. This mostly happens if you are ready to pay some small money for that. The kinds are in opposite are quite open and happy to be on the photo, they even asked us to take a photo of them, the wish that we gladly and immediately fulfilled!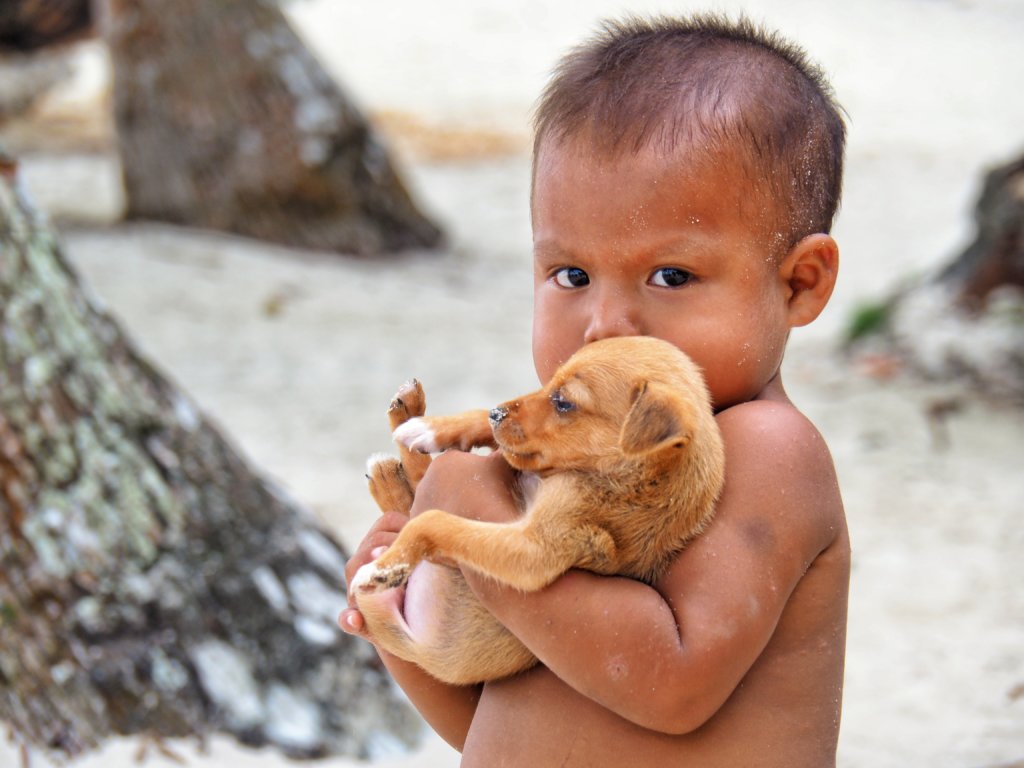 Visiting the islands is a kind of Robinson Crusoe experience. On the islands there is no network coverage, no wifi and almost no electricity. Consider taking a fully charged power-bank with you if you cannot leave without our electronic devices.
Here you will not see big buildings, mostly small huts made of natural materials.
No fiercely biting mosquitoes here as well, great news for those coming from Columbia. However, we still used some anti-mosquito.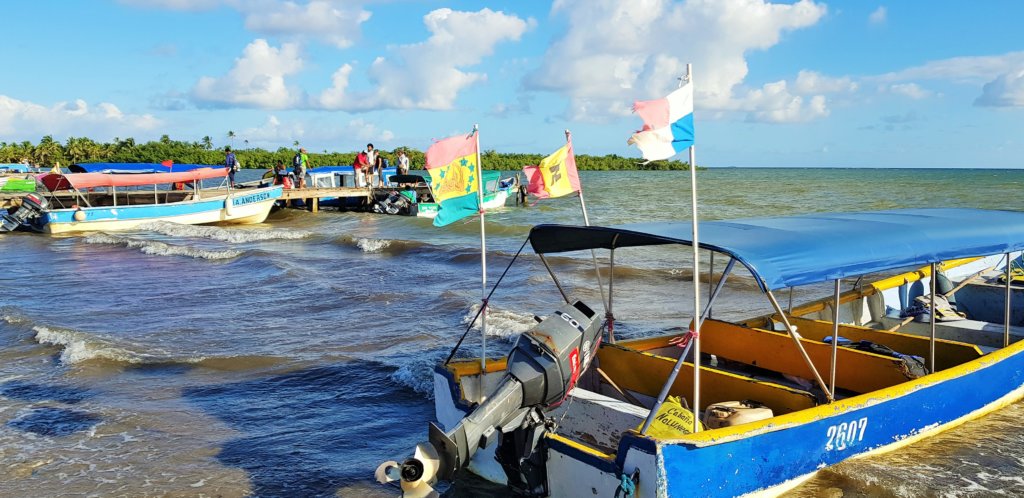 The boat ride to/from the islands can be very bumpy and you will most probably get wet. My advice would be to wear a swimming suit upfront and taking a towel with you to hide from the wind.
It rains shortly every day, but it doesn't bother you as right after the rain sun comes out drying the sand almost immediately.
I would call our San Blas experience relaxation pure! Warm, crystal-clear turquoise water, palm-tree dotted beaches and pale-yellow sand, exotic fish, amazing snorkeling (you can rent a mask for 2 – 5 USD on the islands), catch of the day for lunch and dinner, unlimited sun, simple facilities, no tourist crowds… That was the 100% correct decision to spend the last three days of our one-month-trip on these islands, we couldn't have asked for more!