Why Kyrgyzstan / Kazakhstan?
When we were planning our trip and during the trip we were often asked – why Kyrgyzstan / Kazakhstan? There were several reasons:
we planned our trip during the school holidays in Germany and all "typical" destinations were expensive
we love off-the-beaten-path places
Kyrgyzstan was recommended to us by some friends for its beautiful nature
the language: almost everyone speaks Russian there
the prices for travelling within these counties are attractive
the medical assistance is fairly good and available
After having visited these countries I would add four more reasons: very hospitable people, safety, absence of dangerous animals or insects, delicious fruit (watermelon, melon, apricots in Kyrgyzstan and fruit and berries in Kazakhstan)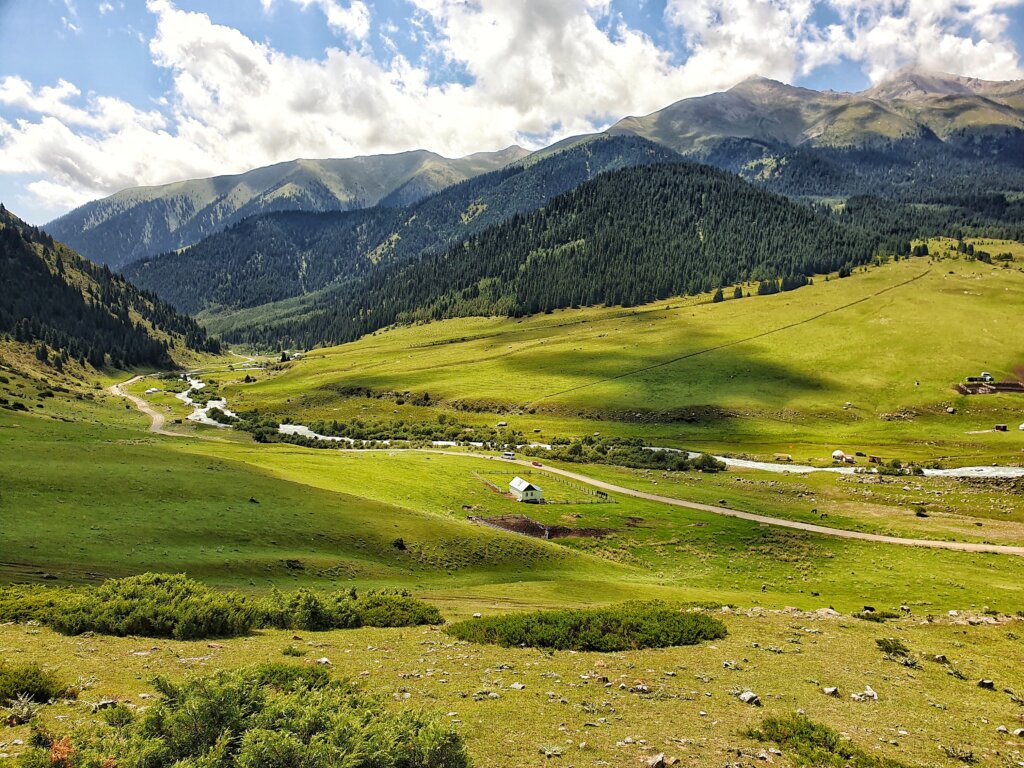 Our route
We had about 2,5 weeks and planned the route the following way. Well, the Kazakhstan part was zero planned as we wanted to dive in some adventures. At the end the route looked like that: Bishkek – Balykchy – Tong (Bokonbaevo) – Karakol – Bosteri – Kegen – Saty – Charyn canyon – Almaty – Bishkek.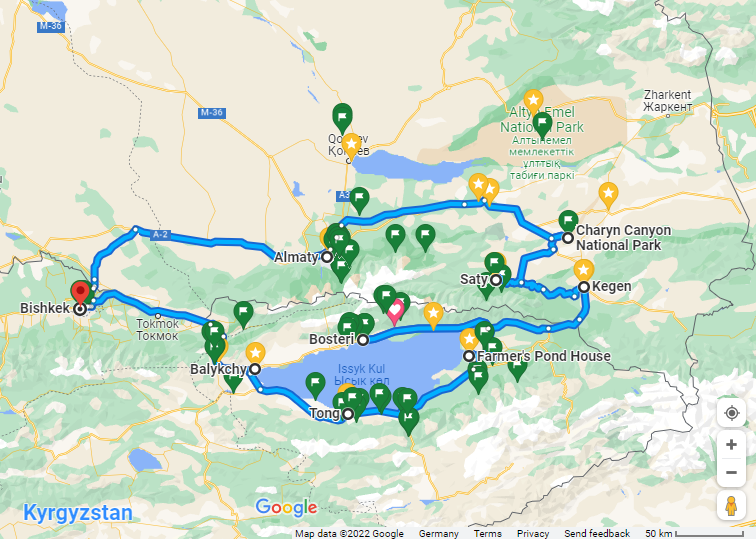 If you have 2 weeks only, you could skip Bosteri and go directly to Kazakhstan from Karakol.
If you have one week only (as my parents did), you can go from Bosteri back to Bishkek. Alternatively, you can go to Almaty and do all the day / 2-day trips from there.
Helpful information for you when planning your trip
Local currency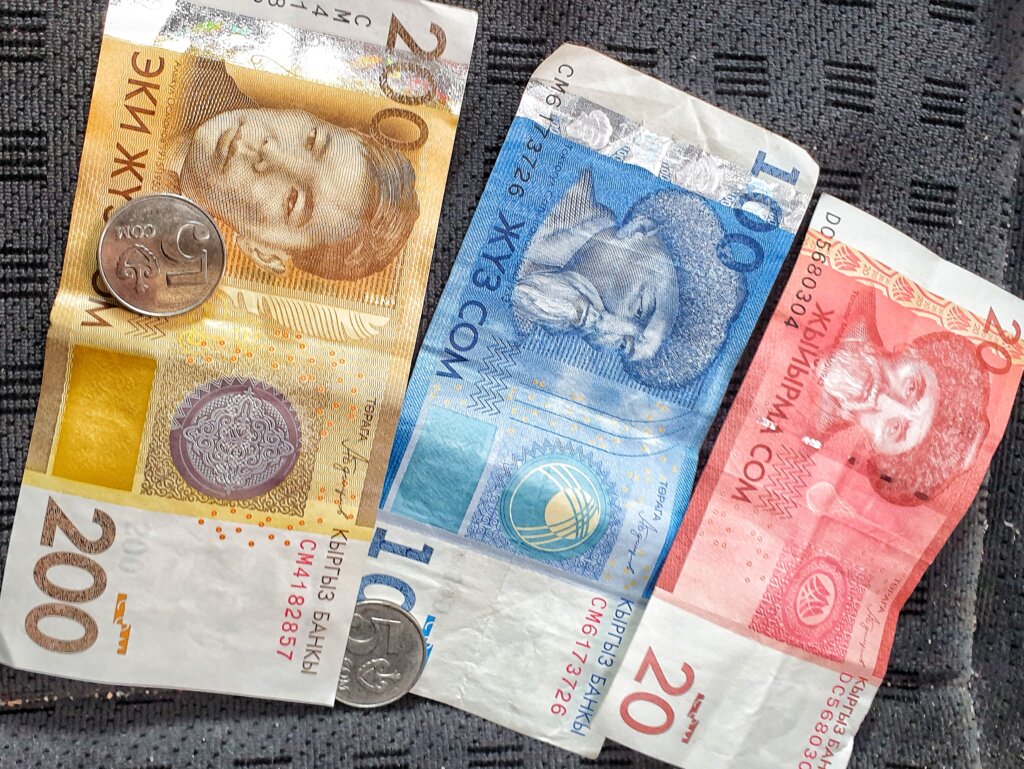 Local currency of Kyrgyzstan is kyrgyz som.
1 euro = 84 som (status August 2022)
You can find ATMs next to the bank branches in all towns around Issyk-Kul (we found some in Balykchy, Bokonbaevo, Karakol and Bosteri)
When you change money in an official exchange office, they'll scan your passport as if you were a non-resident.
In Kyrgyzstan paying in cash is still quite common, though in some more expensive restaurants you could pay by card. I'd recommend you to extract / change some som before you get a feeling how often you can pay by card or cash.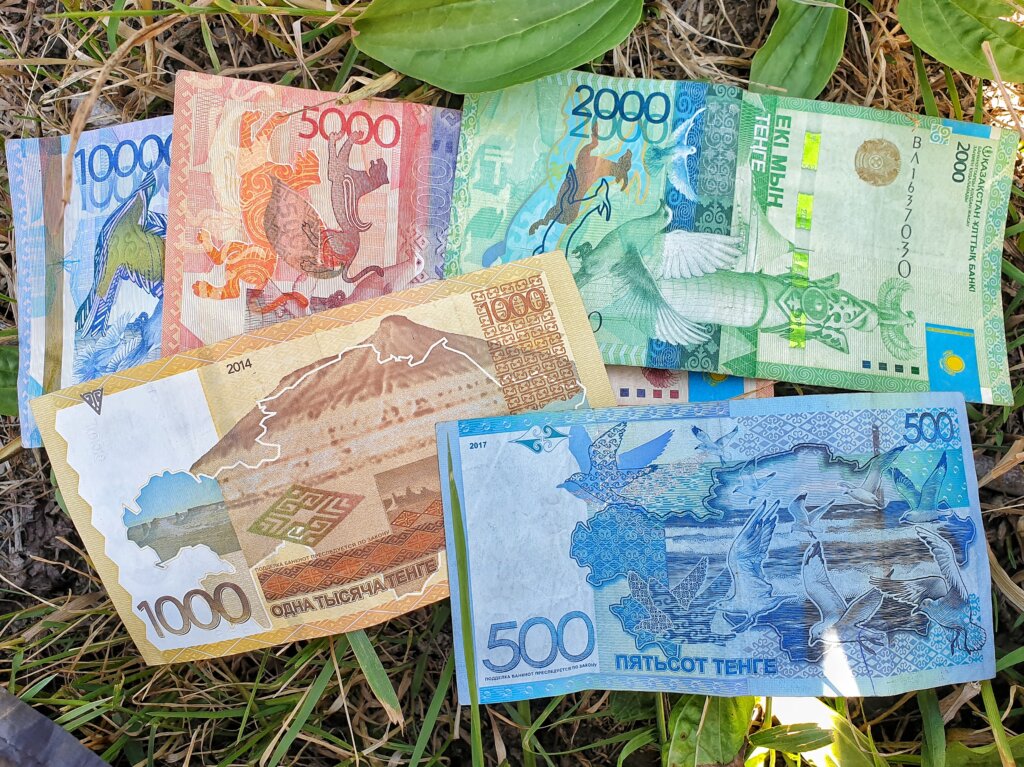 Local currency in Kazakhstan is tenge.
1 euro = 480 tenge (status August 2022)
When we changed money our passports were not scanned.
The situation with ATMs was worse in Kazakhstan (or we were in smaller villages). In Kegen there is only one Bank (with an ATM though). In Saty we didn't find one. In Almaty, of yours, you find banks and ATMS in abundance.
In Kazakhstan you can pay almost anything, from honey at the local seller in the mountains to the taxi drivers with a Kaspi code. It is similar to Paypal, but my impression was that it was much wider spread and used there as we use Paypal in Germany.
Sockets and plugs
The sockets in both Kyrgyzstan and Kazakhstan are similar to Europeans. They are made for the Type C plug (also called the Europlug) that has two round pins.
Local sim cards
Kyrgyzstan
Sim cards are given away for free at the Bishkek airport. Most of the providers want you to charge your account directly with morey. For only about 220 som (less than 3 euro) you can have 1 week unlimited internet.
We had the following providers and they were fine. In the mountains there was often no connection anyway.
Megacom
O! (With this provider the first 24 hours of WhatsApp and Telegram are free even if you haven't put any money on your account yet)
Kazakhstan
A Beeline sim card would cost you 1000 tenge (500 tenge on your account) in a local grocery shop. To activate the sim card you need to enter an IIN, which you can get only when you are registered for a temporary visit. That could probably be done with your passport in any Beeline office. Our problem was that we arrived via Kegen and there were none. We were lucky to meet a friendly waitress who entered her IIN so we could go online again.
The cheapest tariff of Beeline was about 3000 Tenge a month. Alternative would be the daily pay of 199 tenge.
Getting around
We decided against renting a car as the prices were high (at least 80 euro a day in Kyrgyzstan) and you were not able to cross the border. If you travel with your own vehicle, we noted one peculiarity for you: at the gas station you have to pay first and then tank.
In big cities like Bishkek and Almaty you can use public transport or Yandex.go to order a taxi.
In Bishkek a bus / marshrutka / trolleybus ride costs about 11 som pp.
In Almaty a metro ride costs about 80 tenge pp.
When jumping in a taxi don't be surprised – the seatbelts are not really used (there could be none or no plugs to plug them in), children ride in the lap of the parents.
In Bishkek a 20-minute taxi ride costs you about 200-250 som; a 45-minute ride from / to the airport – 800-850 som, at night it can be more expensive.
In Almaty the price for a 20 minutes ride is about 1500 tenge.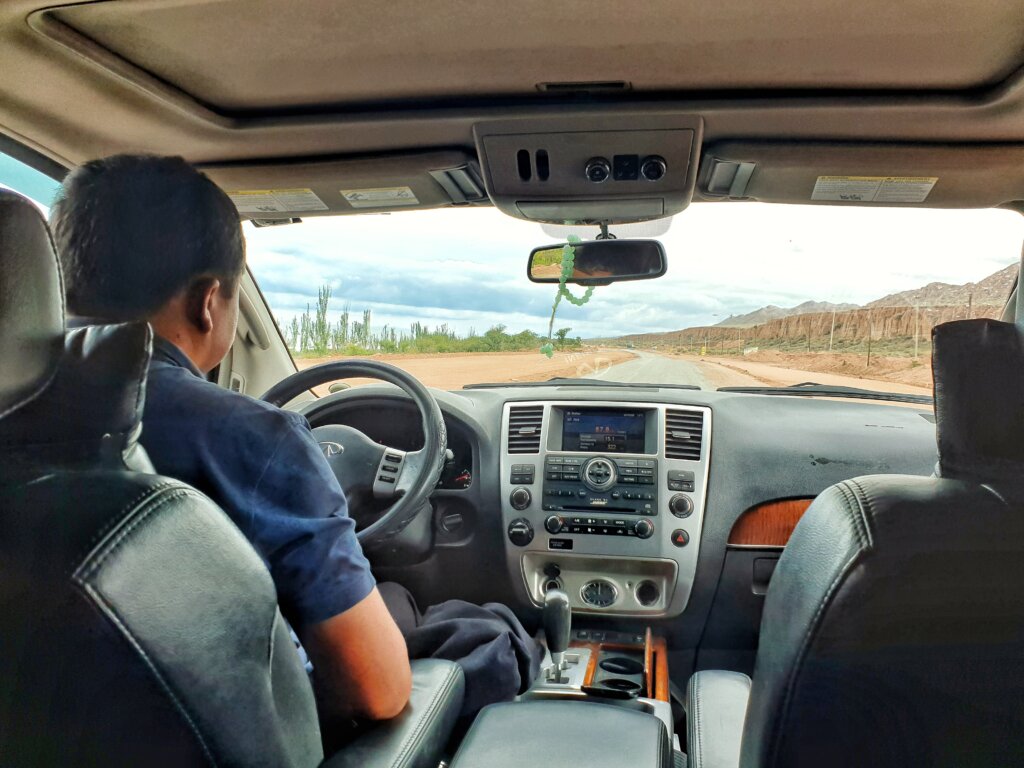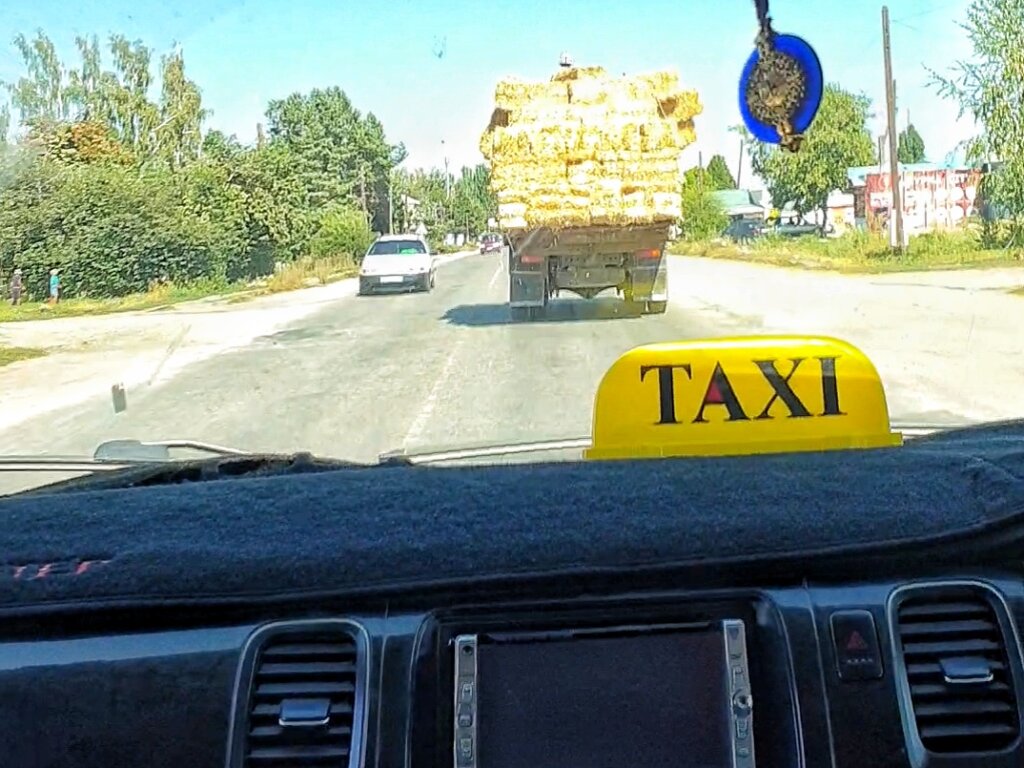 Here are the prices we paid while we were getting around in August 2022
Kyrgyzstan
Bishkek – Balykchy – 4000 som
Konorchek Canyon from Balykchy 1000 som one way
Balykchy – Bokonbaevo – 1500 som (shared taxi would be 300 som pp)
Bokonbaevo – Tong – 300 som
Skazka Canyon from Tong – 1900 som
Bokonbaevo – Farmer's Pond House – 4000 som
Dzheti-Ozhguel from Farmers Pond House + Hot Springs – 4000 som
Karakol – Bosteri – 2100 som
Grigorievskoye from Bosteri + Hot Springs – 5000 som
Bosteri – border to Kazakhstan in Karkara – 7000 som
Korday (border to Kazakhstan) – Bishkek – 600 som (shared taxi)
Kasachstan
Kegen – Saty – 20000 tenge
Saty – Kaindy Lake – 15000 tenge
Saty – Kolsai Lake – 6000 tenge
Saty – Charyn Canyon – Almaty – 30000 tenge
Almaty – border to Kyrgyzstan in Korday – 20000 tenge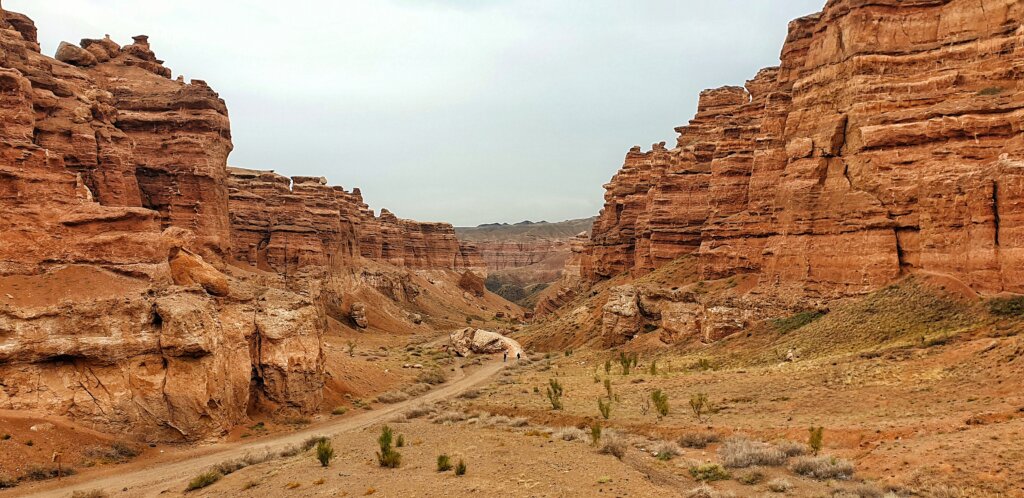 Border crossings
Border Kyrgyzstan – Kazakhstan in Karkara / Kegen.
We ordered a taxi at our hotel. The last 40 km is a rough gravel road. If you are being taken over, it's also very dusty.
The checkpoints are little cabins. There was a very simple toilet in the fields at the Kazakh side.
At the border they were hesitant to let us out as on arrival supposedly it was forgotten by the border officer to take a photo of Mia, so she got a stamp in her passport but was not registered in the database. After 20-30 minutes waiting and clarifying details, we were lucky to be let out of the country.
At that crossing no taxis and no buses are waiting for you. We were lucky to hitchhike successfully.
Border Kazakhstan – Kyrgyzstan in Korday
The crossing was quick and simple. The checkpoints are in the buildings, which was very pleasant at 35 degrees Celsius outside. After the Kyrgyz checkpoint there are plenty of taxis awaiting guests.
Public toilets
I feel obliged to inform you on that topic as for those who has not yet travelled outside Europe that could be a shock. Public toilets in smaller cities in Kyrgyzstan are mostly (and some of the ones in the restaurants or cafes) squat toilets, quite dirty. Very often the "cabins" are just compartments without doors. The entrance fee is normally 10 som. Don't forget to take toilet paper from the cashier, there is none in your "cabin". In Kazakhstan the toilet situation was better.
Handy apps
The following apps are quite handy in both Kyrgyzstan and Kazakhstan and especially in Almaty:
Yandex.go – for taxi rides in the city and around.
Glovo and Wolt – for ordering food
Kaspi code – for paying everything, from shared taxi to buying groceries on the market. We didn't use it ourselves but witnessed people using it everywhere.
What to bring from Kyrgyzstan and Kazakhstan?
I'd recommend you to bring honey, kurut (if you like it), local crafts items and dried fruit. Don't forget to check with your country's customs before going shopping.
My catch was mountain herbs honey. You'll see hives on the wheels all around in the mountains in Kyrgyzstan and Kazakhstan and can buy honey from the locals.