Already on Sri Lanka, I was told that this country is smaller than Bavaria. Could you imagine spending two weeks of your vacation in Bavaria? I honestly couldn't. But spending two or even four (cheers to Cedrik!) weeks on Sri Lanka – it can't be easier! Sri Lanka is so diverse and beautiful that we felt that 13 days spent there were not enough and we would gladly come back one day.
Our receipt for these two weeks was simple: some beach, some mountains, some national parks and some beach again. In my opinion, the route we have chosen was closed to perfect:
Colombo – Mount Lavinia (2 nights) – Galle – Mirissa (1 night) – Tangalle (2 nights) – Yala National Park – Ella (3 nights) – Kandy (1 night) – Sigiriya – Anuradhapura (1 night) – Nilaveli (3 nights) – Tangalle – Colombo (1 night)
Upon arrival in Colombo after midnight, we were picked up by a taxi (3200 rupees) and brought directly to the Lavinia Beach Hostel where we stayed for two nights. The lady running the hostel was very hospitable and attentive: in the evening, while we were sitting in the garden and having some drinks, she brought us some popcorn and nuts and also lying mats!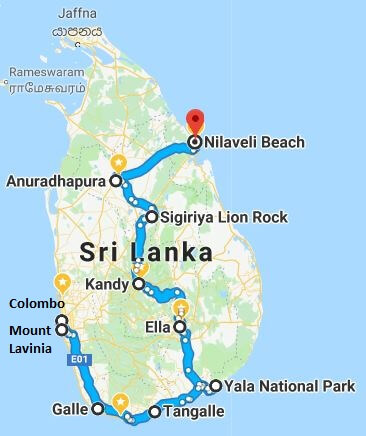 Mount Lavinia is situated about 30 minutes drive from Colombo and one hour drive from the Colombo airport. The most convenient way to go to the city center is by tuk-tuk, a small three-wheeler with a roof used as a taxi. Some tuk-tuks even have a taximeter (if I understood it correctly, starting from 2018 all tuk-tuks are obliged to have one): the first km costs 50 and all subsequent cost 40. However, many tuk-tuk drivers claim their taximeter is broken or doesn't work and name their own, usually too high, price. When negotiating, keep in mind the taximeter price and discuss решительно down. As a rule of thumb, half an hour ride can cost about 600-700.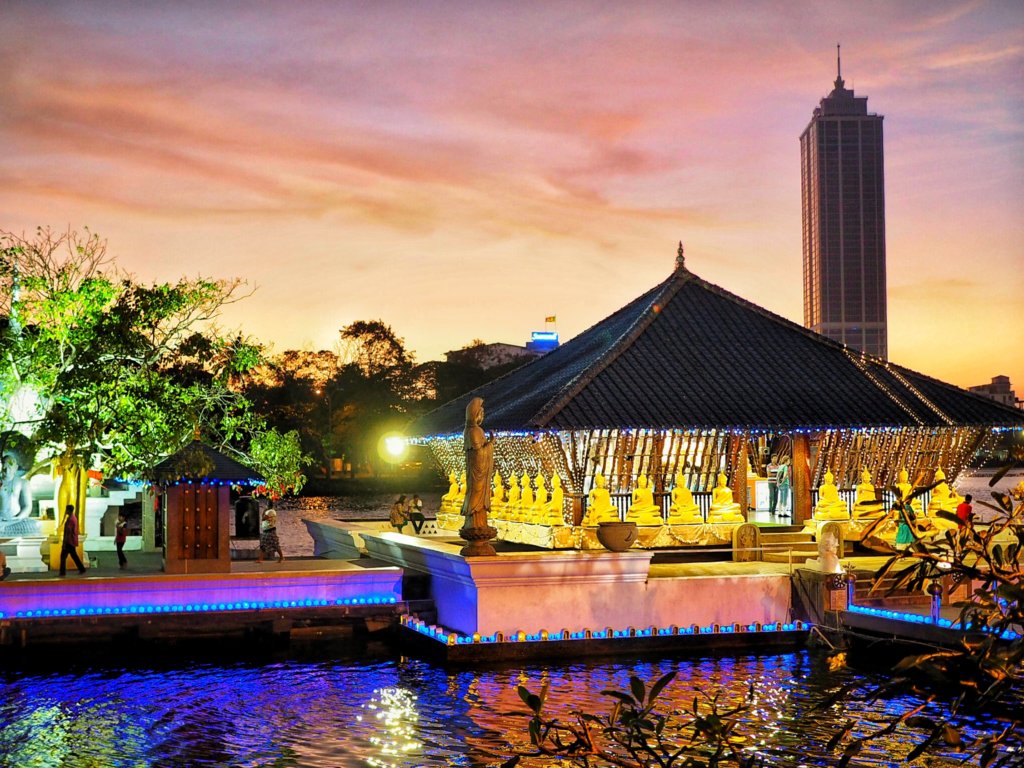 Mount Lavinia even has a beach – a simple city beach but for us, who came from freezing Germany, it was almost heavenly. Perfect it became after we found a small café directly at the beach, which served freshly pressed juice for 250 rupees and provided sunbeds for free. However, when we asked for the bill, the seller hat to recalculate the price several times and couldn't cope with this task alone. I had an impression that he didn't want to trick us, he just could not count inwardly well. By the way, this was not the only case on Sri Lanka, sometimes the waiters have forgotten to add some items to our bill, so our advice would be to re-check your receipts for correctness.
In Colombo, we visited the Seema Malaca Buddhist temple on the Beira Lake and afterwards the Gangaramaya Temple (http://gangaramaya.com/) for the total entrance fee of 400 rupees pp. The Seema Malaca is charming at the dusk with its terrace with sitting Buddhas.
The Gangaramaya Temple impressed us with its diversity: there are many different rooms for praying, a museum, a residential hall, a huge old tree in the middle, which is being poured with water by the believers. In one huge room the donations from all over the world including the world smallest Buddha!
The beautiful and impressive Gangaramaya Temple is a truly remarkable place of worship, an eclectic mix of architectural styles – Thai, Indian, Sri Lankan, and even Chinese. The temple is not restricted only to Buddhism, but to communal harmony as well.
For an early dinner we headed to the Dutch hospital area and ate at the Semondu (Shopping Precinet, Shop No. 2 & 3, Bank of Ceylon Mawatha, Colombo 01 00100, Sri Lanka). The food was tasty, but the portions were small and the prices are higher than the average.
From Mount Lavinia, we headed to Galle by train. It was not possible to buy the tickets in advance, only on the day of departure. We were lucky to get the tickets directly before departure and for which price: 170 rupees (less than one Euro) for 2,5 hours trip is more than cheap! Besides, there were not so many people at the station: several locals, two big families and us. However, when the train arrived, we realized that we barely fit in, it was overcrowded. Magically, we somehow squeezed in with our suitcases, but there was not a slight chance for the big families to board. I'm not sure what did they do as the next train was probably as full.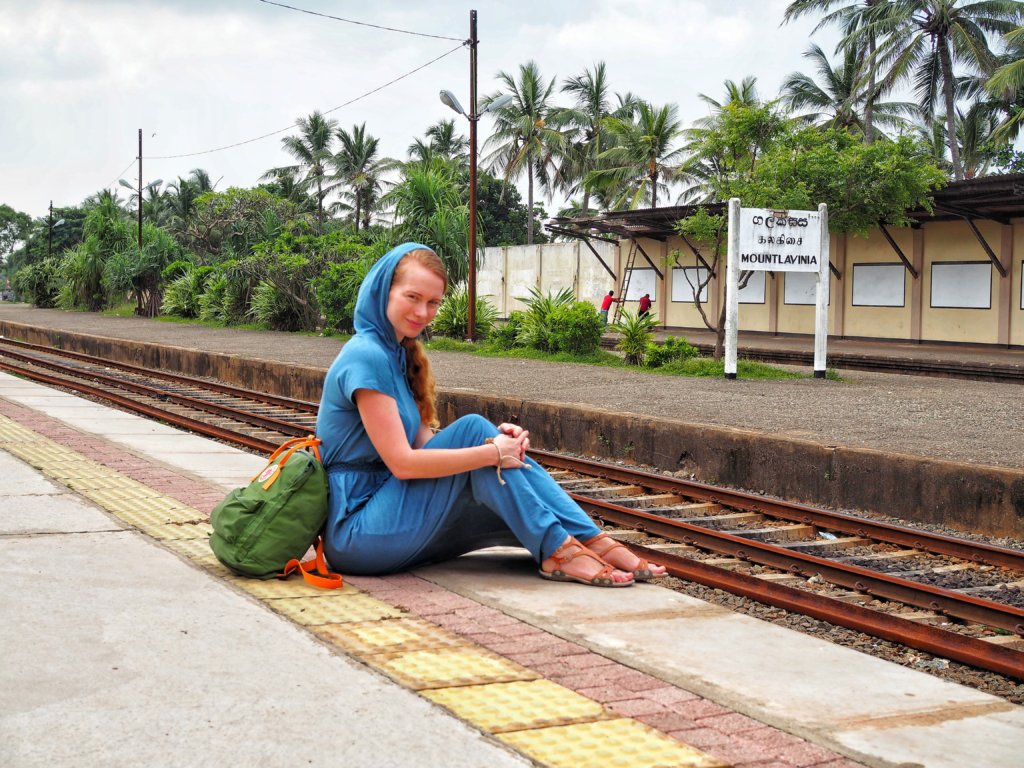 Inside, I understood that it was the underestimation of the century to think that in the worst-case scenario we would just sit on the floor. At the beginning of the trip there was not enough space to stand, not talking about to sit.
My concept of space has dramatically changed after our first train ride on Sri Lanka. Anything is possible here: a snack seller will squeeze through the crowded carriage and will even literally climb over your luggage, if needed! And he is not the only one who had to climb – some people had to get out eventually.
This time we were lucky and already after about only one hour we could take a seat. The ride is definitely scenic, but if you stand in the aisle holding your luggage, there is no chance for you to enjoy the picturesque surroundings.
Galle is a very pretty city where many built in colonial style – probably, the tribute to the Portuguese occupation in the 16th century. At that time, Galle was the main port of the country. The attraction sight number one is the Galle fort with its lighthouse built during the Dutch colonial period, called Dutch East India Company, which started in the 17th century and lasted about 150 years until the British took over the country.
We spent only couple of hours in Galle on our way to Mirissa. After arrival, we had a concern what to do with our luggage and came up with an ides which perfectly worked: we have chosen a restaurant where we would like to eat later and asked if we would leave our luggage there. The restaurant is called "Coconut sambol" (68 Church St, Galle 80000, Sri Lanka) and there you get flat rate of delicious curry (back then we were still enjoying it a lot) which you can mix yourself lined with a banana leaf for 800 rupees.
In Galle, you can find plenty of small jewelry shops with exquisite choice. I bought an unusual silver ring with rough stones at one of them called "Antic" (No. 03, New Lane I, Fort, Galle, Sri Lanka) and like it a lot!