Our route through Namibia with a 2×4
We have chosen our route through Namibia carefully: we knew that it is sometimes not possible to drive some roads with a 2×4. Here is the map and our route:
Windhoek Airport – Windhoek – Rietoog – Sesriem – Naukluft National Park (Dune 45 + Deadvlei + Sossuvlei) – Sesriem – Walvis Bay- Swakopmund- Gross Spitzkoppe – Otjiwarongo- Etosha National Park- Windhoek Airport. It total we were seven days on the road and drove 2500 km (so don't believe the numbers on the Google maps above as it allows for entering 10 destination points). I admit, Matthias drove the most of the time, but I also invested into this amount of km and was behind the wheel about one-third of the track.
After having our trip over, I can confirm that the route we did was absolutely doable with a non-4×4 car. However, sometimes I was oh so much wishing for a cross-country vehicle! And yes, driving in Namibia is challenging!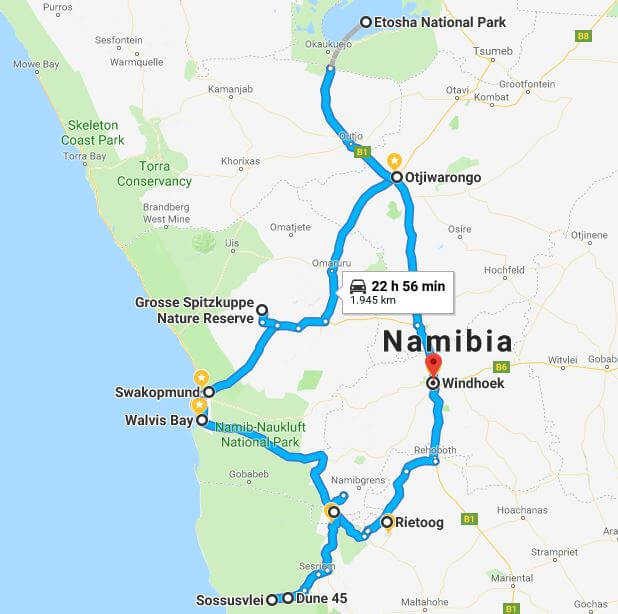 First, the traffic is left side (here in Germany you are used to the opposite).
Second, the roads are far from the ones you are used to in Europe. The names of the roads start here with a letter, A, B, C and D. The B-roads are asphalted, the C-roads, which you will drive 90% of your time are a mix of sand and stone, sometimes awfully shaky, sometimes even enjoyable.
Third, beware of the short but well-present rain season in the desert (yep, there is a rain season in Namibia as well). When you are driving during the storm, sometimes your car feels like it was gliding on ice and that was not the most secure and pleasant feeling.
You need an experienced driver
Taking all those factors into consideration, we were trying to avoid driving in the darkness.
To sum it up, if you are not a confident driver or don't have at least one in your group, think about other alternatives than renting a car, or take at least a 4×4. There will be definitely couple of situations when you would definitely prefer passing the steering wheel to the very experienced driver! We rented a 2×4 Volkswagen Polo (the confident driver was my boyfriend) and, though this car did an excellent job, frankly speaking, my heart was sometimes pumping significantly faster and my hands grabbing the grips firmer, especially when we were driving through the water (yeah, we arrived in Namibia when the rain season started) and on uneven paths.
Still there are a lot of advantages
Nonetheless, there are advantages of driving in Namibia as well. The most important one is that the roads are straight and empty – you mostly drive on your own, rarely passing by other traveler groups. When we were on the road in Namibia, we frequently had the overwhelming feeling of happiness and freedom. Isn't it what travelling is for?!
The speed limit is surprisingly high, even on the C-roads you are usually allowed to drive 100 km/h.
Besides, the fuel costs about 11 Namibian dollars a liter (75 cents) what makes it almost twice as cheap as in Europe.
Another advantage is that you can stop almost everywhere to take yet another photo of a breathtaking scenery and as you can imagine, we used this opportunity a lot!
In our opinion, the worst roads were from Solitaire to Walvis Bay and from Windhoek to Rietoog. The best roads were the last 25 km to Walvis Bay; 60 km asphalted drive in the Namib Naukluft Park (till Deadvlei), and, very much predictable, other B-roads.
To resume, driving in Namibia requires highest concentration, but it is definitely and positively doable, even with a small car. So, grab the steering wheel tight and enjoy the ride!